Sheraton Hotel Heathrow
4 star hotel
Heathrow Airport Colnbrook Bypass ,West Drayton,UB7 0HJ
Why Book the Sheraton Hotel Heathrow
The 4-star Sheraton Hotel is perfectly located for passengers flying from Terminal 5 - it's just a one-minute drive away. Terminals 2, 3 and 4 are all within a 15-minute drive of the hotel. Newly refurbished, it offers comfortable rooms with occupant-controlled temperature settings and a great on-site restaurant for all-day dining. It's the perfect choice for a pre- or post-flight stop-over for business and leisure travellers alike.
Hotel Facilities
Off-airport

Free WiFi

24-hour reception

Restaurant

Bar

Kids eat free (terms apply)

Gym facilities

Lift

Disabled facilities

Laundry facilities

Baggage storage

Business facilities

Leisure facilities nearby

Kids' menu

Family friendly

Lounge area

High chairs available

Printer facilities
Dining Options
Food is available to purchase at the hotel – please see below for restaurant options and opening times:-
Cast Iron Bar & Grill
Warm and welcoming, serving Great British and delicious seasonal dishes for you to enjoy. Mouth-watering steaks, energising salads and freshly baked bread can be enjoyed on your next trip through Heathrow Airport.
Monday to Sunday
18.00-22.00
The Lobby Bar
Relax in the welcoming atmosphere of The Lobby Bar. Located in the heart of the hotel, offers alongside refreshing drinks, handmade pizzas and tasty bites, a relaxing atmosphere perfect for you to unwind during your travels.
Monday to Sunday
12.00-23.00
Room Service
Room service is available 24/7, and enjoy from the comfort of your guest room. Guests can order from your mobile or call reception to place your order.
Breakfast: Monday to Sunday 6.30 to 10.30 am.
All day Dining: Monday to Sunday 11.00 to 23.00
Night Menu: Monday to Sunday 11.00 to 6.30 am

Breakfast Options
Breakfast is served at Cast Iron Bar & Grill: Monday – Friday 6.30 to 10.30am. Sat – Sun 7am to 11am
Continental breakfast, fee from: 7.50 GBP
Full English breakfast, fee from: 15 GBP
Disabled Facilities
Two disabled rooms in the hotel - please call APH on 01342 859442 (Mon-Fri: 8am-8pm | Sat-Sun: 9am-6pm) to request as subject to hotel's availability.
Family Facilities
At the Sheraton Heathrow hotel, kids eat free from the kids menu.
Transfers to and from Heathrow Airport
Book one of WeKnow London fully electric fleet of private hire cars through the booking terminal located on the ground floor of the hotel or online at https://www.weknowlondon.com/transport/hotel-e-shuttle/?aff=Sheraton
Transfers to the terminals are available by the third party Heathrow Hoppa service. This service picks up directly outside the Hotel and transfers to all terminals - please check the Heathrow Hoppa website (www.hotelhoppa.co.uk) for transfer times and fares.
Transport For London's public bus are the most cost effective way you can get to from the airport to the hotel at just £1.55. You can purchase an Oyster card at the airport or pay with Contactless card/Apple Pay.
Additional Information
All rooms are en-suite.
Room Facilities
Chargeable WiFi

TV

Sound-proofed windows

Blackout curtains

Charging points

En-suite bathroom

Tea & coffee

Air-conditioning

24-hour room service

Safe

Telephone

Iron

Hair dryer
Room types available
Double Room
Suitable for up to two adults, double rooms are furnished with a king-size double bed.
Twin Room
Furnished with two standard single beds and suitable for up to two adults.
Map of Sheraton Hotel Heathrow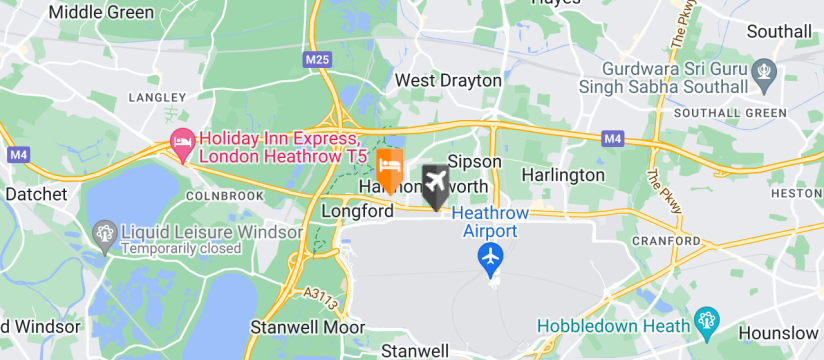 Sheraton Hotel Heathrow, Heathrow Airport Colnbrook Bypass West Drayton UB7 0HJ
Directions
From the M4 westbound:
Exit at Junction 4 to join the M4 spur towards Heathrow
Stay in the left hand lane and turn left when you reach a sign for airport parking then stay in the right hand lane.
At the traffic lights turn right
At the roundabout take the fourth exit then turn left on to Bath Road (A4).
Continue for approximately 1.5 miles until you see a McDonalds and Premier Inn on the left.
Make a U-turn and the hotel entrance will be immediately on your left.
From the M4 eastbound:
Exit at Junction 5.
Turn right at the roundabout.
The hotel is approximately three miles down on the left.