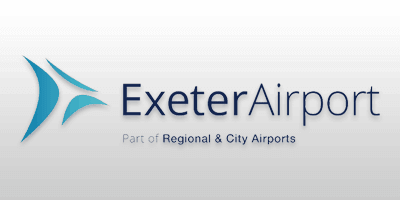 Exeter Airport general information
If you're flying from Exeter Airport, we've collected the 'must-know' information you'll need in one easy-to-read guide.
Exeter Airport parking
Exeter Airport hotel and parking packages
Exeter Airport hotels
Exeter Airport lounges
All about Exeter Airport
Opened in 1937, Exeter Airport is located in the county of Devon, South West England. The airport offers both scheduled and charter flights within the UK and Europe, the main airlines using Exeter Airport are Flybe and Thomson Airways.
Getting There
There's no direct rail service at Exeter Airport. Those travelling by train will have to find a connecting route via taxi or bus ass both Exeter St. Davids and Exeter Central train stations are six miles from the airport. Please be aware that bus services can be limited, especially in the evenings. We highly recommend cutting stress levels by driving yourself and using an APH car park, so you'll have more control of your travel times and arrive at the airport stress-free and ready to start your holiday.
Airport Map
See a detailed terminal map here.
Check-in information
Exeter Airport recommends that all passengers allow at least two hours to complete the check-in procedure for all types of flights. Use this list of airlines flying from Exeter Airport to check if your carrier offers online check-in
Destinations
Exeter Airport covers both domestic and European routes, with direct flights to over 15 cities. Check out the full list of destinations from Exeter Airport here.
Disabled Passenger Details
Exeter Airport offers a range of facilities to help any passenger that may require extra assistance at the airport.
Find details of how Exeter Airport helps passengers with hidden disabilities such as autism here.
Fast-Track security lane
If you want to slash the amount of time you spend queuing at security and emigration, Exeter Airport offers a fast-track service. This service employs a dedicated channel through security. Using the lane costs £3.50 per passenger. To book, click here.
Shopping
Need to pick up a few last-minute essentials for your trip? Here's a full list of the shops at Exeter Airport and whether they're located before or after security.
Where to Eat
Exeter Airport has a selection of eateries to suit all tastes and requirements. Here's a full list of places to eat at Exeter Airport.
Area for Kids
There are no play areas at the airport.
Wi-Fi access
Free Wi-Fi access has recently doubled from 30 to 60 minutes, with subsequent usage chargeable at £3 an hour or £5 for a further three hours' connection. Click here for more information.
Baby Changing
Baby changing facilities are available throughout the airport.
Luggage Trolleys
Trolleys are available at Exeter Airport. For the full details on where and how much, click here.
Luggage Lockers
Exeter Airport does not have luggage lockers.
Pharmacies
Exeter Airport does not have an on-site pharmacy.
Showers
Public shower facilities are not currently available at Exeter Airport.
Chapel
There is no prayer room at Exeter Airport.
Airport map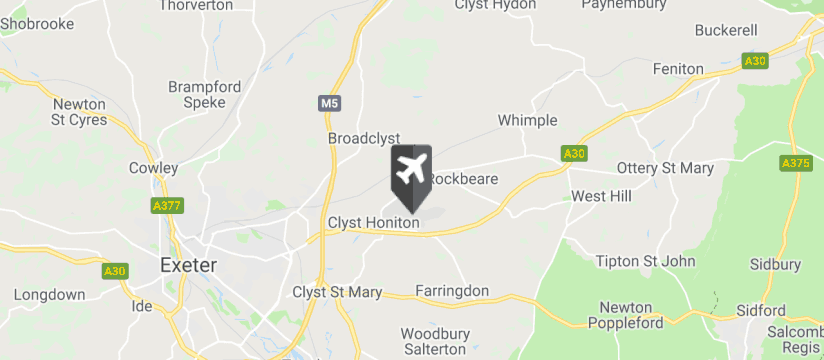 Exeter International Airport, Exeter, EX5 2BD
Directions
The most direct access to Exeter Airport is via the M5 which links to the A30 and subsequently the B1384. Take junction 30 when heading North on the M5 and junction 29 when heading South or East. If you are coming in from the East on the A30, take the turning for the B1384 when travelling on the A30. Choose post code EX5 2BD when using satnav.