Glasgow Prestwick Airport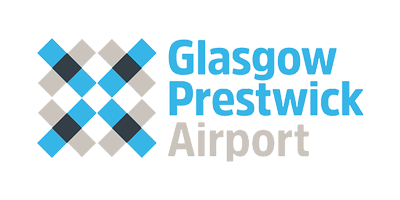 Glasgow Prestwick Airport general information
If you're flying from Glasgow Prestwick Airport, we've collected the 'must-know' information you'll need in one easy-to-read guide.
Glasgow Prestwick Airport parking
Get the best deals and the reassurance of a guaranteed airport parking space at Prestwick Airport by booking now with APH. At Prestwick Airport we offer great on-airport car parks that are perfect for any type of traveller, at any time of the year. You'll be able to relax while you're away as well, with the knowledge that your car will be parked in a safe, security-protected car park that holds a police-approved Park Mark Safer Parking Award.
View airport parking
All about Glasgow Prestwick Airport
Glasgow Prestwick Airport started out in 1934 as a training airfield and then steadily developed into the international airport it is today. It serves the west of Scotland, 32 miles from the city centre of Glasgow and is one of two airports that serve the area – Glasgow Airport being the busier of the two. Passenger traffic at the airport peaked in 2007 at 2.4million in a time of rapid growth, but since then, passenger traffic has declined – around 670,000 passengers used the airport in 2016.
Getting There
Glasgow Prestwick Airport is the only airport in Scotland served by its own railway station, but by far the easiest and most convenient way to access the airport is by car. The airport is easily accessible from the A77 and offers multiple airport parking options.
Airport Map
A detailed airport terminal map can be found here.
Check-in information
Glasgow Prestwick Airport recommends that all passengers allow at least three hours to complete the check-in procedure for all international flights. Online check-in: Many airlines allow you to check in online from two to 24 hours before your departure. This allows you to choose your seat and swerve queues at the check-in desks – check with your airline to see if they offer online check-in.
Destinations
Glasgow Prestwick Airport offers European routes, with services to more than 15 destinations. Check the full list of routes from Glasgow Prestwick Airport here.
Disabled Passenger Details
Glasgow Prestwick Airport are committed to assisting passengers with reduced mobility and will provide special assistance at the airport.
Family Assisted Lanes
Glasgow Prestwick Airport does not offer family assistance lanes.
Shopping
Need to pick up a few last-minute essentials for your trip? Here's a full list of the shops at Glasgow Prestwick Airport, after security.
Where to Eat
Glasgow Prestwick Airport has a selection of eateries to suit all tastes and requirements. Here's a full list of places to eat at Glasgow Prestwick Airport.
Area for Kids
There is Play Zone located after security in the departure lounge and is free of charge.
Wi-Fi access
Glasgow Prestwick Airport offers free 2 hour WiFi connectivity throughout the terminal. For information on how to connect click here.
Baby Changing
Baby changing facilities are available throughout the airport.
Luggage Trolleys
Trolleys are available and you can find all the essential information here.
Showers
Public shower facilities are not currently available at Glasgow Prestwick Airport.
Chapel
Glasgow Prestwick Airport has a prayer room where all are welcome.
Viewing Areas
The spectator gallery is perfect for panoramic views of the airport and is open seven days a week from 07:00-19:00 – entry is free.