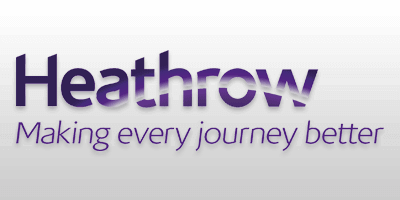 Heathrow Airport general information
If you're flying from Heathrow Airport, we've collected the essential 'must-know' information you'll need to ensure your trip gets off to the perfect stress-free start.
Which terminal
Heathrow has four terminals, so finding where you're flying from is essential information you'll need before setting off. Get the information by logging on to Heathrow Airport's terminal guide.
Heathrow Airport parking
Heathrow Airport hotel and parking packages
Heathrow Airport hotels
Heathrow Airport lounges
All about Heathrow Airport
Located 14 miles west of central London, Heathrow Airport started life as a small airfield in 1929. Originally called Great West Aerodrome, it was located near the hamlet of Heath Row. Large-scale development of the site began in 1944 when the MoD requisitioned the land to build a base for long-range bombing missions during the war. However, by the time work started, the war was virtually over. As a result, the land was handed to the Air Ministry on January 1, 1946, to be used as London's new civil airport. Today Heathrow is used by more than 80 airlines and serves 180 destinations in 85 countries. More than 190,000 passengers use the airport on a daily basis, with a total of 75.7 million travelling through it during 2016. It is the main hub for British Airways and base to Virgin Atlantic. Heathrow has two parallel runways and five passenger terminals. The busiest of these terminals is 5 – from where 31.9 million passengers arrived or departed on 216,861 flights during 2016. Heathrow's top five destinations are: New York (JFK), Dubai, Dublin, Frankfurt, Amsterdam.
Getting There
Along with a mainline railway and London Underground access from central London, Heathrow Airport is served by a plethora of parking solutions. APH.com offers 14 options from long-stay to short-stay, on- or off-airport and meet and greet parking. Just log on to APH.com now to get instant online quotes covering all these options.
Check-in information
Heathrow provides the following guidelines for when you should check in for domestic, European and non-European international flights:
Long-haul and El Al:
Three hours before scheduled departure
European flights:
Two hours before scheduled departure
UK and Ireland flights:
90 minutes before scheduled departure
Mobile check-in information
Many airlines operate an online check-in service to let passengers select seats, print boarding passes and save time at the airport. Heathrow advises customers to check with their carrier to see if an online check-in service is offered
Mobile check-in: Some airlines offer a mobile check-in service. Users of the service can have a boarding card sent directly to their smartphone. Once again, check with your airline to see if it offers this handy, time-saving check-in option.
Disabled Passenger Details
Heathrow Airport offers assistance to passengers with reduced mobility or special requirements. Find out more and plan your trip through the airport with the help of this online guide.
Click here for details of how Heathrow Airport helps passengers with hidden disabilities such as autism.
Fast-Track security lane
The Fast Track service is available to a limited number of passengers. Check to see if you are eligible here.
Family Assisted Lanes
These lanes give extra help to families travelling with young kids in buggies when passing through security. Just look out for the 'Family Assistance' lane signs.
Shopping
There's no shortage of shopping at Heathrow, check out the terminal-based shop selector here.
Where to Eat
As you'd expect, Heathrow has some great restaurants, cafes and fast-food outlets to suit all tastes and requirements. Check out the full list by visiting our restaurant selector.
Wi-Fi access
If you need to be connected, Heathrow Airport offers free unlimited WiFi. Find out how to connect here.
Viewing Areas
Airports are exciting places and nowhere in the UK has more to see than Heathrow. Various spectator options are on offer. Passengers travelling from the airport can choose between eateries and a dedicated observation deck in Terminal 4. Terminal 5 has a plethora of great views, but Gordon Ramsay Plane Food and wagamama offer particularly good vantage points. All these viewing points are located airside, but non-flying members of the public can visit the Heathrow Academy to view aircraft movements from a covered viewing stand. There's a small charge to use the car park, but the observation area is free to enter. Alternatively, you can pay £35.00 to spend a day of plane spotting luxury at the Renaissance Hotel's Club Lounge. The price includes parking, free tea and coffee or soft drinks in the lounge and a great view of the runway action. Get full details of Heathrow Airport spectator options here.
Airport map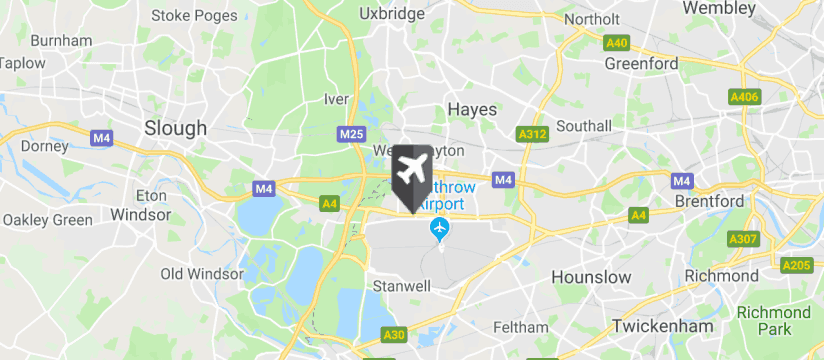 The Compass Centre, Nelson Road, Hounslow, TW6 2GW
Directions
Heathrow terminals all have direct access from the M25. Take junction 15 for Terminals 2 and 3 and junction 14 for Terminals 4 and 5. If you are using the M4, take junction 4 for Terminals 2 and 3. For Terminals 4 and 5 take junction 4b onto the M25 South and use junction 14.