Durham Tees Valley Airport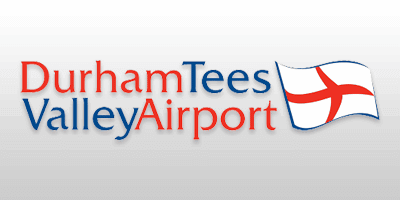 Durham Tees Valley Airport general information
If you're flying from Durham Tees Airport, we've collected the 'must-know' information you'll need in one easy-to-read guide.
All about Durham Tees Valley Airport
Dating back to 1941, the airport was originally an RAF station but then became Teesside International in 1964. In 2004 the airport was renamed Durham Tees Valley Airport as part of a major redevelopment plan. The name came about to allow it to be placed better geographically, as many international passengers were unfamiliar with the location of Teesside and Durham is more well-known.
Getting There
Although Durham Tees Airport has Teesside Train Station close by, services to the station are extremely limited and the airport is a 15 minute walk from the station with little to no public transport connecting the two. A number of bus services operate between the surrounding areas and the airport. Driving to Durham Tees Airport is the easiest and least stressful way to reach the airport, coupled with an APH airport car park, you'll be at the check-in desks in no time at all.
Check-in information
Durham Tees Airport recommend that you check with your airline or travel agent for when you need to arrive at the airport. Check-in times vary between three hours to 40 minutes before departure, depending on which airline you are travelling with, it is recommended that you arrive at least two hours before you need to board.
Destinations
Durham Tees Airports operates daily connections to Amsterdam and Aberdeen. With main airline partners KLM you can fly to over 200 worldwide destinations, starting from Durham Tees.
Disabled Passenger Details
Durham Tees Airport has made every effort to ensure that there are a range of facilities to help anyone that may require any extra assistance. For more information, click here.
Where to Eat
Durham Tees Airport has a selection of eateries to suit all tastes and requirements. Here's a full list of where to eat at Durham Tees Airport.
Wi-Fi access
Wi-Fi is free for the first 30 minutes at Durham Tees, with extended access available. Find out more here.
Baby Changing
Baby changing facilities are available throughout the airport.
Luggage Trolleys
Find out the essential information you need for baggage trolleys at Durham Tees Airport here.
Chapel
There is no prayer or chapel room at Durham Tees Airport.
Airport map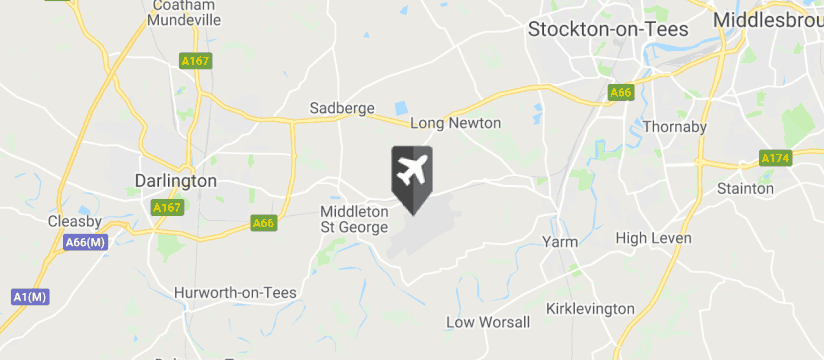 Darlington, Darlington, DL2 1LU
Directions
Access the airport from either the A19 or the A1(M). On the A19 take the exit for A66 and follow signs to the airport. When travelling on the A1(M) take junction 59 and head for A167 when approaching from the North. Similarly, take junction 57 and head towards A66 when travelling from the South.