E-Park Meet & Greet Parking, Luton Airport
Airport Way ,Luton,LU2 9LY
Why Book E-Park Meet & Greet Parking, Luton Airport
If you want to make life easier, E Park Meet & Greet Luton is a really convenient way to start your getaway. Located a few minutes away from Luton's main terminal, this valet service allows you to grab your luggage and go, without the need for a transfer bus service.
If you have young children in tow, limited mobility or want to save time, Meet & Greet offers the ultimate fast-track service when it comes to parking before your flight.
Car Park Features
Meet & Greet

Walking time 2 minutes

24-hour operation

Leave keys

Uniformed staff

Nearby fuel sales
Disabled facilities

Walk to terminal

Fully insured drivers

Assisted loading if requested
If you're hunting for Luton airport parking that saves the maximum amount of time, then E Park Meet & Greet could be the best option for you. This parking method allows you to leave your keys with their trusted team, so their uniformed and insured drivers can park your car for you. This means you can get on with making your way to the check-in desks with as little fuss as possible.
The walking distance to the terminal is just two minutes, which means it's only a short stroll from your vehicle. This also makes it ideal for anyone who needs assistance with loading or unloading their luggage, which can be offered upon request.
The staff at E Park Meet & Greet are not only insured and experienced, but they also wear a professional company uniform. This means that they are clearly identifiable should you have any questions or needs before your journey.
For anyone who needs to refuel their vehicle before heading home, there are also nearby fuel sales. This means you can keep the journey home as concise as possible, without the need to hunt down a nearby service station.
For both your arrival and return journey, you will need to give the Meet & Greet team a call to let them know you are on your way. This means you can be checked-in efficiently before you travel, and ensure the parking process is as swift as possible. It also enables the experienced driver to get your car ready to go before your return journey, so you can collect your keys and go.
Security
24-hour staff

Barrier-controlled

Security fencing

CCTV
When you leave your car with the E Park Meet & Greet team, you can rest happily in the knowledge that your vehicle will be safe in their capable hands. Your car will be parked within a secure compound, which is patrolled 24/7 by uniformed staff. Access to the car park is also controlled by electronic barriers, which means only permitted vehicles can enter and leave the premises.
The multi-storey car park is surrounded by high, perimeter security fencing, to prevent intruders from accessing the premises. On top of that, the facility is watched by CCTV cameras, to ensure that all activity in and around the premises is recorded.
Transfers to and from Luton Airport
This Meet & Greet service is based just two minutes away from Luton's main terminal building, which means there's no need for a transfer bus service at all. Instead, you check-in with the E Park team, pick up your luggage, and make your way over to the check-in desks or security barriers.
Disabled Facilities
Not only does Meet & Greet provide a bit of luxury for those who don't want to use a transfer bus service, but it is also ideal for those with disability and mobility needs. It's only two minutes away from the terminal doors, which means you won't be far from the check-in desks. There is also assisted loading for anyone who requires any help with loading and unloading their vehicle.
Opening Times
Along with premium-levels of service comes with helpful availability. It doesn't matter what time of day you need to park, or when your flight comes in, this Meet & Greet service is available around the clock. It's open 24 hours a day, seven days a week, 365 days a year.
Additional Information
Charges apply on exit, please see more information below for details.
Due to strict airport regulations, drivers are not able to wait for longer than 10 minutes in the Priority Set Down area.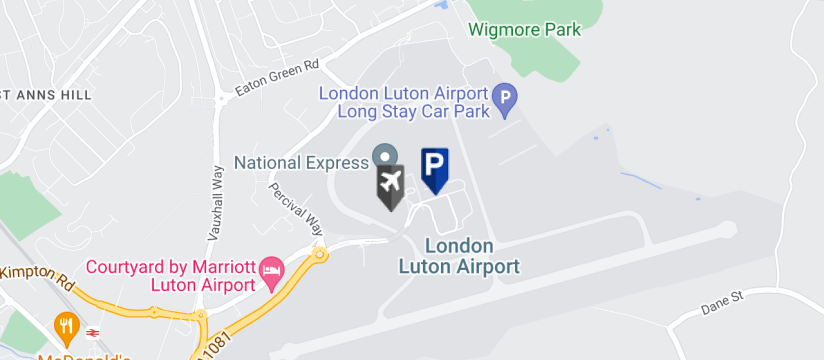 E-Park Meet & Greet Parking, Airport Way Luton LU2 9LY
Directions
When you make your way down Airport Way for Luton Airport, you will need to keep left and keep your eyes peeled for the short term car park. Then, you'll just need to follow the signs for Terminal Car Park 1, where you'll drive up to Level 3. It's here that you'll be able to locate the E Park Meet & Greet team easily:
From the M1:
Leave the motorway at Junction 10 and follow signs for the airport.
Head onto the A1081.
Take the 2nd exit on the first roundabout then straight over the next.
On the next roundabout, take the 3rd exit.
Go under the bridge and take the fourth exit on the roundabout.
Stay in the left hand lane to the short-term car park.
Arrival Procedure
Dropping off your car is easy:
Call E-Park 20-30 minutes before your arrival at the airport.
Upon arrival to Luton airport
Please follow signs to Terminal Car Park 1
Drive up to LEVEL 3 and follow signs to off airport meet and greet.
Once on level 3, follow the lane to the right and you will see our Drivefly desk on the left.
Please have your booking confirmation and return flight details ready.
Take the short walk to the terminal.
Please ensure you allow sufficient time to complete the vehicle hand over before heading to the terminal.
Return Procedure
On return:
After customs and baggage reclaim, call E-Park to let them know you've arrived.
Head to the designated meeting point.
Collect your keys from the chauffeur and continue your journey.