With many consumers intent on becoming more eco-conscious in 2019, UK travellers may not appreciate the environmental damage and negative consequences of their 'kiss and fly' lift to the airport. Kiss and Fly is the practice of dropping-off and collecting a traveller from the airport, resulting in twice as many car journeys when compared with pre-booking off-airport parking.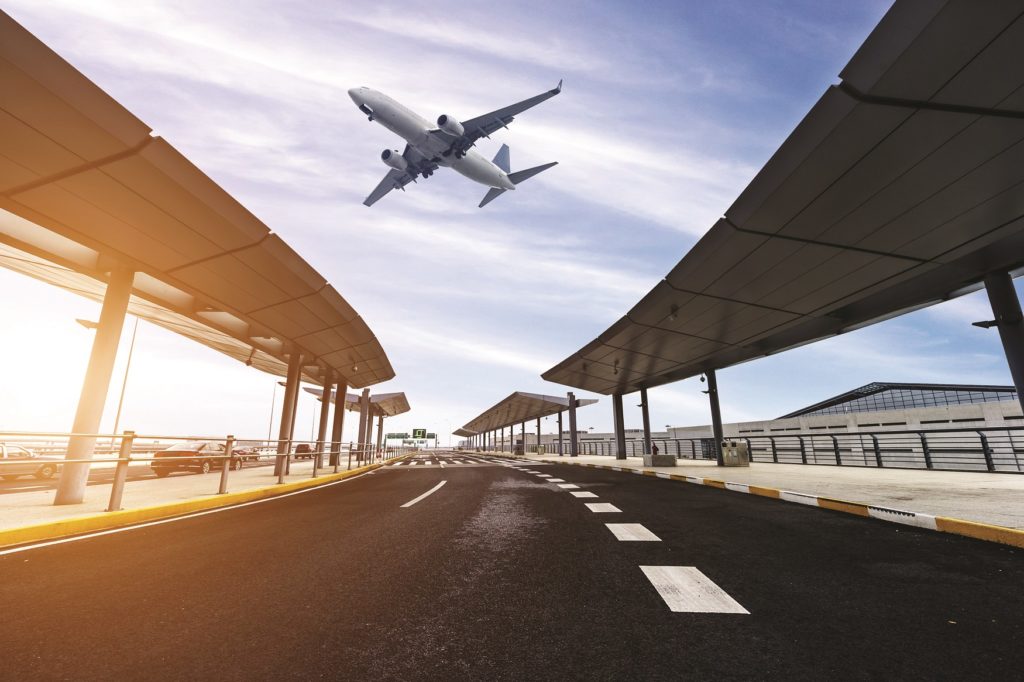 As well as resulting in vehicle congestion and producing double the amount of harmful emissions, lifts to the airport also include the 'hidden costs' of the time and money spent by the family member or friend. To encourage travellers to become more mindful of their journey to and from the airport, APH has therefore researched just the costs for kiss and fly drop-off fees at 23 of the UK's airports, including Gatwick, London Heathrow, Manchester and Edinburgh.
Just five of the 23 airports researched allow drivers to drop-off passengers directly at the terminal for free, including London Heathrow and Cardiff. However, travellers should note that these airports may charge after a certain amount of time. For example, Cardiff Airport charges £5 for every 10 minutes parked after the initial 10 minutes. 15 airports permit the drop-off of passengers at the terminal for a fee, with the cost varying from £1 for up to 30 minutes at Exeter Airport to £3.50 for 10 minutes at London Stansted. Friends and family should keep an eye on the time at Luton Airport since after paying £3 for the first 10 minutes at the terminal forecourt, motorists are charged an additional £1 for each minute they spend in the drop-off zone.
Holidaymakers who are willing to walk a short distance can save on premium charges by choosing to be dropped off in short and long stay car parks, with 18 airports offering this for free. These include London Luton Airport, which allows up to 15 minutes for free in the mid-term car park, which is 10 – 15 minutes away by foot from the terminal building. Similarly, parking at Southampton Airport's long stay car park is free for up to 30 minutes and the terminal can be reached in 5 minutes via a shuttle bus, which runs every 10 – 12 minutes. However, both Bournemouth and Bristol do not offer options for dropping-off passengers for free, even at short stay car parks.
For collecting loved ones from the airport, 14 airports permit collection of passengers from the terminal forecourt, with two allowing temporary parking for five minutes free-of-charge. Drivers at nine airports, including Aberdeen and Bristol, must collect travellers from the short stay car parks nearby, with the cost varying from free at five airports to £5.10 for up to one hour at Birmingham Airport.
Alongside monetary charges, kiss and fly journeys include 'hidden costs' for loved ones. For example, drivers heading to Birmingham Airport from the city centre can expect to spend a total of two hours on the road and pay around £9.60* in fuel costs for two return trips. When combined with two charges of £5.10 for each hour of parking at Birmingham Airport, the total cost for a kiss and fly driver comes to £19.80.
ABERDEEN AIRPORT
CHARGE TO DROP OFF PASSENGERS
AT TERMINAL
• £2.00 for up to 10 minutes only
• £10.00 for up to 30 minutes
• £30.00 for up to 1 hour
SHORT STAY CAR PARK
• £2.50 for up to 15 minutes
• £6.50 for up to 1 hour in both Short and Long Stay car parks
• Free for up to 15 minutes in the Long Stay car park, located a two-minute shuttle bus from the terminal
CHARGE TO PICK UP PASSENGERS
AT TERMINAL
• Not available
SHORT STAY CAR PARK
• £2.50 for up to 15 minutes
• £6.50 for up to 1 hour
DISTANCE FROM CITY CENTRE (MILES)
• 6
EXTRA DISTANCE GENERATED BY KISS & FLY (MILES)
• 12
AVERAGE TIME TO DRIVE TO AIRPORT FROM CITY CENTRE (ONE WAY)
• 17 minutes
BIRMINGHAM AIRPORT
CHARGE TO DROP OFF PASSENGERS
AT TERMINAL
• £2.00 for up to 10 minutes at the Premium Set Down outside the terminal building
SHORT STAY CAR PARK
• £5.10 for up to 1 hour in Car Parks 1, 2 or 3; located a 1-minute walk from the terminal check-in desks
• Free for up to 30 minutes in the Drop Off Car Park, located a 5-10-minute walk from the main terminal
• £30.00 for up to 1 hour in Drop Off Car Park
CHARGE TO PICK UP PASSENGERS
AT TERMINAL
• Not available
SHORT STAY CAR PARK
• £5.10 for up to 1 hour in Car Parks 1, 2 or 3
DISTANCE FROM CITY CENTRE (MILES)
• 16
EXTRA DISTANCE GENERATED BY KISS & FLY (MILES)
• 32
AVERAGE TIME TO DRIVE TO AIRPORT FROM CITY CENTRE (ONE WAY)
• 30 minutes
BOURNEMOUTH AIRPORT
CHARGE TO DROP OFF PASSENGERS
AT TERMINAL
• Not available
SHORT STAY CAR PARK
• £3.00 for up to 30 minutes in the Pick Up/Drop Off area located within Premium Car Park 1, located 1-3-minutes from the terminal
• £4.90 for up to 1 hour in the Pick Up/Drop Off area within Premium Car Park 1
CHARGE TO PICK UP PASSENGERS
AT TERMINAL
• Not available
SHORT STAY CAR PARK
• £3.00 for up to 30 minutes in any car park
• £4.90 for up to 1 hour
• Car Park 3 is the closest parking to arrivals, however, has limited availability
• Pick Up/Drop Off area is located within Premium Car Park 1
DISTANCE FROM CITY CENTRE (MILES)
• 6
EXTRA DISTANCE GENERATED BY KISS & FLY (MILES)
• 12
AVERAGE TIME TO DRIVE TO AIRPORT FROM CITY CENTRE (ONE WAY)
• 15 minutes
BRISTOL AIRPORT
CHARGE TO DROP OFF PASSENGERS
AT TERMINAL
• £1.00 for up to 10 minutes at Express Drop Off Car Park
• £3.00 for 10 to 20 minutes
• £5.00 for 20 to 40 minutes
• £20.00 for 40 minutes to 1 hour
• £50.00 for 1 hour to 24 hours
SHORT STAY CAR PARK
• £1.00for up to 20 minutes
• £3.50 for 20 to 30 minutes
• £6.00 for 30 minutes to 1 hour
CHARGE TO PICK UP PASSENGERS
AT TERMINAL
• Not available
SHORT STAY CAR PARK
• £1.00 for up to 20 minutes
• £3.50 for 20 to 30 minutes
• £6.00 for 30 minutes to 1 hour
DISTANCE FROM CITY CENTRE (MILES)
• 8
EXTRA DISTANCE GENERATED BY KISS & FLY (MILES)
• 16
AVERAGE TIME TO DRIVE TO AIRPORT FROM CITY CENTRE (ONE WAY)
• 21 minutes
CARDIFF AIRPORT
CHARGE TO DROP OFF PASSENGERS
AT TERMINAL
• Free for up to 10 minutes
• £5.00 for every 10 minutes thereafter
SHORT STAY CAR PARK
• £1.00 for up to 10 minutes in Short Stay Car Park, located directly opposite the terminal
• £2.00 for up to 20 minutes
• £3.00 for up to 1 hour
• Free for up to 20 minutes in Long Stay 1, located a short walk from the terminal
• £3.00 for 20 minutes to 1 hour in Long Stay 1
CHARGE TO PICK UP PASSENGERS
AT TERMINAL
• Not available
SHORT STAY CAR PARK
• £1.00 for up to 10 minutes in Short Stay Car Park, located directly opposite the terminal
• £2.00 for up to 20 minutes
• £3.00 for up to 1 hour
• Free for up to 20 minutes in Long Stay 1, located a short walk from the terminal
• £3.00 for 20 minutes to 1 hour in Long Stay 1
DISTANCE FROM CITY CENTRE (MILES)
• 13
EXTRA DISTANCE GENERATED BY KISS & FLY (MILES)
• 26
AVERAGE TIME TO DRIVE TO AIRPORT FROM CITY CENTRE (ONE WAY)
• 30 minutes
DONCASTER SHEFFIELD AIRPORT
CHARGE TO DROP OFF PASSENGERS
AT TERMINAL
• £2.00 for up to 15 minutes, vehicles must not be left unattended
• £5.00 for 15 to 30 minutes
• £7.00 for 30 to 60 minutes
SHORT STAY CAR PARK
• Free for up to 15 minutes, located a few minutes' walk away from the terminal
CHARGE TO PICK UP PASSENGERS
AT TERMINAL
• £2.00 for up to 15 minutes, vehicles must not be left unattended
SHORT STAY CAR PARK
• Free for up to 15 minutes
• £3.00 for up to 30 minutes
• £5.00 for up to 1 hour
DISTANCE FROM CITY CENTRE (MILES)
• 7
EXTRA DISTANCE GENERATED BY KISS & FLY (MILES)
• 14
AVERAGE TIME TO DRIVE TO AIRPORT FROM CITY CENTRE (ONE WAY)
• 20 minutes
DURHAM TEES VALLEY AIRPORT
CHARGE TO DROP OFF PASSENGERS
AT TERMINAL
• Not available
SHORT STAY CAR PARK
• Free for up to 3 hours in main car park, a 2-minute walk from the terminal
• £5.00 for up to 8 hours
CHARGE TO PICK UP PASSENGERS
AT TERMINAL
• £2.00 for up to 15 minutes, vehicles must not be left unattended
SHORT STAY CAR PARK
• Free for up to 3 hours in main car park, a 2-minute walk from the terminal
• £5.00 for up to 8 hours
DISTANCE FROM CITY CENTRE (MILES)
• 11
EXTRA DISTANCE GENERATED BY KISS & FLY (MILES)
• 22
AVERAGE TIME TO DRIVE TO AIRPORT FROM CITY CENTRE (ONE WAY)
• 20 minutes
EAST MIDLANDS AIRPORT
CHARGE TO DROP OFF PASSENGERS
AT TERMINAL
• £2.00 for up to 10 minutes
• £1.00 for every minute thereafter
SHORT STAY CAR PARK
• £3.50 for up to 30 minutes in the Short Stay Car Park
• Free for up to 1 hour in Long Stay Car Park, a 5-minute bus transfer from the terminal
CHARGE TO PICK UP PASSENGERS
AT TERMINAL
• £2.00 for up to 10 minutes
• £1.00 for every minute thereafter
SHORT STAY CAR PARK
• £3.50 for up to 30 minutes in the Short Stay Car Park
• Free for up to 1 hour in Long Stay Car Park, a 5-minute bus transfer from the terminal
DISTANCE FROM CITY CENTRE (MILES)
• 14
EXTRA DISTANCE GENERATED BY KISS & FLY (MILES)
• 28
AVERAGE TIME TO DRIVE TO AIRPORT FROM CITY CENTRE (ONE WAY)
• 25 minutes
EDINBURGH AIRPORT
CHARGE TO DROP OFF PASSENGERS
AT TERMINAL
• £2.00 for up to 5 minutes in Short-Stay Zone located opposite terminal building, vehicles cannot be left unattended
• £4.00 for 5 to 10 minutes
• £10.00 for 10 to 15 minutes
• £15.00 for 15 minutes to 1 hour
• £15.00 per hour thereafter with a maximum stay of 2 hours
SHORT STAY CAR PARK
• Free for up to 10 minutes in the Long Stay Car Park
• £3.00 for 10 to 30 minutes
• £5.00 for up to 1 hour
• Free shuttle services operate to and from the terminal building
CHARGE TO PICK UP PASSENGERS
AT TERMINAL
• £4.00 for up to 15 minutes
• £7.00 for 15 to 30 minutes
• £10.00 for 30 minutes to 1 hour
• £16.00 for 1 to 2 hours
SHORT STAY CAR PARK
• Free for up to 10 minutes in the Long Stay Car Park
• £3.00 for 10 to 30 minutes
• £5.00 for up to 1 hour
• Free shuttle services operate to and from the terminal building
DISTANCE FROM CITY CENTRE (MILES)
• 9
EXTRA DISTANCE GENERATED BY KISS & FLY (MILES)
• 18
AVERAGE TIME TO DRIVE TO AIRPORT FROM CITY CENTRE (ONE WAY)
• 26 minutes
EXETER AIRPORT
CHARGE TO DROP OFF PASSENGERS
AT TERMINAL
• £1.00 for up to 30 minutes
• £2.00 for up to 1 hour
SHORT STAY CAR PARK
• Free for up to 10 minutes in Car Park 4 and passengers may use the complimentary shuttle bus service to the terminal building
• £2.00 for up to 1 hour in Car Park 1, 50 yards from the terminal building
CHARGE TO PICK UP PASSENGERS
AT TERMINAL
• £1.00 for up to 30 minutes
• £2.00 for up to 1 hour
SHORT STAY CAR PARK
• Free for up to 10 minutes in Car Park 4 and passengers may use the complimentary shuttle bus service to the terminal building
• £2.00 for up to 1 hour in Car Park 1, 50 yards from the terminal building
DISTANCE FROM CITY CENTRE (MILES)
• 6
EXTRA DISTANCE GENERATED BY KISS & FLY (MILES)
• 12
AVERAGE TIME TO DRIVE TO AIRPORT FROM CITY CENTRE (ONE WAY)
• 20 minutes
GATWICK AIRPORT
CHARGE TO DROP OFF PASSENGERS
AT TERMINAL
• £4.00 for up to 30 minutes
• £8.00 for up to 1 hour
• Express Drop-Off lanes are located inside the Short Stay Car Park and charged at the same rate
• When using the Express Drop-Off lanes, vehicles must not be left unattended
SHORT STAY CAR PARK
• £4.00 for up to 30 minutes
• £8.00 for up to 1 hour
• Free for up to 2 hours in the Long Stay Car Park, located a 10-minute complimentary shuttle bus ride from the terminal building
CHARGE TO PICK UP PASSENGERS
AT TERMINAL
• £4.00 for up to 30 minutes
• £8.00 for up to 1 hour
• Express lanes are located inside the Short Stay Car Park and charged at the same rate
• When using the Express lanes, vehicles must not be left unattended
SHORT STAY CAR PARK
• £4.00 for up to 30 minutes
• £8.00 for up to 1 hour
• Free for up to 2 hours in the Long Stay Car Park, located a 10-minute complimentary shuttle bus ride from the terminal building
DISTANCE FROM CITY CENTRE (MILES)
• 28 (London)
EXTRA DISTANCE GENERATED BY KISS & FLY (MILES)
• 56 (London)
AVERAGE TIME TO DRIVE TO AIRPORT FROM CITY CENTRE (ONE WAY)
• 1 hour 25 minutes
GLASGOW AIRPORT
CHARGE TO DROP OFF PASSENGERS
AT TERMINAL
• £2.00 for up to 10 minutes
• £4.00 for 11-15 minutes
• £10.00 for 16-20 minutes
• £15.00 for 21-30 minutes
• £45.00 for 31 minutes to 1 hour
SHORT STAY CAR PARK
• £3.00 for up to 20 minutes
• £6.50 for up to 1 hour
• Free for up to 30 minutes using the Long Stay Car Park
CHARGE TO PICK UP PASSENGERS
AT TERMINAL
• £2.00 for up to 10 minutes
• £4.00 for 11-15 minutes
• £10.00 for 16-20 minutes
• £15.00 for 21-30 minutes
• £45.00 for 31 minutes to 1 hour
SHORT STAY CAR PARK
• £3.00 for up to 20 minutes
• £6.50 for up to 1 hour
• Free for up to 30 minutes using the Long Stay Car Park
DISTANCE FROM CITY CENTRE (MILES)
• 10
EXTRA DISTANCE GENERATED BY KISS & FLY (MILES)
• 20
AVERAGE TIME TO DRIVE TO AIRPORT FROM CITY CENTRE (ONE WAY)
• 20 minutes
HEATHROW AIRPORT
CHARGE TO DROP OFF PASSENGERS
AT TERMINAL
• Travellers may unload on the terminal forecourt, but waiting is not permitted
SHORT STAY CAR PARK
• £4.20 for up to 30 minutes
• £7.50 for 30 minutes to 1 hour
CHARGE TO PICK UP PASSENGERS
AT TERMINAL
• Not available
SHORT STAY CAR PARK
• £4.20 for up to 30 minutes
• £7.50 for 30 minutes to 1 hour
• Free for up to 2 hours in the Long Stay Car Park, located between 3 and 15 minutes from the terminal buildings by shuttle bus
DISTANCE FROM CITY CENTRE (MILES)
• 15 (London)
EXTRA DISTANCE GENERATED BY KISS & FLY (MILES)
• 30 (London)
AVERAGE TIME TO DRIVE TO AIRPORT FROM CITY CENTRE (ONE WAY)
• 50 minutes
LEEDS BRADFORD AIRPORT
CHARGE TO DROP OFF PASSENGERS
AT TERMINAL
• £3.00 for up to 30 minutes
• £9.00 for up to 1 hour
SHORT STAY CAR PARK
• £3.00 for up to 30 minutes
• £7.00 for up to 1 hour
• Short Stay Car Park is located a 2-minute walk from the terminal
• Free for up to 1 hour in the Free Parking Zone, a 4-minute walk to the terminal
CHARGE TO PICK UP PASSENGERS
AT TERMINAL
• £3.00 for up to 30 minutes
• £9.00 for up to 1 hour
SHORT STAY CAR PARK
• £3.00 for up to 30 minutes
• £7.00 for up to 1 hour
• Short Stay Car Park is located a 2-minute walk from the terminal
• Free for up to 1 hour in the Free Parking Zone, a 4-minute walk to the terminal
DISTANCE FROM CITY CENTRE (MILES)
• 9
EXTRA DISTANCE GENERATED BY KISS & FLY (MILES)
• 18
AVERAGE TIME TO DRIVE TO AIRPORT FROM CITY CENTRE (ONE WAY)
• 25 minutes
LIVERPOOL AIRPORT
CHARGE TO DROP OFF PASSENGERS
AT TERMINAL
• £3.00 for up to 20 minutes
• £10.00 for up to 1 hour
SHORT STAY CAR PARK
• Free for up to 40 minutes
• £8.00 for up to 1 hour
CHARGE TO PICK UP PASSENGERS
AT TERMINAL
• £3.00 for up to 20 minutes
• £10.00 for up to 1 hour
SHORT STAY CAR PARK
• Free for up to 40 minutes
• £8.00 for up to 1 hour
DISTANCE FROM CITY CENTRE (MILES)
• 9
EXTRA DISTANCE GENERATED BY KISS & FLY (MILES)
• 18
AVERAGE TIME TO DRIVE TO AIRPORT FROM CITY CENTRE (ONE WAY)
• 27 minutes
LONDON CITY AIRPORT
CHARGE TO DROP OFF PASSENGERS
AT TERMINAL
• Free, however, vehicles cannot wait or be left unattended
SHORT STAY CAR PARK
• £3.20 for up to 10 minutes
• £7.50 for up to 30 minutes
• £15.00 for 30 minutes to 2 hours
CHARGE TO PICK UP PASSENGERS
AT TERMINAL
• £3.20 for up to 10 minutes
• £7.50 for up to 30 minutes
SHORT STAY CAR PARK
• £3.20 for up to 10 minutes
• £7.50 for up to 30 minutes
• £15.00 for 30 minutes to 2 hours
DISTANCE FROM CITY CENTRE (MILES)
• 9
EXTRA DISTANCE GENERATED BY KISS & FLY (MILES)
• 18
AVERAGE TIME TO DRIVE TO AIRPORT FROM CITY CENTRE (ONE WAY)
• 35 minutes
LUTON AIRPORT
CHARGE TO DROP OFF PASSENGERS
AT TERMINAL
• £3.00 for up to 10 minutes
• £1.00 per minute thereafter
SHORT STAY CAR PARK
• £8.00 for up to 30 minutes in the Multi-Storey Car Park, located a 4-minute walk from the terminal building
• £14.00 for up to 1 hour in the Multi-Storey Car Park
• Free for up to 15 minutes in the Mid-Term Car Park, located 10-15 minutes walking, or a 5-minute shuttle bus from the terminal
• Free for up to 2 hours in the Long-Term Car Park, located a 10-minute shuttle bus from the terminal
CHARGE TO PICK UP PASSENGERS
AT TERMINAL
• £3.00 for up to 10 minutes
• £1.00 per minute thereafter
SHORT STAY CAR PARK
• £8.00 for up to 30 minutes in the Multi-Storey Car Park, located a 4-minute walk from the terminal building
• £14.00 for up to 1 hour in the Multi-Storey Car Park
• Free for up to 15 minutes in the Mid-Term Car Park, located 10-15 minutes walking, or a 5-minute shuttle bus from the terminal
• Free for up to 2 hours in the Long-Term Car Park, located a 10-minute shuttle bus from the terminal
DISTANCE FROM CITY CENTRE (MILES)
• 3 (Luton)
EXTRA DISTANCE GENERATED BY KISS & FLY (MILES)
• 6
AVERAGE TIME TO DRIVE TO AIRPORT FROM CITY CENTRE (ONE WAY)
• 10 minutes
MANCHESTER AIRPORT
CHARGE TO DROP OFF PASSENGERS
AT TERMINAL
• £3.00 for up to 5 minutes
• £4.00 for up to 10 minutes
SHORT STAY CAR PARK
• £4.00 for up to 30 minutes
• £6.50 for up to 1 hour
• Alternatively, passengers can be dropped off in the free drop-off area, from which a complimentary shuttle bus will transport them to the terminal building
CHARGE TO PICK UP PASSENGERS
AT TERMINAL
• Not available
SHORT STAY CAR PARK
• £4.00 for up to 30 minutes
• £6.50 for up to 1 hour
DISTANCE FROM CITY CENTRE (MILES)
• 10
EXTRA DISTANCE GENERATED BY KISS & FLY (MILES)
• 20
AVERAGE TIME TO DRIVE TO AIRPORT FROM CITY CENTRE (ONE WAY)
• 30 minutes
NEWCASTLE AIRPORT
CHARGE TO DROP OFF PASSENGERS
AT TERMINAL
• £2.00 for up to 10 minutes
• £7.00 for up to 1 hour
SHORT STAY CAR PARK
• £3.00 for up to 15 minutes
• £6.00 for up to 1 hour
• Free for up to 15 minutes in Short Stay 2, located a short walk from the terminal building
CHARGE TO PICK UP PASSENGERS
AT TERMINAL
• £2.00 for up to 10 minutes
• £7.00 for up to 1 hour
SHORT STAY CAR PARK
• £3.00 for up to 15 minutes
• £6.00 for up to 1 hour
• Free for up to 15 minutes in Short Stay 2, located a short walk from the terminal building
DISTANCE FROM CITY CENTRE (MILES)
• 6
EXTRA DISTANCE GENERATED BY KISS & FLY (MILES)
• 12
AVERAGE TIME TO DRIVE TO AIRPORT FROM CITY CENTRE (ONE WAY)
• 15 minutes
PRESTWICK AIRPORT
CHARGE TO DROP OFF PASSENGERS
AT TERMINAL
• Free for up to 5 minutes
• £6.00 for up to 1 hour in the designated drop-off and pick-up car park
SHORT STAY CAR PARK
• £6.00 for up to 1 hour
• £15.00 for up to 4 hours
CHARGE TO PICK UP PASSENGERS
AT TERMINAL
• Free for up to 5 minutes
• £6.00 for up to 1 hour in the designated drop-off and pick-up car park
SHORT STAY CAR PARK
• £6.00 for up to 1 hour
• £15.00 for up to 4 hours
DISTANCE FROM CITY CENTRE (MILES)
• 34 (Glasgow)
EXTRA DISTANCE GENERATED BY KISS & FLY (MILES)
• 68 (Glasgow)
AVERAGE TIME TO DRIVE TO AIRPORT FROM CITY CENTRE (ONE WAY)
• 40 minutes
SOUTHEND AIRPORT
CHARGE TO DROP OFF PASSENGERS
AT TERMINAL
• Free for up to 5 minutes
• £4.50 for up to 1 hour
SHORT STAY CAR PARK
• £4.50 for up to 1 hour
• £10.00 for up to 3 hours
• Free for up to 15 minutes in the Long Stay 3 Car Park
CHARGE TO PICK UP PASSENGERS
AT TERMINAL
• Free for up to 5 minutes
• £4.50 for up to 1 hour
SHORT STAY CAR PARK
• £4.50 for up to 1 hour
• £10.00 for up to 3 hours
• Free for up to 15 minutes in the Long Stay 3 Car Park
DISTANCE FROM CITY CENTRE (MILES)
• 41 (London)
EXTRA DISTANCE GENERATED BY KISS & FLY (MILES)
• 82
AVERAGE TIME TO DRIVE TO AIRPORT FROM CITY CENTRE (ONE WAY)
• 1 hour 30 minutes
SOUTHAMPTON AIRPORT
CHARGE TO DROP OFF PASSENGERS
AT TERMINAL
• Not available
SHORT STAY CAR PARK
• £2.00 for up to 15 minutes, located a 1-3-minute walk from the terminal building
• £6.00 for up to 1 hour
• Free for up to 30 minutes in the Long Stay Car Park, located a 3-5-minute shuttle bus ride from the main terminal
CHARGE TO PICK UP PASSENGERS
AT TERMINAL
• Not available
SHORT STAY CAR PARK
• £2.00 for up to 15 minutes, located a 1-3-minute walk from the terminal building
• £6.00 for up to 1 hour
• Free for up to 30 minutes in the Long Stay Car Park, located a 3-5-minute shuttle bus ride from the main terminal
DISTANCE FROM CITY CENTRE (MILES)
• 4
EXTRA DISTANCE GENERATED BY KISS & FLY (MILES)
• 8
AVERAGE TIME TO DRIVE TO AIRPORT FROM CITY CENTRE (ONE WAY)
• 15 minutes
STANSTED AIRPORT
CHARGE TO DROP OFF PASSENGERS
AT TERMINAL
• £3.50 for up to 10 minutes
• £1.00 per minute for each additional minute up to 15 minutes
• £25.00 for over 15 minutes
SHORT STAY CAR PARK
• £5.50 for up to 30 minutes
• £10.00 for up to 1 hour
• Free for up to 1 hour or £2.00 for up to 2 hours in the Mid Stay Car Park, located a 5-minute complimentary shuttle bus from the terminal forecourt
CHARGE TO PICK UP PASSENGERS
AT TERMINAL
• £3.50 for up to 10 minutes
• £1.00 per minute for each additional minute up to 15 minutes
• £25.00 for over 15 minutes
SHORT STAY CAR PARK
• £5.50 for up to 30 minutes
• £10.00 for up to 1 hour
• Free for up to 1 hour or £2.00 for up to 2 hours in the Mid Stay Car Park, located a 5-minute complimentary shuttle bus from the terminal forecourt
DISTANCE FROM CITY CENTRE (MILES)
• 40 (London)
EXTRA DISTANCE GENERATED BY KISS & FLY (MILES)
• 80 (London)
AVERAGE TIME TO DRIVE TO AIRPORT FROM CITY CENTRE (ONE WAY)
• 1 hour 30 minutes