Winford Manor , Bristol Airport
3 star hotel
Old Hill Winford ,Bristol,BS40 8DW
Why Book the Winford Manor Bristol Airport
Located just five minutes from Bristol Airport, the 3-star Winford Manor offers a tranquil start to any trip. Set in seven acres of peaceful, manicured grounds, it's easy to forget you're just over a mile from a busy international airport. The on-site restaurant is the perfect place to refuel with a bite to eat, or you can relax in the lounge with a snack or drink – while enjoying the complimentary WiFi. With a complimentary Continental breakfast option, this is the perfect start for any trip from Bristol Airport.
Hotel Facilities
Top-rated by customers

Off-airport

Free WiFi

Complimentary breakfast

24-hour reception

Restaurant

Bar

Lift

Disabled facilities

Free airport shuttle
Dining Options
Food is available to purchase at the hotel - please see below for restaurant options and opening times
The Labyrinth Restaurant
Opening times:
Breakfast 04:00-10:00
Lunch 12:00-14:00
Dinner 18:00-21:30
Atrium Bar and Lounge
Opening times: 12:00-21:30
Breakfast Options
Breakfast is included
Continental breakfast is complimentary. and a full English breakfast is available from £5.50.
Breakfast serving times are: Continental breakfast is available from 05:00. Full English breakfast is available from 07:30 - 10.00
Disabled Facilities
Winford Manor has the following ameneties for Disabled customers:
Valet parking – leave your car at reception and we'll park it securely, sparing you a long walk to reception
Ground floor accessible toilets – close to the hotel public areas
Automatic front doors – making arrival easier for everyone
Disabled parking at reception – just a short, level walk from your car
Two ground floor rooms (including a family/carer suite) with full disabled facilities – affordable luxury conveniently accessible through reception
Service dogs welcome
Transfers to and from Bristol Airport
A transfer to the airport is provided every 30 minutes, 24 hours a day free of charge. The transfer takes just over five minutes.
Room Facilities
Free WiFi

TV

En-suite bathroom

Telephone
Room types available
Double Room
Suitable for up to two adults, double rooms are furnished with a standard-size double bed.
Single Room
Suitable for one adult and furnished with a standard single bed.
Map of Winford Manor , Bristol Airport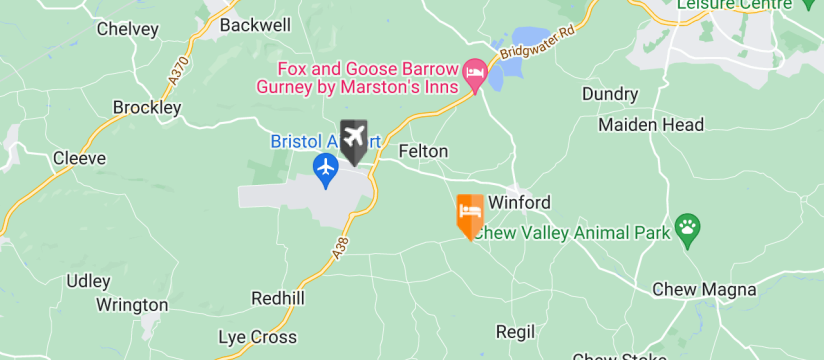 Winford Manor , Old Hill Winford Bristol BS40 8DW
Directions
From the South-West M5:
Exit at Junction 22 and follow signs for A38 Airport.
At the roundabout adjacent to the airport, take the second exit onto Bristol Road.
Take the next right onto West Lane signed Winford/Chew Magna.
Follow the road for one mile and turn right onto Old Hill.
Follow the road, take the right hand fork and the hotel is in front of you.
From North on M5:
Exit at Junction 18 and follow signs for A38 Airport.
Pass sign for Winford/Chew Magna and continue until a left turn signed Winford Manor.
Pass the George & Dragon and take the right hand turn signed Winford Manor.
Follow the road, take the right hand fork and the hotel is in front of you.