Park Smart, Liverpool John Lennon Airport
Liverpool John Lennon Airport Speke ,Liverpool,L24 1YD
Why Book Park Smart, Liverpool John Lennon Airport
Park Smart Liverpool Airport is a great option for airport parking at Liverpool. Located just a 5-minute walk from the terminals, Park Smart (formerly iPark) offers a convenient and secure way to park your car while you're away.
At Park Smart, you park your car yourself and keep the keys, so you can relax and enjoy your trip knowing that your car is safe. The car park has been awarded the Park Mark Safer Parking award for its extensive security features, such as security fencing, barrier control, ANPR and CCTV which monitor your car 24 hours a day.
Park Smart is a great option for anyone looking for a convenient and secure way to park their car at Liverpool Airport.
Car Park Features
Top-rated by customers

On-airport

Walking time 5 - 7 minutes

Airport approved operator

Keep keys

Walk to terminal
Fully insured drivers

Self-park
Liverpool Airport Park Smart Parking has undergone re-branding in recent years, as it was formerly known as iPark Liverpool Airport. This car park offers plenty of discounted deals for customers, particularly those who book well in advance, which is always recommended. They are approved by Liverpool Airport and provide a number of packages, depending on your budget and how long you plan to stay with them. Park Smart is one of the closest car parks at Liverpool Airport.
Those who aren't comfortable with a valeting system will be happy to know that it is a self-park car park. This means that you keep your keys with you, so you won't need to drop-off or collect them before and after your journey. The only item you will need to keep hold of is your parking ticket after you arrive, as you will need this for the exit process.
There's no need to arrange anything with a reception building or check-in point, as there's no transfer service for this car park. Thanks to the car park's on-site location, it's just a 5-7-minute walk to the terminal doors. It means you won't have to wait for a transfer bus to arrive and drop you off; instead, you take a quick stroll to get on with checking-in and clearing security.
For those who prefer a quick getaway after a long day's travelling, you will be pleased with how straightforward the exiting process is. You return to the car park by walking the short distance, drive to the barrier, and use your ticket to get out – that's all there is to it! If you happen to experience any difficulties at all, a simple press of a button will alert a member of staff you require assistance.
Security
24-hour staff

Barrier-controlled

CCTV

Park Mark Award (Police Approved)

ANPR
Liverpool Airport Park Smart uses a number of security measures to ensure that those who choose to stay with them are confident in how their vehicle will be looked after while they are away. This on-airport facility has 24-hour staff who are not only on-site to help you but are also there to patrol the area. This car park uses a barrier-controlled system, which means that only registered vehicles can come into and leave the premises. Floodlights also illuminate the car park at night, and CCTV is in operation to monitor any activity throughout the day and night. ANPR technology is used, which is a system of recognising and registering number plates as they arrive and leave, so you can be assured that both your vehicle and any others that enter the premises are noted. Together, these measures have earned Liverpool Airport Park Smart the Park Mark Safer Parking Award. This is awarded by the police as part of their Crime Prevention Initiative, which ensures all of these strategies are reliable and maintained.
Transfers to and from Liverpool John Lennon Airport
No transfers required for this conveniently located car park.
Disabled Facilities
There are no disabled facilities available in the Park Smart car park (Formerly iPark). If you require disabled facilities, use the nearby Long Stay and Multi-Storey car parks. There are a number of disabled spaces in these car parks which are available on a first come first served basis. These spaces are unable to be reserved. These car parks also offer a blue badge replacement scheme should you wish to take your blue badge away with you on holiday.
Opening Times
Smar Park at Liverpool Airport is open 24/7 so you don't need to worry about not being able to get access to your vehicle when you return. When you land, just make the short 5-10 minute walk to the car park and start your drive home!
Additional Information
Commercial vehicles, trailers and buses/coaches are not permitted.
When you return from your getaway, you can use your parking ticket to exit the car park. If you have lost your ticket whilst you were away, make sure to bring photo ID so staff can verify your identity.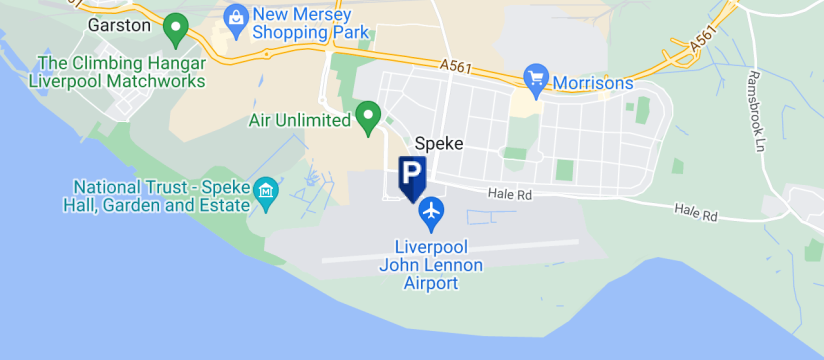 Park Smart, Liverpool John Lennon Airport Speke Liverpool L24 1YD
Directions
This on-airport car park is an ideal location to leave your vehicle whilst you're away. The airport is based just off the A561 and is easily accessible by a number of A-roads and motorways from whichever direction you're approaching it from. The car park is well signposted off the roundabout.
Travelling from the North / North-East M6 southbound to junction 21A with M62. Please note that junction 21A is a split junction, and motorists should ensure they come off at the slip road signposted Liverpool. Follow M62 West to junction 6 onto the A5300 to the A561 and follow signs to the Airport, which is situated off Speke Hall Avenue.
Travelling from the South / East M6 northbound to junction 20 with M56. Follow M56 to junction 12 onto A557/A562 dual carriageway via Runcorn Bridge to merge with A561. Follow signs to the Airport, situated off Speke Hall Avenue.
Travelling from the Wirral / North Wales Passengers travelling from Wirral may find it more convenient at peak times to use the M53 and then the M56 (as instructions from the South / East) rather than a route through the City Centre of Liverpool via the Mersey Tunnels. Passengers travelling from North Wales should join the A55 to connect with the M56 eastbound, and then follow instructions as from the East. The Park Smart car park can be located by turning right on the roundabout as you approach the terminal building
Arrival Procedure
Drive up to the entry barrier, ANPR software will read you registration number, issue a ticket and the barrier will rise. Please note, if the barrier does not lift, press the button and quote your reference number (APH-XXXXX).
Return Procedure
At the exit, insert your ticket and the barrier will rise.