Blue Circle Meet & Greet, Birmingham Airport
Birmingham International Airport ,Birmingham,B26 3QJ
Why Book Blue Circle Meet & Greet, Birmingham Airport
One of the easiest ways to enjoy a premier-service on the day of your flight is to use Blue Circle Meet & Greet Birmingham. Not only does their service allow you to park just minutes away from the terminal doors, but they promise to offer you a premium parking package for an affordable price. Blue Circle's valeting services, which exist across a number of airports, enable them to use their wealth of experience to provide you with a parking method that is seamless, efficient and within your budget.
Car Park Features
Uniformed staff

Meet & Greet

Walking time 3 minutes

24-hour operation

Leave keys

Walk to terminal
Fully insured drivers

Assisted loading if requested

Valet parking
There are many different types of Birmingham airport parking available. However, Meet & Greet has to be one of the most time-efficient. The Blue Circle team will call you 20-30 minutes before you are due to arrive to ensure a seamless turnaround. If they don't call you, it's advised that you call them around 15-20 minutes before you arrive at the Valet Car Park.

When you leave your vehicle with Blue Circle's staff, you will be in the capable hands of fully-qualified and insured drivers. When you arrive, it's just a matter of leaving your car in one of their drop-off bays. You will leave your keys with their Meet & Greet team, who will be wearing easily seen Blue Circle logos as part of their uniform. This is the most organisation you will have to undergo to park your car, as once you're finished checking-in, it's time to take a short walk to the terminal!
It takes only three minutes to reach the terminal doors from the place where you will drop-off your vehicle. This means that when you leave your vehicle with the Blue Circle staff, you will be moments away from either checking-in or clearing security. There's no need to catch a transfer bus, just grab your luggage and go.

Their uniformed staff will be on-hand 24-hours a day, so they can always be reached, both before your flight and upon your return. When you do return, you will need to call the Blue Circle Meet & Greet facility. This ensures that when you return to the Valet Parking Car Park, your vehicle can be driven back to the point where you left it upon your arrival. This means you can make your way home straight away - perfect after a long flight.
Security
24-hour staff

Security fencing

CCTV
Alongside Blue Circle's industry experience, they also operate a comprehensive security policy for their secure car park. They have 24-hour, uniformed staff who patrol the facility to ensure that the compound is monitored at all times.
The car park itself is surrounded by security fencing, to ensure that no intruders can enter the premises. Alongside its uniformed staff, the compound is also fitted with CCTV cameras, to monitor and capture activity in and around the facility.
Transfers to and from Birmingham Airport
The Valet Parking Car Park is only a short stroll away from the terminal doors, so there's no need for a transfer bus service. The convenient three-minute walk means that once you leave your car with the Blue Circle team, it's just a matter of taking a short stroll to begin the check-in or security process.
Disabled Facilities
Blue Circle's Meet & Greet service is perfect for those who have limited mobility or disability needs. There is assisted loading on-hand for anyone who needs it, all you need to do is let one of their members of staff know. They also take pride in their customer service team, who are on hand for any questions you may have about their disabled facilities.
Opening Times
Blue Circle's dedication to a high-quality, easy service is reflected in their availability. Their Meet & Greet parking is available 24-hours a day, seven days a week, 365 days a year. Whether you need to catch a late-night flight or get up extra early, you'll still be able to leave your car with one of their helpful attendants.
Additional Information
On return there is a fee of £1 to exit the drop-off zone at the airport.
On return the maximum stay is 10 minutes, if this is exceeded you will have to pay an additional fee.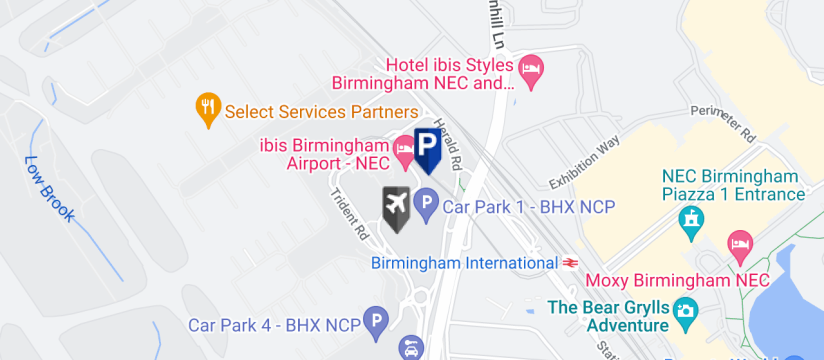 Blue Circle Meet & Greet, Birmingham International Airport Birmingham B26 3QJ
Directions
The Blue Circle Meet & Greet team can be located at the Valet Parking Car Park, which can be easily located as you join the approach for Birmingham Airport. To find this car park, simply follow the signs for Car Parks 2 and 3. You will find the Valet Parking Car Park in between the two, just before Car Park 3. The below directions should help you find the car park easily:
Follow signs to Birmingham Airport:
Once in the airport follow signs for Short Stay Car Park 2 & 3.
Enter the Valet Parking Car Park, which is just before Car Park 3.
If you're using a sat-nav, enter the postcode B26 3QJ.
Arrival Procedure
Leaving your car with Blue Circle is easy:
Blue Circle will call you 20-30 mins before your arrival time – if you haven't received a call, contact Blue Circle 15-20 minutes before arriving at the airport.
Head to the Valet Parking Car Park.
Take a ticket at the barrier and enter the car park – be sure to give the ticket to the awaiting driver.
Park in bay 25, 26, 27, 39, 40, 41, or 42.
A Blue Circle chauffeur will meet you.
Head to the check-in desks while the fully insured chauffeur parks your car in a nearby Drivefly compound.
Please ensure you allow sufficient time to complete the vehicle hand over before heading to the terminal.
Return Procedure
On landing:
Collect your luggage and clear customs and then call Blue Circle to let them know you have arrived.
The chauffeur will deliver your vehicle to the agreed pick-up point – the same point you dropped your car on arrival.
Grab your keys and continue your journey.