Birmingham Airport Valet
Birmingham Airport ,Birmingham,B26 3QJ
Why Book Birmingham Airport Valet
Whether you've got large suitcases to check-in or you have younger children to navigate through security Birmingham Airport Meet & Greet lets you be just a short walk away from the terminal doors. Sometimes it's worth paying for a little convenience every now and then to make life easier, and this service allows you to park just moments away from the check-in desks. By booking online, you can guarantee that your Meet & Greet package is safely booked and ready to go for the day of your flight.
Car Park Features
Uniformed staff

Meet & Greet

Walking time 2 minutes

24-hour operation

Leave keys

Walk to terminal
Assisted loading if requested

Valet parking
As well as giving you a bit of premium treatment before you board your flight, Meet & Greet provides a professional service to ensure you have a quick turnaround. This is one of the easiest Birmingham airport parking options available for those who want to check-in or clear security as soon as possible.

NCP's Valet Car Park is operated by uniformed staff who will greet you upon arrival. Once your booking is confirmed, you will leave your keys with one of their experienced drivers, who will park your vehicle for you. All drivers who work with this service are fully-insured, which means you have one less worry before you board your flight. The Meet & Greet staff will do some quick courtesy checks on your car, so you can rest assured that your vehicle will return to you just as you left it.
This car park is just a two-minute walk away from the terminal and check-in desks. This means that once you've unloaded your suitcases and luggage, you can make your way over by taking just a short walk. There is assistance for loading and unloading luggage, should you need it.

Collecting your car upon your return is just as simple. When you've made your way through security and left the terminal building, simply walk back to the same reception desk where you last left your car. Here, a member of staff will return your keys and you can seamlessly start your journey homewards. When you do finally touch-down and start making your way to the baggage reclaim area, it's recommended that you u give the Meet & Greet team a call. That way, your car can be brought back to exactly where you left it – so it's ready and waiting for you when you arrive.
Security
24-hour staff

Barrier-controlled

Security fencing

CCTV

Park Mark Award (Police Approved)
You needn't worry about leaving your car behind in the NCP staff's capable hands, as your car will be parked safely in a secure compound. The facility is manned by 24-hour staff who patrol the car park. On top of that, the compound is fitted with CCTV cameras, which monitor all activity in and around the building. The entrance and exit to the building are controlled by electronic barriers, which means only permitted vehicles can enter and leave. NCP's car park is also surrounded by security fencing, to prevent intruders from entering the premises. Together, these measures have earned the Valet Car Park the Park Mark Award. This certificate can only be gained by the police if it meets their high-security standards.
Transfers to and from Birmingham Airport
Birmingham Airport's Meet & Greet service is just a short, two-minute walk away from the terminal doors, so there's no need for a transfer bus service at all! Once you've confirmed your booking and handed over your keys, it's just a short stroll to the check-in desks.
Disabled Facilities
For those who require assistance or have mobility needs, Meet & Greet can be an ideal solution. Birmingham Airport Meet & Greet has assisted loading upon request for those who need it, and the short distance to the airport provides extra convenience. On top of this, they have three designated parking spots for those who have disability needs. These are located next to the Valet Parking cabin.
Opening Times
Whichever flight you happen to be catching and on whichever day, you will always be able to use this Meet & Greet service. Birmingham Airport Meet and Greet is open every single day of the year, 24 hours a day.
Additional Information
Maximum vehicle height: 2m
Vehicle restrictions apply, please see more information below for details.
Please ensure you park in Valet to avoid any additional charges.
This car park does not accept vans, minibuses, motorhomes, caravans and trailers.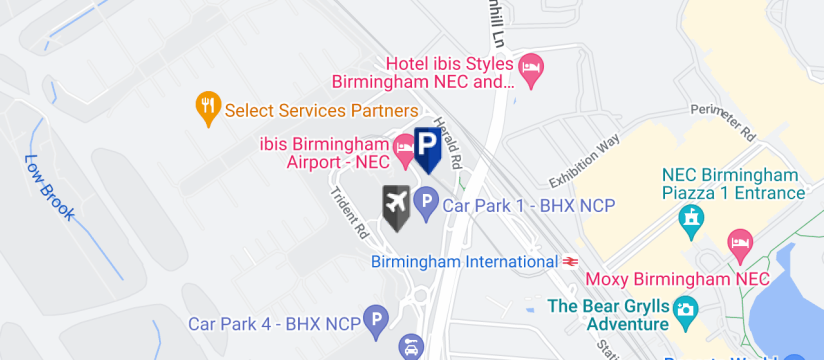 Birmingham Airport Valet , Birmingham Airport Birmingham B26 3QJ
Directions
You won't have to worry about the Meet & Greet being ambiguously signposted, as you will start to see signs for it on your approach to the airport. As you follow the signs for Birmingham Airport on the A45, you will start to see signs for 'Valet Parking.' The directions below can help you find the car park in more detail:
Leave the M42 at Junction 6:
Proceed along the A45.
Follow signs to the airport.
On arrival to the airport, follow signs for Valet Parking.
Arrival Procedure
Leaving your car with Birmingham Airport Valet Parking is easy:
Drive to the Valet Car Park.
Cameras will read your registration number which will raise the barriers automatically.
For assistance, please speak to a member of staff or press the assistance button and our customer service team will be happy to assist you. The assistance button is located on the entrance column.
Park up in the Valet car park and walk into the Valet reception, which is adjacent to the exit. A member of staff will complete some checks before taking your vehicle keys and parking your vehicle for you.
Please ensure you allow sufficient time to complete the vehicle hand over before heading to the terminal.
Return Procedure
Collecting your car is just as simple:
Please call Valet when you have reached the baggage hall, to ensure we have your vehicle ready for you to collect
Then make your way to the Valet car park reception, where our friendly staff will assist you to your vehicle.
Drive to the exit where the barrier will raise automatically. If the barrier does not raise, please speak to a member of staff on-site or press the assistance button for assistance, our staff will be happy to assist you.