SACP, Southend Airport
Unit D Millhead Way Purdeys Industrial Estate ,Rochford,SS4 1LB
Why Book SACP, Southend Airport
Not only is SACP Parking a family-run business, but they also have over nine years of experience in the industry. This car park is really close to Southend Airport so you don't have to waste time on a long transfer service. This car park is perfect for anyone who is looking for an affordable package that also provides convenience when parking. This car park combines elements of Meet & Greet with a regular secure car park to help you get to the check-in desks as soon as possible.
Car Park Features
Uniformed staff

Off-airport

Frequency 15 minutes

Transfer time 5 minutes

Leave keys

Toilets
Assisted loading if requested

Valet parking

Bus transfer
Those who are looking to find affordable but convenient Southend airport parking may wish to try an off-airport option. While these car parks aren't located directly next to the airport, they are still only a few minutes away from the terminal building. SACP at Southend Airport may be an off-airport car park, but its list of features offer all the conveniences of an on-airport car park.

This car park has uniformed staff who are on hand to help at any time of the day. Transfers to and from Southend Airport's terminal are on-demand and take only 5-minutes to arrive at their destination. This short distance means that there will be very little time between parking your car and using your boarding pass, especially as you can catch a transfer bus as and when you need it. A member of staff will be present to send you on your way and greet you upon your return, which means your keys will be back in your hands in no-time.

At this car park, you leave your keys for an experienced, insured driver to park your vehicle for you. You can also ask for assistance with loading and unloading your car – ideal for long trips with large baggage, or for those who experience mobility issues.

If you want to avoid any queues for the facilities within the airport, there are also on-site toilets. It's perfect if you want to get to the check-in desks without any delays when you arrive at the terminal building.
Security
24-hour staff

Security fencing

CCTV

Park Mark Award (Police Approved)
When you leave your vehicle with the experienced valet driver, you can rest assured that your car will be in safe hands. The secure compound where it will be parked is operated by 24-hour security staff. It is also surrounded by security fencing, to prevent any unauthorised persons from entering the premises. As well as its uniformed staff members, the car park is watched by CCTV cameras, which guarantee that all on-site activity is monitored. At night, the facility is also floodlit by bright security lighting. These extensive measures have earned SACP Southend Airport the Park Mark Award. This is part of the police's Crime Prevention Initiative and can only be granted if the facility meets its high-security standard.
Transfers to and from Southend Airport
The transfer bus to and from the airport runs an on-demand service. Transfer buses are available as and when you need them – no waiting around with your luggage. The transfer time itself takes only 5-minutes, which means you can get to the terminal as soon as possible! It's operation hours are between 04:00-00:00, during which buses run frequently.
Disabled Facilities
SACP at Southend Airport has a number of allocated parking bays for those with a Blue Badge Permit. Their valet driver process is ideal for those with mobility issues as your vehicle can be securely parked for you while you get assistance with your luggage.
Opening Times
While the transfer bus service may have specific operation hours, this car park is open all year round. Its opening hours are based on departing and incoming flights from Southend Airport, so you can guarantee that there will be someone on-site to help, whatever the time you return.
Additional Information
This car park will not accept long wheel based vehicles.
This car park will not accept long wheel based vehicles.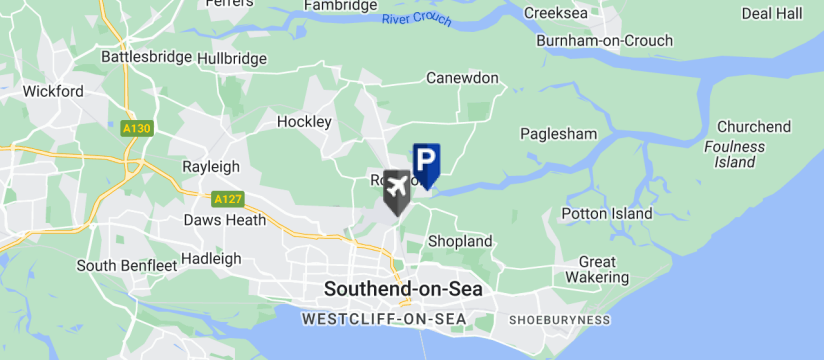 SACP, Unit D Millhead Way Purdeys Industrial Estate Rochford SS4 1LB
Directions
While this car park is not technically on-airport, it is still very close. When you travel down the M25, you will need to exit onto the A127 towards Southend Airport as normal. When you arrive, the entrance to the car park will be clearly visible. The detailed directions can help you find the car park wherever you're driving from.
From the M25:
Exit at Junction 29 for the A127. Stay on the A127 for approximately 18 miles.
At the Tesco roundabout, take the third exit.
At the next roundabout turn left and then on the following roundabout turn right.
On the following roundabout turn right and then left on the next.
Take the second road right onto Rochehall Way and then take the first left.
At the end of the road you will see the entrance to the car park.
Arrival Procedure
When you arrive at the car park:
Report to the reception.
Once your booking has been confirmed, hand over your keys.
Take the transfer bus to the airport.
The bus will drop you off in the Short Stay Car Park
Please ensure you allow sufficient time to complete your vehicle check-in and airport transfer.
Return Procedure
On return to the airport, make your way to the Short Stay Car Park
Exit the arrivals doors and turn right,
Walk under the covered walkway to the zebra crossing
Cross the road and the short stay will be on the right
Please walk through to where you were dropped off on arrival
Once at the pick up point please call the number on your ticket that you was given when you checked in
Take the transfer bus to the car park.
Collect your keys.