Manchester Airport Drop & Go Parking, Manchester Airport
Manchester Airport Hotel Road ,Manchester Airport,M90 3NS
Why Book Manchester Airport Drop & Go Parking, Manchester Airport
Manchester Airport's Drop and Go offers you a great combination of value and convenience for longer trips of 1-2 weeks. Without the worry of trying to find a parking space, you will just pull into a drop off bay and hand your keys in to the kiosk. The fully insured drivers will park your car for you. Your car will remain in the car park at all times.
The car park is a 2-5 minute bus transfer to terminals 1 and 2 and a 5 minute walk to terminal 3.
Drop & Go holds the police approved Park Mark Safer Parking award, offering a high level of security for your car.
Car Park Features
On-airport

Frequency 10 minutes

Transfer time 2 - 5 minutes

24-hour operation

Leave keys

Fully insured drivers
Covered parking

Bus transfer
Security
24-hour staff

Security fencing

CCTV

ANPR
With the Manchester Airport Drop & Go service, you can be assured your car is properly looked after. Manchester Airport Drop & Go holds the police-approved Park Mark Safer Parking Award, offering fully secure parking facilities with 24-hour staff, CCTV and barrier controls.
Transfers to and from Manchester Airport
For flights from terminals 1 & 2, take a transfer bus which will take 2 minutes to terminal 1 and 5 minutes to terminal 2 running approximately every 10 minutes.
For flights from terminal 3, you simply take your luggage and walk to the terminal, which is no more than five minutes away.
Disabled Facilities
Blue Badge holders are welcome to book and park in Manchester Airport Drop & Go.
Opening Times
This car park is open 24 hours a day.
Additional Information
Vehicle restrictions: Vehicles for Drop & Go parking must be no higher than 6ft 6in / 2m.
Trailers are not permitted in Drop & Go.
There is a minimum stay of seven days for Drop & Go.
Additional charges will apply for arriving later or earlier than your pre-booked arrival time.
Motorcyclists can pre-book parking at Drop & Go by calling 0808 169 7030.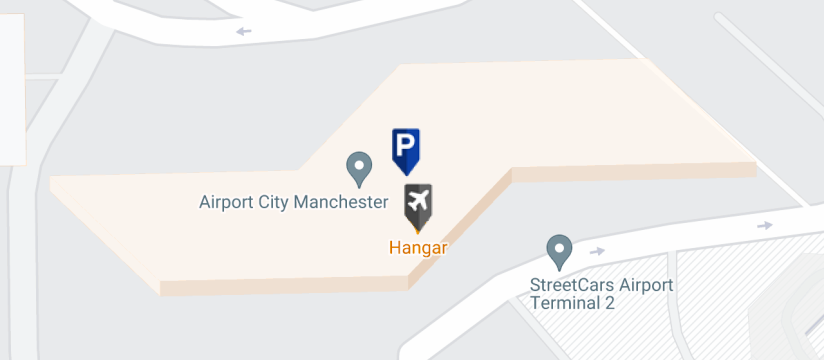 Manchester Airport Drop & Go Parking, Manchester Airport Hotel Road Manchester Airport M90 3NS
Directions
From the M56
Leave the M56 at Junction 5 and keep right, following the signs for Terminal 1 and Terminal 3.
At the traffic lights go straight ahead for Terminal 1, passing the Hilton Hotel on your left.
At the roundabout go straight ahead, avoiding the ramp-up to Terminal 1 Departures.
At the next roundabout take the first exit and go straight ahead to the next roundabout.
At this roundabout continue straight on to the Drop & Go Arrivals area.
Arrival Procedure
Arriving at Manchester Airport:
Follow the directions to Drop & Go Arrivals area.
At the entrance the ANPR system will automatically lift the barrier.
Pull into a bay and drop your keys at the kiosk.
Take your luggage and proceed to your terminal.
For terminal 3 it is a 5-minute walk and terminals 1 & 2 a shuttle bus will run every 10 minutes.
A fully-insured Drop & Go driver will park your car for you.
Please ensure you allow sufficient time to park your car and make your way to the airport terminal.
Return Procedure
Returning to Manchester Airport:
Collect your luggage.
Collect your car keys from the locker.
Proceed to the Drop & Go Returns area, where your car will be waiting for you.