Paige Airport Parking, Luton Airport
Grove Road Slip End ,Luton,LU1 4BZ
Why Book Paige Airport Parking, Luton Airport
If you're flying from Luton Airport and looking for a car park which is conveniently located, safe, secure and low-cost, Paige Airport Parking will tick all the boxes. This family-owned car park is easily accessible from the M1, provides free 10-15-minute transfers to the airport terminals every 20 minutes and takes pride in delivering exceptional customer service.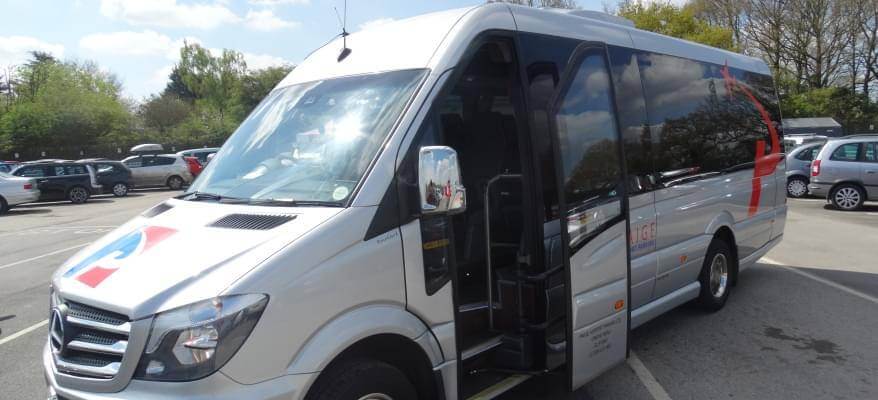 Car Park Features
Uniformed staff

Off-airport

Transfer time 10 - 15 minutes

24-hour operation

Leave keys

Toilets
Nearby fuel sales

Fully insured drivers

Assisted loading if requested

Bus transfer
Comparing Luton Airport parking options can be confusing, but Paige Airport Parking specialises in simple, quick and low-cost solutions. The car park itself is off-airport but less than 3-miles away from the airport terminals. It is just a few minutes drive from the M1 and is conveniently close to fuel stations so that you can refuel for the next stage of your journey on your return. The car park is open 24-hours a day.
Security
24-hour staff

Security fencing

CCTV

Park Mark Award (Police Approved)

ANPR

Spike strips
The safety of your vehicle, while you're away, is always going to be a top priority, and Paige Airport Parking is committed to providing the highest levels of security. The car park is Park Mark Award approved. This award means it is regularly assessed by the police to ensure it provides a secure and safe environment for both customers and vehicles. The car park is surrounded by security fencing, which is 3m high and 24-hour staff are on-site and carry out regular patrols. In addition, the car park is monitored by CCTV, ANPR vehicle entry and spike strips.
Transfers to and from Luton Airport
Paige Airport Parking provides 24 hour complimentary transfers to Luton Airport Terminal, using their own fully branded Mercedes Shuttle buses. Shuttle transfers run approximately every 20 minutes, 24-hours a day. Paige Airport Parking transfers take just 10-15-minutes to reach the airport terminals. The Paige Shuttle will drop you at their dedicated and signed bus stop, with a short undercover walk to Departure Terminal.
Disabled Facilities
While Paige Airport Parking cannot accommodate wheelchairs on their transfer minibuses, they will take all reasonable steps to help customers who may need extra assistance with loading or unloading heavy luggage. If you or one of your group will need additional help, Paige Airport Parking recommends contacting the team ahead of your arrival.
Opening Times
Paige Airport Parking is ready for you day and night as the car park is open 365 days a year. The customer reception and airport transfer buses are operational 24-hours a day for your convenience. No matter what time you arrive at the car park or the airport, you won't have to wait more than 20-minutes for a transfer.
Additional Information
Maximum passenger numbers: Five
Commercial Vehicles are permissible, subject to an additional £20 surcharge on arrival.
This car park does not accept Caravans, Bikes, Minibuses or Vans over 3.5 tonnes GVWs. Trailers are also not accepted.
Paige Airport Parking Luton have introduced a range of COVID-19 protection measures to help ensure the safety of its customers and staff. This includes, social distancing at check-in, the availability of hand sanitisers and the roll-out of driver and individual passenger protection screens to their transfer shuttle fleet.
24 hours notice is required if you plan to return to Paige Airport Parking early to collect your vehicle. If notice isn't given a charge will apply.
Paige are unable to transport Snowboards/skis, bikes, surf/windsurfing boards or items of a similar size on their transfer coaches.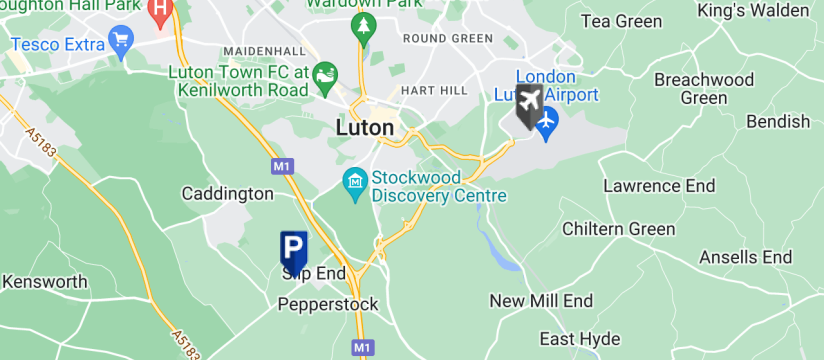 Paige Airport Parking, Grove Road Slip End Luton LU1 4BZ
Directions
From the M1 SOUTHBOUND:
Leave the motorway at J10.
Move to left hand lane before taking first slip road to St Albans A1081.
At the roundabout, take the first exit towards St Albans A1081.
At the next roundabout take the second exit towards St Albans A1081.
After 400 metres turn right to Slip End and then after approximately half a mile turn left – signposted Slip End / Paige Airport Parking.
On entering Slip End, turn right at the traffic lights into Grove Road.
After 100M turn left into access road - signposted Paige Airport Parking.
Continue straight on until you reach the entrance – DO NOT turn right into Airparks.
From the M1 NORTHBOUND:
Leave the motorway at Junction 9.
Take the first exit at the roundabout signposted A5183 Dunstable
Continue on A5183 for 2.5 miles until reaching traffic lights and the turn right – signposted Luton
On entering Slip End village turn left at the traffic lights into Grove Road
After 100M turn left into access road – signposted Paige Airport Parking
Continue straight on until reaching the main entrance – DO NOT turn right into Airparks
Arrival Procedure
Paige Park & Ride is simple and straightforward to use:
At the entrance to the Car Park, please stop at the Red traffic light so that ANPR data and vehicle images may be captured.
Proceed to any one of the 5 vehicle drop off lanes, in front of the Customer Reception unit.
Enter Customer Reception and present your booking reference or car registration.
The Reception team will provide a 'Return Card' featuring return instructions and booking summary.
You will be given a Shuttle departure time, typically within 20 minutes of check-in.
Luggage items may be loaded into the Coach boot, enabling you to board the Shuttle luggage free (Please note: Bike Carriers & Skis are not permitted).
Transfer time to the Airport is typically 12 to 15 minutes on board luxury Mercedes mini-coaches, all featuring leather seating and air-conditioning.
Your will arrive at Paige's signed Bus Stop in Zone E of the Airports new passenger drop off zone, leaving a short undercover walk to Departures.
Please ensure you allow sufficient time to park your car and make your way to the airport terminal.
Return Procedure
Collecting your car is equally as easy:
On exiting the Arrivals terminal, turn left and proceed to Terminal Car Park 2, which is sign posted as the 'Customer Drop Off / Collection Area'.
On entering the 'Collection Area' proceed directly ahead to the same Paige sign-posted Bus Stop in Zone E.
Upon reaching the undercover Bus Stop – please call 07807 200808 to request collection – please allow up to 20 minutes for a Shuttle collection.
Our Shuttles are easily identified by their Paige branding - please do not board any Shuttle without the Paige logo.
On return to the Car Park, please enter Customer Reception and present your Return card to receive your keys.
PLEASE NOTE: The 07807 200808 number is for Airport Collection request only.