Imagine Park & Ride Parking, Liverpool John Lennon Airport
3 Morrow Court Skypark Ind Estate Speke,Liverpool,L24 1YL
Why Book Imagine Park & Ride Parking, Liverpool John Lennon Airport
If you're flying from Liverpool Airport and looking for a low-cost parking service with excellent customer service, Imagine Parking Liverpool is ideal. The drop off area is located only 400-yards from the airport terminal with an on-demand transfer service which takes just 90-seconds. In three words? Fast, efficient and friendly.
Car Park Features
Uniformed staff

Off-airport

Walking time 5 minutes

24-hour operation

Leave keys

Award-winning
Toilets

Nearby fuel sales

Disabled facilities

Walk to terminal

Fully insured drivers

Free WiFi

Assisted loading if requested

Valet parking
Liverpool Airport parking doesn't get more convenient than the service you'll receive from Imagine Parking. Although the secure car parks are technically off-airport, the drop off area is just 400-yards from the terminal. Facilities at the car park include toilets, a nearby fuel station, free WiFi and an optional valet service while you're away.

When you arrive at the Imagine Parking site, you will be met by uniformed and friendly staff. Leave your keys with an attendant and then either the team will arrange a 90-second transfer to the airport for £3 per person each way, or it's just a 4-minute walk to the terminal. A fully insured driver will then drive your car to a highly secure car park with CCTV and 24-hour staffing. What's more, you can choose between indoor or outdoor car parking when booking. The car park and transfer service operate 24-hours a day.

On your return, you simply collect your luggage and, if you require the transfer service, call Imagine Parking who will arrange a transfer for you. You will be taken back to the car park so you can collect your car. Customers who choose to walk back to the car park on their return do not need to ring Imagine Parking when they arrive. Note: Liverpool Airport will charge £3 to leave the car park drop-off area.
Security
24-hour staff

Security fencing

CCTV

Park Mark Award (Police Approved)

Electronic shutters
In addition to convenience, Imagine Parking Liverpool offer customers the highest levels of security. The service has been recognised by the British Parking Association's Park Mark scheme. The Park Mark is awarded to car parks which have been inspected by the police and found to meet excellent safety and security requirements for both customers and vehicles. Car parks are regularly re-assessed in order to maintain the Park Mark award.
You can choose to have your car parked indoors and outdoors. Whichever you choose, your vehicle will be parked in a secure car park which is monitored by 24-hour security alarms, CCTV and electronic shutters. The car park is patrolled 24-hours by staff with guard dogs.
All of these features give you that all-important peace of mind that your car is safe and secure while you're away so that you can concentrate on your trip.
Transfers to and from Liverpool John Lennon Airport
Imagine Parking transfers are available on-demand 24-hours a day. There is a £3 fee per person each way. It takes just 90-seconds for the transfer to reach the terminal. When you return from your trip, you simply call Imagine Parking, and they will send a transfer bus to collect you. Alternatively, you can choose to walk the 400-yards from the car park to the terminal.
Disabled Facilities
The staff at Imagine Parking are always available to provide extra help to customers who need it. In addition, disabled customers who may find using the transfer bus to be difficult can be driven to the airport terminal in their own vehicle by one of the team's fully insured drivers. Their car will then be driven back to the car park for them and delivered back to the terminal on their return. This service is provided at no extra charge.
Opening Times
The airport doesn't sleep, which means you could be travelling at any time of day or night. To accommodate this, the Imagine car park doesn't sleep either. The car park is open 24-hours a day, 7 days a week, and all 365 days of the year and the free transfer service operates 24-hours a day.
Additional Information
The height restriction for Imagine's Indoor parking facility is 2.5 metres.
Imagine's outdoor facility does not have height restrictions.
Imagine does accept vans as long as they do not exceed a standard parking bay (for instance a standard supermarket car park bay). If they exceed there may be an additional charge.
Ther terminal building is less than a 5 miute walk. A £3 levy will be charged on arrival and again on return to the car park should you wish to catch the the transfer bus to and from the airport grounds.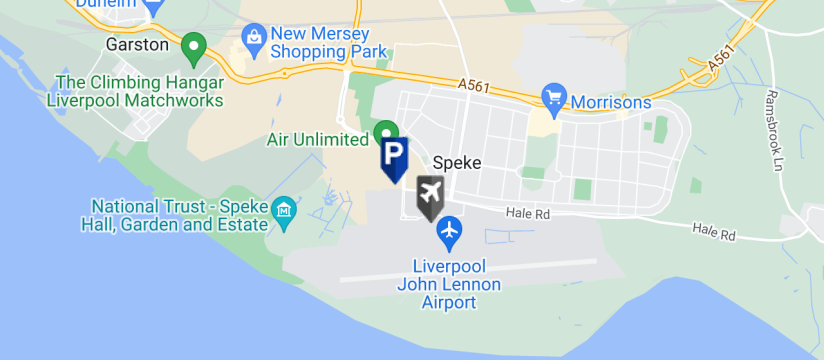 Imagine Park & Ride Parking, 3 Morrow Court Skypark Ind Estate Speke Liverpool L24 1YL
Directions
At just 400-yards from the airport terminal, you won't find a closer car park than Imagine Parking. In fact, it's so close you may choose to walk the 4-minute trip to the terminal rather than pay for the 90-second transfer. Despite the car park's excellent location, it's still recommended that customers allow around half an hour for the parking drop off process.
From the M6:
Take the M62 west to Junction 6.
Follow A5300 and then the A561.
At Speke Hall Avenue take the airport approach road at the end of the dual carriageway – DO NOT turn left at the airport, go around the roundabout and return back along the dual carriageway.
Take the first left at the 'postbox' – Imagine Car Park is the first building on your right.
Arrival Procedure
Upon arrival at the car park:
Drive to the reception area and unload your luggage.
Head into reception and provide your booking reference.
Take the short walk to the terminal building or pay the £6 transfer fee to the terminal while your car is parked for you.
Please ensure you allow sufficient time to complete your vehicle check-in and airport transfer.
Return Procedure
On return to the terminal:
Once you've collected your luggage, call Imagine Parking and return to the car park.
Collect your keys from reception, load your car and head to the exit.
Enjoy the rest of your journey.