Prestwick Airport Car Park 3
Aviation House Prestwick ,Prestwick,KA9 2PL
Why Book Prestwick Airport Car Park 3
If you're looking for convenient and secure airport parking in the west of Scotland, Car Park 3 at Prestwick Airport could be the perfect option for you. Parking with on-airport car parks shouldn't mean you have to pay a premium price for convenience. Car Park 3 offers affordable Prestwick Airport parking options that will save you time and money so that you can focus on clearing security and boarding your flight.
Car Park Features
Uniformed staff

On-airport

Walking time 3 - 5 minutes

24-hour operation

Keep keys

Nearby fuel sales
Walk to terminal

Self-park
Prestwick airport parking at Car Park 3 offers some peace-of-mind for time-savvy travellers who would prefer to be just minutes away from the terminal doors. This car park is on-airport, which means you won't be based too far away from the terminal. Car Park 2 is one of the most convenient Bournemouth Airport Parking packages as you can walk only a few minutes directly to the terminal from the car park.

This car park is open 24 hours a day, which means you won't have to book your flights around your parking times. There are uniformed staff on-site for any questions you may have.

This car park makes use of modern, ANPR technology, or automated number plate recognition. When you pull up to the entry barriers, it should register your number plate automatically and let you through with the ticket. The same process applies for your exit, making the whole process seamless. You can press the button for assistance should you need it. Having your booking confirmation to hand is always recommended for any questions or difficulties.

At this on-site car park, you will also get to keep your keys. When you arrive you find an available bay to self-park, before unloading and walking to the airport terminal. This means that when you return from your flight, you simply need to make your way back to the car park, find your vehicle, and set off whenever you're ready.

For parents with small children, there are parent and child spaces available to make loading and unloading your vehicle much easier with kids in tow.

If you endured a particularly long drive to the car park, you may wish to refuel before heading off. There's a fuel station nearby, so you can make sure you have a full tank before you head off.
Security
24-hour staff

Barrier-controlled

Security fencing

CCTV

Park Mark Award (Police Approved)

ANPR
Prestwick Airport Car Park 3 is a secure facility, so there's no need to worry about the safety of your car while you're away. It has earned the police-approved Park Mark Award, which is part of the police's Crime Prevention Initiative and can only be achieved if it meets their standards.

This car park has round-the-clock, 24-hour staff, who contribute to Car Park 3's extensive surveillance. On top of this, it is monitored by CCTV cameras to keep a note of any activity. The premises are surrounded by security fencing and floodlights, to maximise visibility and security. Any cars that enter or leave the premises will be allowed through via a barrier-controlled system. These barriers use ANPR, or automatic number plate recognition, which means only registered vehicles can enter.
Transfers to and from Glasgow Prestwick Airport
There's no need to wait for a transfer bus service at Prestwick Airport's Car Park 3. Its location is very close to the terminal so there's no need to use a transfer service. Instead, you take just a short 3-5 minute walk to the terminal.
Disabled Facilities
This car park does not have any disabled facilities on site, which means it would not be suitable for someone who requires improved mobility or assistance. However, those with disability needs should be able to find the appropriate facilities with the nearby Car Parks 1 and 2.
Opening Times
Whichever time of day you need to get parked or get home, this car park will be open. Car Park 3 is open 24-hours, seven days a week, 365 days of the year, giving you the freedom to pick flights that are suitable to your timetable.
Additional Information
Trailers and vans are not permitted in this car park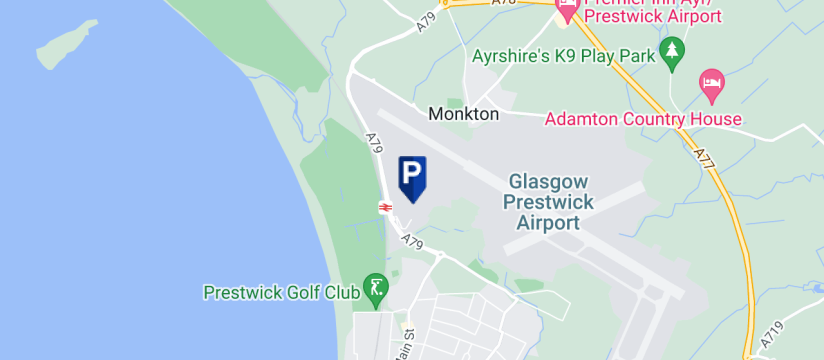 Prestwick Airport Car Park 3, Aviation House Prestwick Prestwick KA9 2PL
Directions
This car park is situated on the airport's premises, so there's no need to follow a separate route to find the car park. The car park is well signposted but can also be found by the directions below.
From Glasgow:
Follow the M77 southbound.
Follow the A77.
Take the third exit at Dutch House Roundabout and continue on the A78.
At the Monkton Head roundabout, take the 2nd exit towards the airport on the A79.
Take 2nd exit at next roundabout and at the following roundabout take the 3rd exit for Car Park 3
Arrival Procedure
On arrival to the car park:
Have your booking confirmation on hand.
Approach the barrier.
On recognition of your vehicle registration the barrier will lift.
Should you have any issues please press the intercom button for assistance.
Park your car and then take the short walk to the terminal via the railway station and air walk.
Return Procedure
On return to the car park:
Collect your car and drive to the exit.
On recognition of your vehicle registration the barrier will lift and allow you to exit the compound.