Sentinel Secure Airport Parking, Leeds Bradford Airport
Sentinel Security Park Warren House Lane ,Yeadon,LS19 7FT
Why Book Sentinel Secure Airport Parking, Leeds Bradford Airport
Located a handy 3-minutes transfer away from the terminal and top-rated by our customers, Sentinel Parking at Leeds Bradford Airport Parking at Leeds Bradford is a fantastic choice if you're flying from Leeds Bradford Airport.
The valet parking service and short transfer to the check-in desk, make this a really simple and convenient experience. Sentinel Secure Airport Parking holds the Park Mark Safer Parking Award which means you can enjoy your trip with the reassurance that your car will be safe while you're away.
Sentinel Secure Airport Parking is a highly rated parking facility located just half a mile from Leeds Bradford Airport. It has a 4.95/5 rating based on 3,016 reviews, making it one of the best-rated parking garages in the area.
Car Park Features
Top-rated by customers

Off-airport

On-demand transfers

Transfer time 2 minutes

24-hour operation

Leave keys
Disabled facilities

Valet parking

Bus transfer
If you're looking for parking at Leeds Bradford, Sentinel Secure, provides a number of services to make your experience with them as convenient as possible, including airport transfers, secure location, CCTV and 24-hour operation.
To leave your vehicle with Sentinel, you check-in with them after you've parked your car in the arrival spaces. After that, they take care of the rest, leaving you to get on with the important business of arriving at the terminal and checking-in.
Security
24-hour staff

Barrier-controlled

Security fencing

CCTV

Park Mark Award (Police Approved)
The quality of security is very high in Sentinel's car park. The car park has been verified as up-to-standard by the police, earning it a Park Mark Safer Parking certificate. Additionally, Sentinel has put in place 24-hour security staff to keep watch of the premises, as well as CCTV and barbed-wire fencing to prevent any intruders from entering. On top of this, the built-for-purpose security compound has floodlighting to provide a high level of visibility.
Not only is this airport secure, but it's also open 365 days a year and for 24-hours a day, which means that you won't have to plan your arrival and return around the car park's opening hours.
Transfers to and from Leeds Bradford Airport
To get you and your luggage to the airport, Sentinel Parking Leeds offers a transfer service to the airport that requires no extra payment. The 10p charge is included in your ticket price, so there's no need to worry about digging around for spare change. This mini-bus transfer service is only half a mile from the terminal, meaning you and your belongings won't have very far to travel. The transfers run as and when they are needed so you won't be left waiting! The process is the same for your return: just meet them at the airport collection point to enjoy the ride back to the car park.
Disabled Facilities
Staff will assist where possible with any requirements customers may have, such as: assistance in boarding the transfer bus, help with luggage or wheelchairs etc. There are also wheelchair accessible buses available.
Opening Times
This car park is open in-line with all in-bound and out-bound flights from Leeds Bradford airport.
Additional Information
Trailers, vans, minibuses, motorhomes and commercial vehicles are accepted for a £10 fee payable directly to the car park.
Sentinel also offers a valeting service for your vehicle. They have a dedicated team who will clean your car to a high standard so you can arrive to a clean vehicle and with one less thing to do when you get home.
As well as their valet parking service, Sentinel Parking Leeds also offer both MOT and servicing as part of their car park's facilities. They can check for any problems with your vehicle, as well as cleaning and vacuuming it. You can find their MOT and servicing centre just 100-yards away from the car park.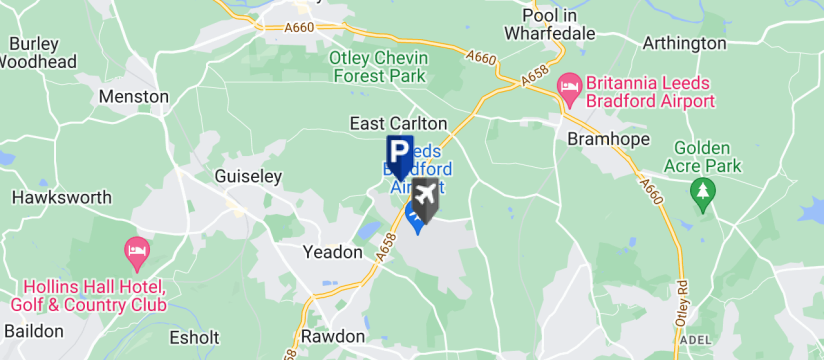 Sentinel Secure Airport Parking, Sentinel Security Park Warren House Lane Yeadon LS19 7FT
Directions
Below you'll find Sentinel Leeds Bradford Airport car park directions, so you don't need to waste time before you fly. The car park is only half a mile from the terminal building, so transfers to and from the airport are fast and seamless. On a map, you will see that it is just a short stretch of road away from the airport itself. This proximity to the airport equates to roughly a 2/3-minute transfer time.
From the north:
From the A658 follow the signs for Leeds Bradford Airport.
Turn right at the roundabout.
The car park is 300 yards on your right.
From the south:
From the A658, follow signs to the airport.
Turn left at the roundabout at the end of the tunnel.
The car park is located 300 yards down the road on the right.
Arrival Procedure
On arrival to the car park:
Drive into the car park and head to the arrivals bays.
Check-in at the reception using your booking confirmation.
Hand over your keys, then jump on a shuttle bus to the airport.Â
Please ensure you allow sufficient time to complete your vehicle check-in and airport transfer.
Return Procedure
On return to the airport:
Take the shuttle bus back to the car park.
Collect your keys from reception.
Load up your car and enjoy the rest of your journey.