MBW Rapid Charge, Heathrow Airport
Heathrow Airport Hounslow ,Hounslow,TW6 1EW
Why Book MBW Rapid Charge, Heathrow Airport
MBW EV Parking is a well-established meet & greet service at Heathrow Airport which means you can drive away with a charged car and you don't have to waste time parking your car before your getaway. Located close to the terminals with a variety of security features, MBW car parks have been awarded the Park Mark Safer Parking accreditation, which is a police-backed initiative, recognising the security of car parks. Security features in their car parks include high fencing, 24-hour staff and CCTV in operation.
22kW 3-Phase Chargers

5 years of EV Experience

Dedicated EV Charging Area

No Need for Customer Cables
This service operates at Terminals 2,3 and 5.
Here are some of the benefits of using MBW Parking:
Convenient: MBW Parking is located close to the terminals, so you can quickly and easily get to your flight.
Secure: MBW Parking has been awarded the Park Mark Safer Parking accreditation, which is a police-backed initiative, recognising the security of car parks.
Affordable: MBW Parking offers a variety of parking options to suit your budget.
Reliable: MBW Parking has a long history of providing a reliable and convenient parking service.
If you are looking for a convenient, secure, and affordable parking option at Heathrow Airport, MBW Parking is perfect.
Car Park Features
Meet & Greet

Operates between 04:00 - 23:59

Leave keys

Toilets

Uniformed staff

Nearby fuel sales
Disabled facilities

Walk to terminal

Fully insured drivers

Free WiFi

Assisted loading if requested
MBW EV Meet & Greet Parking offers a premium service for travellers flying from Terminals 2, 3 and 5. While you will be paying for a much more convenient parking service than parking in a multi-storey, you won't be hit with hidden charges or surprise fees as Heathrow's airport access fee is included in the price.
You will need to check in and leave your keys with the staff, so they can park your car in their secure car park while you are away. This service operates between 04:00-23:59.
Meet and greet parking with MBW is one of the most convenient and hassle-free ways to park your vehicle before you fly away for your family holiday or your business trip. MBW can save you valuable time as well as making the whole parking process hassle-free. You can just let the airport parking professionals concentrate on looking after your car so that you can enjoy your trip.
Security
24-hour staff

Security fencing

CCTV

Park Mark Award (Police Approved)
MBW's insured drivers will park your car in their secure car park which is patrolled 24 hours a day and has CCTV coverage. The car park has also been awarded the Park Mark Award.
Disabled Facilities
MBW Meet & Greet is ideal for anyone who has a disability and requires extra assistance as you hand over your car at the terminal, and take a short walk to check in.
Opening Times
MBW EV is open 365 days a year between the hours of 4:00 and 23:59.
If your flight is delayed upon your return and lands between 23:59pm and 04:00am you will incur a £25 charge.
Additional Information
From 29th August 2023 new ULEZ charges will affect bookings at most car parks serving Heathrow for vehicles that do not meet Euro 6 emissions regulations - please make sure you check before you travel.
For more information please visit: https://tfl.gov.uk/modes/driving/ultra-low-emission-zone/ulez-payments
Please consider that you will be within the ULEZ zone on two seperate occasions (on your start date and return date).
MBW can guarantee a minimum charge of 70% as many cars have limitations in place either by the owner or manufacturer, but will always endeavour to charge to 100%.
Operates from 04:00 to 23:59.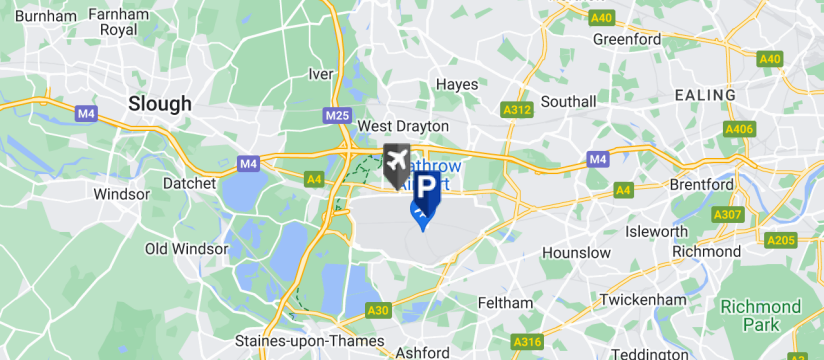 MBW Rapid Charge, Heathrow Airport Hounslow Hounslow TW6 1EW
Directions
MBW Meet & Greet parking applies for all terminals at Heathrow Airport. Head towards Heathrow Airport. Follow the signs for the Short Stay Car Park, where you will then need to follow signs for off-airport parking. A member of the team will be on-hand to take your car and securely park it for you.
For Terminal 5 from M25 Clockwise:
Exit M25 at Junction 14.
Stay in lane signed Terminal 5.
Follow road round to Terminal 5 Roundabout.
At the roundabout take 2nd exit signed T5 Drop Off.
Follow road round and staying right head up the ramp to the Short Stay Car Park.
For Terminals 2&3 from M25 Clockwise:
Exit M25 at Junction 15.
Stay right and in the lane for Terminal 2&3.
Follow the road round and join the M4.
Exit the M4 at Junction 4.
At the roundabout take the 3rd Exit, M4 (Tunnel Road East).
At the "Welcome to Heathrow" roundabout stay in the right hand lanes and head straight over.
Head down into the tunnel.
Exit the tunnel and follow signs for your terminals Short Stay Car Park.
Arrival Procedure
Please call MBW approximately 30 minutes prior to reaching Heathrow. You must keep MBW informed if you are likely to be early or late with as much notice as possible.
Terminal 2 (Postcode: TW6 1EW):
Follow signs for T2 Departures Short Stay Car Park; as you leave the tunnel keep in the right-hand lane. Going up the ramp, keep right. Take a ticket at the barrier furthest to the right, head up to Level 4 and follow signs for Off-Airport Parking and park in row A or B.
Terminal 3 (Postcode:TW6 1QG):
As you leave the tunnel follow signs toward Terminal 3, Short Stay Car Park 3. Enter the Short Stay Car Park and take a ticket at the barrier, you must hand this to the MBW Captain. Head to Level 4 Off Airport Parking and park in either row A or B.
Terminal 5 (Postcode: TW6 2GA):
Leave the Terminal 5 roundabout and follow the signs to T5 departures. Keep in the right lane heading up the ramp and follow the signs into the Short Stay Car Park. Keep left and head towards the last set of barriers. Take a ticket at the barrier, hand this to the MBW Captain. Follow signs to Off-Airport Parking and park in rows R or S.
Return Procedure
Please call MBW when you have collected all your luggage at reclaim, or when you have passed passport control if you only have hand luggage. The despatch office will advise you of a time frame for delivery, if there is a wait for the vehicle to be returned please wait inside the terminal until further notice. If you arrive early or late and outside of booked times, please be prepared to wait. As you exit the arrival hall into the Terminal plaza, turn left and walk towards the UK Arrivals end of the Terminal. Nearing the end of the plaza, turn right and exit the Terminal through the main door, then cross the bridge in front of you. Take the left hand lift and go up to Level 4. The Handover Captain will meet you at the MBW desk. If you have any comments or enquiries please contact the office on email only, full details will be handed to you at the drop-off area.