Maple Parking Business Meet and Greet T5, Heathrow Airport
Heathrow Airport T5 ,Hounslow,TW6 2GW
Why Book Maple Parking Business Meet and Greet T5, Heathrow Airport
Maple Parking Meet and Greet is a quick and convenient option for Heathrow Travellers. This product operates from Terminal 5 only and offers a short walk to the terminal building, whilst your car is parked for you.
On your return, your vehicle will be returned to Terminal 5 automatically as your flight is monitored for landing.
Car Park Features
On-airport

24-hour operation

Keep keys

Disabled facilities

Walk to terminal

Fully insured drivers
Security
24-hour staff

Security fencing

CCTV

Park Mark Award (Police Approved)
All Maple Parking Staff are uniformed, fully insured and CRB checked
Your car will be parked in a nearby car park that is monitored 24 hours a day
Park Mark Award winners
All car parks have been inspected by Specicially Trained Police Officiers
Member of IAPA
Transfers to and from Heathrow Airport
Transfers are not required as you will be able to walk straight into the terminal.
Disabled Facilities
Disabled parking spaces are available. This is a great choice for travellers requiring extra assistance.
Opening Times
The car park operates 24 hours a day, 365 days a year.
Additional Information
Maximum height restriction is 2.2m.
From 29th August 2023 new ULEZ charges will affect bookings at most car parks serving Heathrow for vehicles that do not meet Euro 6 emissions regulations - please make sure you check before you travel.
*No Wait Guarantee Terms/Conditions: An accurate return flight number and landing date and time is given. Your flight does not land more than 15 minutes early unannounced. The terminal is open and flights are operating from that terminal. There are no road closures or road accidents preventing us from getting to and from the airport easily. Heightened security at the airport does not slow down entry into the airport. Any vehicle issues preventing or delaying the return of the vehicle – including mechanical, electrical, fuel etc.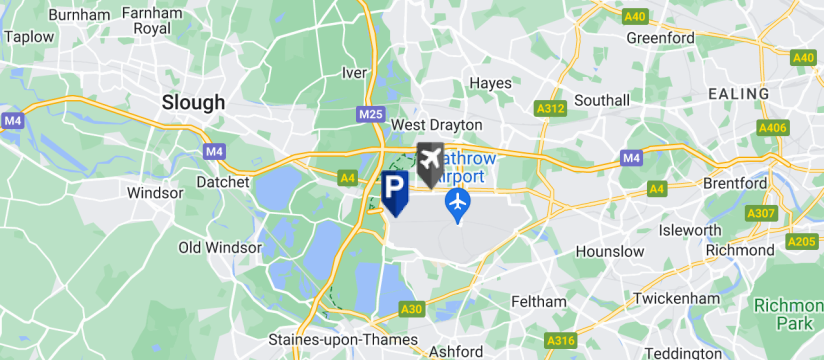 Maple Parking Business Meet and Greet T5, Heathrow Airport T5 Hounslow TW6 2GW
Directions
Directions to Terminal 5:
Postcode: TW6 2GA

- Leave the M4 at Junction 4 (or if you're coming from the M25, leave at Junction 14).
- Follow the signs to T5.
- Upon entering Heathrow Airport, follow signs for T5 Short Stay, drive into the car park upto level 4.
- Follow the Avis signs towards the third set of barriers, take a ticket (please hand this to our Handover Captain).
- Follow "OFF AIRPORT" signs and park in the 'Off Airport Meet & Greet' parking bays.
Arrival Procedure
This product is for drop off and collection at T5 only. Your return terminal can be changed directly with Maple Parking however this must be amended prior to the day your booking starts, however extra charges may apply.
Please call Maple Parking 01895 544382 if you require any help with directions.
Once parked and unloaded, please lock your car and check in with our Handover Team who are based at our Purple desk in the lift lobby. You will need to confirm your return flight details so please have these to hand. We must have your correct return date and flight number in order to help us avoid any delays in returning your car. Your car will be photographed and taken to our secure car park by one of our experienced drivers, whilst you check in.


Return Procedure
Please then make your way back to the same place you left your vehicle and your car will be ready waiting for you. Terminal 5 - Short Stay Car Park Level 4 – Off Airport Meet & Greet.