Bristol Airport Silver Zone Parking
Bristol Airport ,Bristol,BS48 3DY
Why Book Bristol Airport Silver Zone Parking
If you're jetting off from Bristol Airport, you may be hunting for the best parking package; Bristol Airport Silver Zone Parking could be the perfect choice. This on-airport car park is ideal for those who are looking for a mid-to-long stay package and is ideally positioned just 5 minutes from the terminal. The car park is awarded the Park Mark Award so you can rest assured your vehicle is safe and secure at all times.
If you're looking for reliable car parking at Bristol Airport and don't want to have to venture off-site, then the Silver Zone car park could be the perfect option.
Car Park Features
Uniformed staff

On-airport

On-demand transfers

Transfer time 5 - 10 minutes

24-hour operation

Keep keys
Assisted loading if requested

Bus transfer

Self-park
Security
24-hour staff

Barrier-controlled

Security fencing

CCTV

Park Mark Award (Police Approved)

ANPR
Bristol Airport Silver Zone Parking offers a comprehensive range of security measures. It has installed the latest security technology, which includes Automatic Number Plate Recognition and Vehicle Damage Recognition, which will be used upon your entry to the car park. The car park is also surrounded by a security fence to prevent intruders from accessing the car park. The Silver Zone car park is maintained by 24-hour security staff, so your vehicle will never be left unattended. On top of this, the car park is also watched by CCTV cameras, so you can be sure that your vehicle is safe whilst you're away. All of these features collectively have earned it the Park Mark Safer Parking Award from the police's Crime Prevention Initiative. It means that the car park has met their strict criteria for safety and security.
Transfers to and from Bristol Airport
It's located on the airport itself and has a transfer bus service that takes only 7-9 minutes to reach the terminal doors. The shuttle bus runs at regular intervals every 20-minutes. It is also free of charge, so you won't have to worry about finding extra money on the day. When you return to Bristol Airport after your flight, all you do is take the transfer bus service back to the airport. Once you arrive at the car park, head straight to your car and depart through their easy barrier system.
Disabled Facilities
If you require disability-friendly spaces, you will find blue badge parking spaces conveniently next to the reception. On top of this, the shuttle service comes fully equipped with wheelchair ramps, so you won't have to worry about getting on and off the bus. Not only this but if you are a blue badge holder, you will get 30-minutes of free parking in the Express Drop Off car park. This will be particularly useful if you are collecting someone who requires extra assistance. To use this free service, you simply take your badge to the customer service desk in terminal, where your ticket will be validated.
Opening Times
The Bristol Airport Silver Zone Parking car park runs for 24-hours a day, and any online bookings you make can be changed or amended entirely free of charge for up to two days before you're due to arrive.
Additional Information
Maximum vehicle height: 3m
Commercial vehicles are accepted if they fit in single space.
Please note that this car park is currently Self Park, you will need to park your own car and take your keys with you.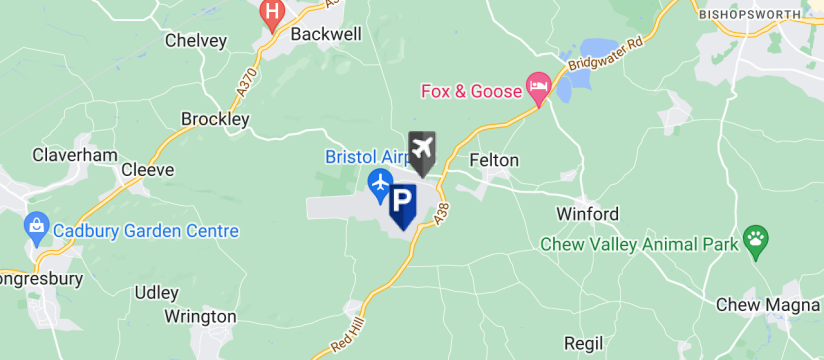 Bristol Airport Silver Zone Parking, Bristol Airport Bristol BS48 3DY
Directions
Bristol Airport Silver Zone car park has an ideal location as an on-airport car park, which means it is truly just moments away from the airport itself. This makes directions to Silver Zone Parking really simple, just follow the signage towards the airport itself off the A38, before following the signs towards the Silver Zone car park.
Bristol Airport is located on the A38:
The connecting motorway is the M5 and the airport is sign posted.
Proceed along the A38 where you will pick up signs for the airport.
As you approach the airport, follow signs for the Silver Zone car park.
Arrival Procedure
Follow the signs for Silve Zone Car Park
On arrival at the car park entry barrier press for a ticket (retain this for your return) The ANPR will read your vehicle registration and the barrier will rise (do not insert your payment card)
Park in one of the desingnated spaces and make a note of the bay number for your return
Secure your vehicle, keep your keys and head to the bus stop infront of the reception building
If the barrier fails to raise please press the intercom button and provide your booking reference number
Return Procedure
On your return, take the transfer bus back to the car park
Once back at the car park,head straight to your vehicle
Load your car and head for the exit
At the exit insert the ticket issued to you on arrival to raise the barrier