Birmingham Airport Car Park 1 Parking
Birmingham Airport Car Park 1 Airport Way, ,Birmingham,B26 3QJ
Why Book Birmingham Airport Car Park 1 Parking
If you're flying from the West Midlands, then Birmingham Airport Car Park 1 is a customer-friendly and wallet-friendly option to park your vehicle while you're away. It's a multi-storey car park that is just around the corner from Birmingham Airport's main terminal building, is one of the most convenient Birmingham Airport parking parking options. It has a number of pricing options, making it ideal for both long and short stays, and all within a short walk from the check-in desks.
Car Park Features
Top-rated by customers

On-airport

Walking time 3 minutes

24-hour operation

Keep keys

Nearby fuel sales
Walk to terminal

Covered parking

Self-park

Lift
If you're looking for Birmingham airport parking, Car Park 1 is one of the most convenient options close to the terminal. This car park has ranked well with customers, and its on-airport location makes it ideal for someone who wants to be at the check-in desks within minutes. As well as being just a 3-minute walk from the terminal, it's open 24-hours a day.

This car park's use of technology and parking methods make it quick to park and be on your way. The ANPR technology for reading number plates means the entry process is quick and convenient. In this car park, you also self-park, so once you find a space and lock your vehicle, you can make your way to the airport.

For those who want their car to be under shelter from the elements, you will be happy to know that all cars will benefit from covered parking. If you've given your car a pre-holiday clean, then you can be sure that it will be returned in the condition you left it in.

This car park also has useful facilities for tired travellers who want to get going as soon as possible. There is a lift within the multi-storey car park, which can access all levels – perfect for those who have cumbersome luggage. There are also nearby fuel stations for those who want to leave with a full tank. Being able to self-park means you can do this whenever works best for you.
Security
Barrier-controlled

Security fencing

CCTV

Park Mark Award (Police Approved)

ANPR
As well as being right next to the airport, this car park benefits from high-quality security measures. It is guarded by electronic barriers, which use ANPR (Automatic Number Plate Recognition). These barriers will only open and shut if the number plate has been registered with the car park.

Car Park 1 is also surrounded by high-security fencing and CCTV cameras, to keep track of all activity within the car park, as well as preventing intruders. These collective measures have earned it the Park Mark Award, as part of the Crime Prevention Initiative. This award can only be granted by the police, who deem the measures comprehensive enough to meet their standards.
Transfers to and from Birmingham Airport
Thanks to this car park's on-site location, there is no need for a transfer bus service. The car park is within 3 minutes walking distance to the terminal doors so you don't need to waste time before you start your holiday.
Disabled Facilities
30 Blue Badge permit parking spaces are available on a first-come-first-served basis but you must bring your permit. To make use of these spaces, you will need to bring your full confirmation details, including the email. These spaces will be easily located in this car park; you just need to follow the signs for Blue Badge holders. These spaces are also located next to the exit, which is ideal for those who have mobility issues.

If you require the use of your Blue Badge permit on holiday, this is not an issue. You will, however, need to speak to the customer desk. They will then issue you with a permit in place of your Blue Badge to clearly display inside your vehicle.
Opening Times
As well as a convenient location, Car Park 1 at Birmingham airport is accessible round the clock. You can get access to the car park 24-hours a day, 365 days of the year – no matter what time your flight gets in.
Additional Information
Maximum vehicle height: 2m
Vehicle restrictions apply, please see more information below for details.
This car park does not accept vans, minibuses, motor homes, caravans and trailers.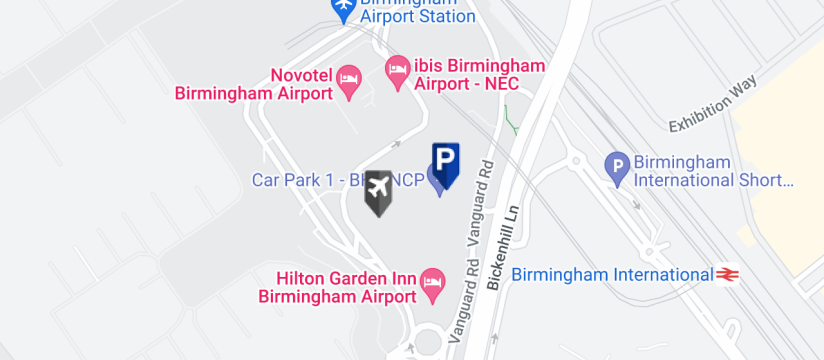 Birmingham Airport Car Park 1 Parking, Birmingham Airport Car Park 1 Airport Way, Birmingham B26 3QJ
Directions
When it comes to directions to Birmingham Airport Car Park 1, it couldn't be more straightforward. It's located around the corner from the main terminal, so all you need to do is follow the airport signs off the A45 and then the signage for Car Park 1 upon your approach. The more detailed instructions below should help you find Car Park 1 with no trouble.
Leave the M42 at Junction 6:
Proceed along the A45.
Follow signs to the airport.
On arrival to the airport, follow signs for Car Park 1.
Arrival Procedure
Birmingham Airport Car Park 1 are now operating as a ticketless car park. You no longer need to push for a ticket, their automatic number plate recognition (ANPR) cameras will read your registration number to raise the barriers automatically.
It is important that you provide the correct registration number at the point of booking, otherwise the cameras won't be able to recognise your booking.
Please ensure you park in Car Park 1 to avoid any additional charges.
Should you require any help, please press the assistance button and a member of their customer service team will be happy to assist you. The assistance button is located on the entrance column.
Return Procedure
Once you are back at the car park, drive to the exit where the barrier will raise automatically to allow exit.
If the barrier does not raise, it may be that you have overstayed or parked in the incorrect car park. Any overstay will be charged at the standard tariff.
You can pay any additional charges at the exit lane by card. Please make sure you choose the correct lane for payment and have your registration number ready to quote.
Should you require any help, please press the assistance button with your booking reference ready to quote and a member of their customer service team will be happy to assist you.
We hope you have a safe journey.