Airparks Self Park, Birmingham Airport
100 Mackadown Lane ,Birmingham,B33 0JD
Why Book Airparks Self Park, Birmingham Airport
Airparks Birmingham Airport is a convenient and affordable car park located less than 15 minutes away from Birmingham Airport terminal. It is accessible 24 hours a day and offers free transfers to and from the airport. As an off-airport car park, it offers lower rates than on-airport parking at Birmingham Airport, making it a perfect option for budget-conscious travelers. It is a Park Mark Secured car park, which means that it meets the high standards of security and safety.
Car Park Features
Top-rated by customers

Off-airport

Frequency 25 minutes

Transfer time 14 minutes

24-hour operation

Leave keys
Valet parking

Bus transfer
Security
24-hour staff

Barrier-controlled

Security fencing

CCTV

Park Mark Award (Police Approved)
The Airpark Birmingham car park has comprehensive security measures put in place. They have a 24-hour team who regularly patrol the car park, as well as a barrier-controlled system to let registered visitors in and out of the premises. It is also surrounded by security fencing and has CCTV cameras in place to keep an official record of activity. These protective security measures have collectively won this car park the Park Mark Award, a police initiative that recognises the security of car parks.
Transfers to and from Birmingham Airport
Airparks Birmingham has a simple and efficient drop-off system, which allows you to prioritise getting to the terminal in time for your flight. Upon arrival, you won't be left to figure out what to do; a member of their team will guide you to a designated arrival zone. From here, you walk to reception, where you can register your car. A member of Airpark's team will securely park your car while you make your way to the terminal, allowing you to get on with your holiday.
The transfer service to the terminal is free of charge. It runs every 25-minutes and takes only 14-minutes to arrive at the terminal doors. You won't have to worry about when you land or take off, as this service runs 24-hours a day.
Upon your return back to Birmingham Airport, head back to the transfer bus stop that you arrived at on your journey into the airport. The free shuttle bus will take you back to the Airparks Birmingham car park. There is a designated check-out area for you to give your ticket to a member of staff who will tell you where to find your vehicle.
Disabled Facilities
All Airparks buses are easily accessible for people who need a little bit of extra help. To make your experience as easy and smooth as possible, call Airparks 30 minutes before your arrival to make sure they're prepared to help you as much as possible.
Opening Times
Airparks Birmingham is open 365 days a year, 24 hours a day to make sure you never miss a flight! Transfers run at 25 minute intervals all day and night, so you don't have to worry about getting to the terminal in time.
Additional Information
Vehicle restrictions apply, please see more information below for details.
No taxis, mobile homes, lorries, caravans, trailers or vans are permitted even if multiple spaces are booked. It's recommended that you bring a photo ID with you when you park at Birmingham Airparks. If you manage to lose your car parking ticket whilst you're away, you'll have to present formal ID for staff to be able to locate your vehicle when you return.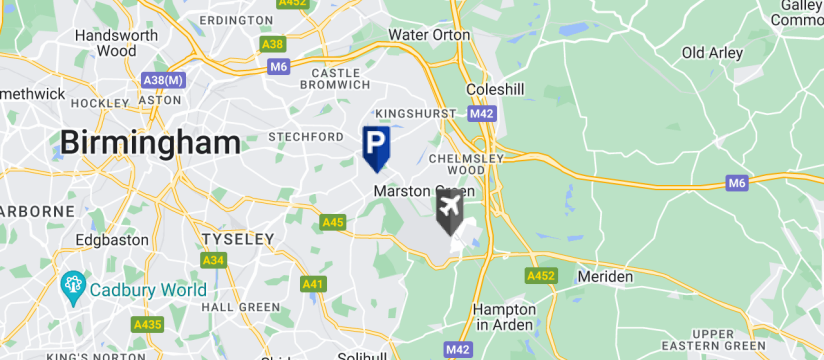 Airparks Self Park, 100 Mackadown Lane Birmingham B33 0JD
Directions
Airparks at Birmingham airport is located less than 15 minutes away from the airport, so it's not too difficult to find. A transfer is available at the car park so you don't need to worry about finding your way to the airport after you park your car.
Directions
- Leave the M42 at Junction 6 and stay in the left lane to take the A45 exit to Birmingham East Airport/NEC & Coventry.
- At Bickenhill Interchange roundabout take the fourth exit onto the A45 slip road to Birmingham/Birmingham International Airport.
- Merge onto Coventry Road/A45 and stay left.
- Take the exit, almost immediately, towards Solihull//Hampton/Bickenhill/Catherine-de-Barnes and stay left.
- Keep left at the fork and follow signs for the airport.
- At the roundabout take the third exit onto Airport Way/B4438.
- Take the first exit at the next roundabout onto Bickenhill Lane/B4438.
- At the next roundabout take the second exit to stay on Bickenhill Lane/B4438.
- Take the second exit at the next roundabout onto Bickenhill Parkway/B4438.
- Take the first exit, almost immediately, onto Coleshill Heath Road. Take the first exit at the roundabout onto Bickenhill Road. Bear right, continuing on Bickenhill Road. Continue onto Station Road. Take the second exit at the roundabout onto Holly Lane. At the next roundabout, take the first exit onto Tile Cross Road. Turn left onto Tile Cross Road. Turn left again onto Mackadown Lane. You'll find Airparks on the right.
Arrival Procedure
Simple to use:
Park in one of the arrivals bays and a marshal will check you in, give you a ticket and direct you to your space.
Then just wait for the shuttle bus to the airport in the waiting area - you'll need to show your ticket to the driver.
Staff are on hand if you require any assistance.
Please ensure you allow sufficient time to complete your vehicle check-in and airport transfer.
Return Procedure
On your return:
Just catch the shuttle bus back to the car park from bus stop A - the same place that you were dropped off at.
You'll need to show the ticket you were given when you checked in to the driver.
Scan the barcode on your ticket at the barrier to exit the car park.
Staff are on hand if you need any assistance. If you lose your ticket, you'll need to answer some security questions and show a photo ID, so make sure you have one.
If you return early, you will need to contact the car park directly to give them as much notice as possible. If you don't, there may be a delay before you get your car back. We can't offer you a refund for any booked parking that you don't use.