Maple Parking Park & Ride, Stansted Airport
Maple Parking Thremhall Avenue ,Stansted,CM24 1PY
Why Book Maple Parking Park & Ride, Stansted Airport
If you're flying from Stansted Airport and looking to save money on your airport parking without compromising on location and security, then Maple Parking Park & Ride is the ideal solution. Just drive straight to the car park, hand your keys to reception then hop onto the transfer bus. It's that easy.
Car Park Features
Off-airport

Frequency 20 minutes

Transfer time 5 minutes

24-hour operation

Leave keys

Bus transfer
There are a variety of parking options available when it comes to Stansted airport parking, and Maple Parking is one of the most efficient for travellers short on time. While their car park might not be on the airport's official premises, the transfer bus time still only takes under five minutes to complete its journey to the terminal. This means you'll be checking in and clearing security in no time.

When you drive into their car park, you will be met by a member of staff who will take your keys and register your vehicle. Your car will be parked for you, so you can get on with the important business of catching your flight. This process will take no time at all as the buses travel from the car park every 3-5 minutes, and take only three minutes to reach Stansted's main terminal doors.

All of Maple Parking's drivers are fully-insured so you can trust that while your car is being parked, it is in safe and capable hands.
Security
All of Maple Parking's experienced drivers are CRB-checked, as well as being fully-insured, so you don't need to worry about the safety of your car. On top of this, the secure car park has uniformed, round-the-clock staff who patrol the area. CCTV cameras are also installed to monitor all activity on the premises. The secure compound is also fixed with electronic barriers, so only registered vehicles can enter and leave the premises. It is also surrounded by security fencing to prevent any intruders from entering the car park. All of this has earnt it the Park Mark Award which is a police initiative that recognises highly secure, low crime car parks.
Transfers to and from Stansted Airport
Frequency – every 20 minutes 24 hours 7 days
Cost – Included in the price for up to 4 passengers £5 return for each additional passenger, payable locally.
Journey Time – takes 5 minutes
Disabled Facilities
Maple Parking has both disabled facilities and bays for those with mobility issues. By request, you can get assistance with transporting luggage to the transfer bus, as well as the option of using a trolley. If you have any questions, do not hesitate to contact Maple Parking for more information.
Opening Times
Maple Parking work with the ethos that they should be available at all times, across all of the airports they operate at. Therefore, their Park & Ride service is available 24 hours a day, 365 days of the year. It doesn't matter how early your flight takes off, or when your flight lands, you will always be able to hope on their short transfer service back to the car park.
Additional Information
If your actual stay is longer than your booked stay, any extra days will be charged at £10.00 per day (or part day). No refunds will be issued for part used stays. Payments for extra days must be settled before the vehicle is handed over and if requested a receipt can be sent by email to you.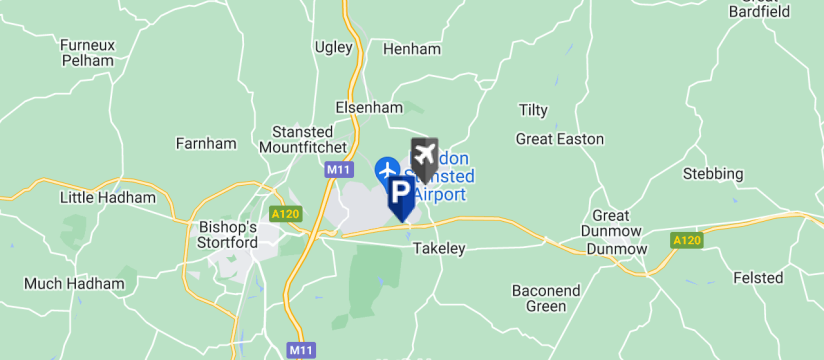 Maple Parking Park & Ride, Maple Parking Thremhall Avenue Stansted CM24 1PY
Directions
Post Code for Sat Nav - CM24 1PY If you have any problems finding us please do not hesitate to call us on 01279 210 590 (option1) for help with directions on the day. - Leave the M11 by the slip road at Junction 8 Southbound or Junction 8a North Bound - At the end of the road follow it round to the left onto A120 Thremhall Avenue - You'll come to a large roundabout – take the 3rd exit onto A120 Thremhall Avenue - Continue down this road and keep left towards the Bassingbourn Roundabout and take the 3rd exit Signposted A120 Express by Holiday Inn - At the next roundabout take the third exit signposted Express by Holiday Inn - Drive straight to the end of this road where you will see Maple Parking Park & Ride's Car Park
Arrival Procedure
Simply drive to the car park and you will be welcomed by a member of staff. If you're running more than 30 minutes early or late please call to let Maple Parking know.
Please allow sufficient time for the driver to complete the check-in procedure and conduct the necessary photographic vehicle inspection on your arrival. This usually takes 3-4 minutes. Also allow time for your transfer which takes 5 minutes and is usually available on demand.
If you have any problems finding us please do not hesitate to call us for help with directions on the day.
Return Procedure
If you are returning ahead of schedule, we must have at least 24 hours notice (or as much notice as possible) to ensure that your vehicle is ready to be collected upon your return.
As soon as you have collected all of your baggage and are ready to clear customs call us on 01279 210 590 and follow the directions below:
After exiting Arrivals, follow the signs to the Coach Station and wait at Bay 19. You will need to show your barcoded receipt card to the driver. The bus will stop at the entrance to our carpark, please collect your keys from our reception- Our team member will direct to your car, ready for you to drive straight home.