Manchester Airport Multi-Storey Terminal 2 East
Manchester Airport ,Manchester ,M90 3PY
Why Book Manchester Airport Multi-Storey Terminal 2 East
If you need rapid access to the check-in desks at a price that suits you, Manchester Multi Storey Terminal 2 is the answer. Attached to the terminal, this car park skips the airport transfer bus and is perfect for travellers taking no longer than a few days.
Manchester Airport parking offers a variety of parking options to suit your needs and budget. Manchester Multi Storey Terminal 2 is one of the most convenient options, as it is located directly adjacent to Terminal 2. This means you can quickly and easily access the check-in desks and security without having to take a shuttle bus.
Manchester Multi Storey Terminal 2 offers a variety of parking options, including short-stay, mid-stay, and long-stay parking. Short-stay parking is ideal for those who are only parking for a few hours, while mid-stay and long-stay parking are more suitable for those who are parking for a few days or more.
Manchester Multi Storey Terminal 2 is also one of Manchester Airport's most affordable parking options. Prices start at just £5 per day, making it a great option for budget-minded travellers.
If you are looking for a convenient, affordable, and reliable parking option at Manchester Airport, Manchester Multi Storey Terminal 2 is perfect.
Car Park Features
Top-rated by customers

On-airport

Walking time 2 - 5 minutes

24-hour operation

Keep keys

Walk to terminal
Security
Barrier-controlled

CCTV

Park Mark Award (Police Approved)

ANPR
Holding the Park Mark Safer Parking Award, security is a priority at Manchester Multi-Storey Terminal 2 East. With regular security patrols, well-lit parking areas and CCTV, you can relax and enjoy your trip knowing your car is located in a safe and secure parking at Manchester Airport.
Transfers to and from Manchester Airport
With this conveniently located car park, Terminal 2 is just a short, covered walk away.
Disabled Facilities
Disabled spaces are available, however they cannot be pre-booked.
Opening Times
Operating 24 hours a day, throughout the year.
Additional Information
Maximum vehicle height: 2m
Vehicle restrictions apply, please see more information below for details.
This car park does not accept transit vans, minibuses, motorhomes, caravans and trailers.
Please be aware that there are currently roadworks at and around the airport, and some road layouts have changed. Please follow airport signage.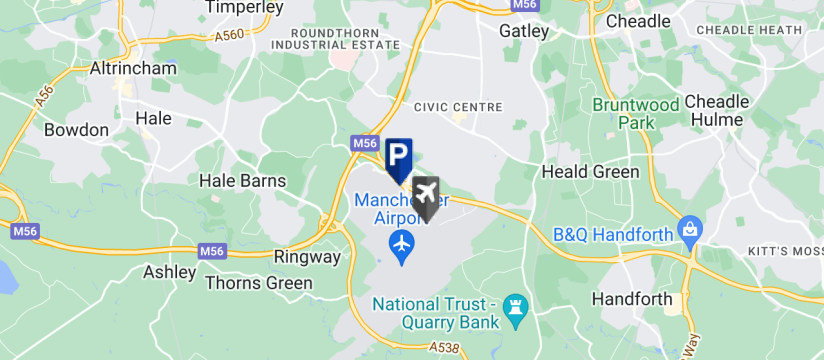 Manchester Airport Multi-Storey Terminal 2 East, Manchester Airport Manchester M90 3PY
Directions
Exit M56 at Junction 5:
Stay in the left lane then exit onto slip road down to Terminal 2 roundabout.
At the first roundabout, take the third exit signed Terminal 2.
At the next roundabout, with the Radisson Hotel in front of you, take the second exit 'Palma Avenue' signposted for T2 Multi Storey East
Stay in the right-hand lane and follow the road past the terminal building.
As the road bends left around the Multi Storey, the car park entrance is immediately on your left.
*Please park on levels B & C only*
Please note due to ongoing construction work around T2, there may be temporary diversions in place. In this instance, please follow the diversion signs for entry to T2 East.
Arrival Procedure
Upon arrival to the car park:
Drive up to the entrance barrier and your number plate will be recognised by the automatic system – the barrier will rise.
Park in convenient space and make the short walk to the terminal.
Please ensure you allow time to park your car and make your way into the airport terminal.
Return Procedure
On return to the car park:
Collect your car from its space.
Drive to the exit barrier where the automatic system will again recognise your number plate and allow you to exit.
If you require any assistance press the 24-hour help button.