East Midlands Airport Long Stay Car Park 1
East Midlands Airport Vanguard Road Castle Donnington,Derby,DE74 2SA
Why Book East Midlands Airport Long Stay Car Park 1
If you're jetting off across the globe for a well-earned long break, then East Midlands Airport Long Stay 1 is the best place to park your car securely. Their fast transfer service and efficiency at getting you to and from the terminal have made this car park highly popular with customers. Located in the same vicinity of the airport, you'll be moments away from checking in once you've parked your car.
Car Park Features
Top-rated by customers

On-airport

Frequency 15 minutes

Transfer time 5 minutes

24-hour operation

Keep keys
If you're looking for East Midlands airport parking that caters to parking for extended periods of time, then Long Stay 1 offers a convenient and cost-efficient service. It is top-rated by customers, which means that its previous users have been highly satisfied with their parking and transfer experience.

Thanks to its on-airport location, the transfer time is very short. It takes only 5-minutes to reach the terminal doors from the Long Stay 1 car park. Not only that, but the transfer bus will arrive every 15-minutes, which means you won't be stuck waiting.

This car park is open 24-hours a day, meaning that even if you find yourself arriving in the early hours of the morning, you'll still be able to make the short journey back to the car park. In fact, its transfer service is one of its most highly-rated features.
ANPR, or Automatic Number Plate Recognition, makes the arrival process seamless. You simply drive up to the barrier, allow for the technology to read your number plate, and you will be let in. If there is a problem with the ANPR, you can buzz the intercom for assistance. You self-park and keep your keys, making the process of parking even quicker once you arrive.

Everyone is catered for at the East Midlands Airport Long Stay 1. Blue Badge permit holders will find spaces to park, as will motorcycle riders. All you need to do is ring up in advance, and register the information of your vehicle so that your space can be safely allocated before you arrive.
Security
Barrier-controlled

CCTV

Park Mark Award (Police Approved)
As well as providing a seamless service for those who park with them, Long Stay 1 also has a high-security system. Both entry and exit to the car park are barrier-controlled – which means only pre-registered cars can park. All number plates are read using ANPR (Automatic Number Plate Recognition), so you can guarantee that every vehicle in the compound has been registered. CCTV cameras also watch it, so all activity around the premises is monitored. Collectively, these security measures have earned it the Park Mark Award. This can only be awarded by the police, who grant it as part of their Crime Prevention Initiative.
Transfers to and from East Midlands Airport
When it comes to East Midlands Airport Long Stay 1's transfer bus service, you won't have to worry about waiting for a long time with your luggage in tow. Their transfer bus takes only 5-minutes to reach the terminal doors. On top of that, it runs every 15-minutes, so the time it takes between you parking your car and boarding the bus won't be long at all.
Disabled Facilities
If you require disabled access or experience mobility issues, then you needn't worry about getting to and from the terminal. Long Stay One has plenty of accessible parking spaces available for those who require them. It's always recommended that you book well in advance. On top of that, the transfer bus comes complete with wheelchair access, making life much easier on the journey to the terminal. The transfer service is completely DDA compliant.
Opening Times
It doesn't matter when you'll be flying or landing at East Midlands Airport – you won't have to worry about whether a transfer bus will be there to take you to your vehicle. East Midlands Airport Long Stay 1 is open 24-hours a day, 365 days of the year.
Additional Information
No trailers are permitted.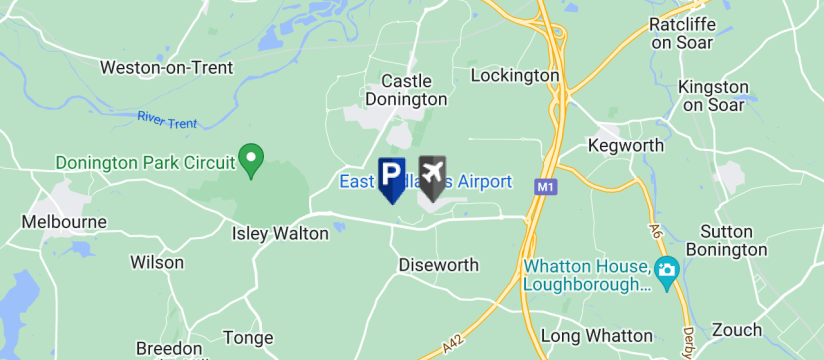 East Midlands Airport Long Stay Car Park 1, East Midlands Airport Vanguard Road Castle Donnington Derby DE74 2SA
Directions
East Midlands Airport is easily accessible from both the M1 or A42. Once you've finally moved onto the A453, it's just a matter of following the signs to the airport. On your route, you will find signs for Long Stay Car Parks. The detailed directions below clearly describe how to reach the car park.
Exit the M1 or A42 onto the A453.
Follow the road until you reach the main entrance to the airport.
Turn right into the airport. At the first roundabout, take the first exit.
Carry straight on at the next roundabout, and take the first exit at the third roundabout.
Go straight on at the fourth roundabout and follow the road until you reach a junction. Long Stay 1 is located on your left.
Arrival Procedure
Once you arrive at the car park:
As you approach the parking entry barrier, our number plate recognition cameras will scan your car's registration and grant you access into the car park.

Find a parking space in an open zone and head over to a nearby bus shelter where a shuttle bus will come every 15 minutes.

Please ensure you allow sufficient time park your vehicle and complete the airport transfer.
Return Procedure
After clearing customs:
Head to the bus stop and take the bus back to the car park.
Collect your car from where you parked it before.
Drive to the exit barrier where your number plate will be recognised and the barrier will rise; allowing you to leave the car park.