East Midlands Airport JetParks 2
East Midlands Airport Ltd. Parking Castle Donington ,Derby,DE74 2TR
Why Book East Midlands Airport JetParks 2
If you're looking for an affordable, on-site car park with a short transfer time, JetParks 2 East Midlands is a brilliant option. Located just moments away from East Midlands Airport, this experienced car park providers runs a seamless service. Between parking your car and getting on the transfer bus to the check-in desks, you'll find an efficient and speedy process. It's popular with customers, thanks to their helpful level of customer service for busy customers of East Midlands Airport.
Car Park Features
Top-rated by customers

On-airport

Frequency 10 - 15 minutes

Transfer time 8 minutes

Keep keys

Bus transfer
When it comes to affordable, on-site East Midlands airport parking, JetParks 2 is one of the most convenient options available. Visitors found their transfer service, arrival process and customer service to be of a high standard, creating an all-round positive experience for busy travellers.

It's an on-airport car park, so you know it won't be long until you are reunited with your vehicle. It takes under 8-minutes to travel from the airport terminal to the JetParks 2 car park. Regular transfer buses ensure that you won't be left waiting with your luggage for extended periods of time – the longest you will wait is between 10-15 minutes.

The process of parking is also very straightforward. JetParks 2 allows you to keep your keys. Once you find a bay, it's as simple as making your way to the transfer bus. It's a hassle-free service, meaning you can get to the terminal doors as soon as possible. The transfer bus will deliver you right outside the terminal itself, sparing you an extra walk. This means you can make your way to the check-in desks or start clearing security as soon as possible.

Speeding up the parking process is also the use of ANPR or Automatic Number Plate Recognition. When you pre-book your parking space, you will provide your number plate registration. When you arrive, the technology will automatically let you in as you will already be registered. If it doesn't, all you need to do is press the intercom for assistance.
Security
24-hour staff

Barrier-controlled

Security fencing

CCTV

Park Mark Award (Police Approved)
When you hop on the transfer bus to East Midlands Airport, you don't need to worry about the safety of your vehicle. JetParks 2 is patrolled by 24-hour staff, as well as CCTV cameras – meaning you can guarantee that all activity on-site is monitored. Electronic barriers also block the entrances and exits to the car park so that no unauthorised vehicles can enter. The use of ANPR technology means that any vehicles which enter the premises will have to be registered or have a booking reference before they can be let in. The entire parameters of the car park are also contained by high security fencing, to prevent any other intruders from accessing the premises. Together, these extensive measures have earned JetParks 2 the Park Mark Award. This is given out as part of the Crime Prevention Initiative, and can only be awarded by the police.
Transfers to and from East Midlands Airport
The transfer time between JetParks 2 and the terminal building for East Midlands Airport is short – giving you plenty of time to check-in and clear security. It takes only 8-minutes on the transfer bus, which arrives every 10-15-minutes.
Disabled Facilities
For those who hold a Blue Badge permit, there are specified parking bays for easier access. On top of that, all buses to and from the car park are wheelchair accessible and are DDA compliant.
Opening Times
It doesn't matter what time you need to get parked, night or day – you will always be able to access JetParks 2 at East Midlands Airport. That's because this efficient on-airport car park is open 365 days a year, 24-hours a day.
Additional Information
No trailers are permitted in this car park, however, no height restrictions apply.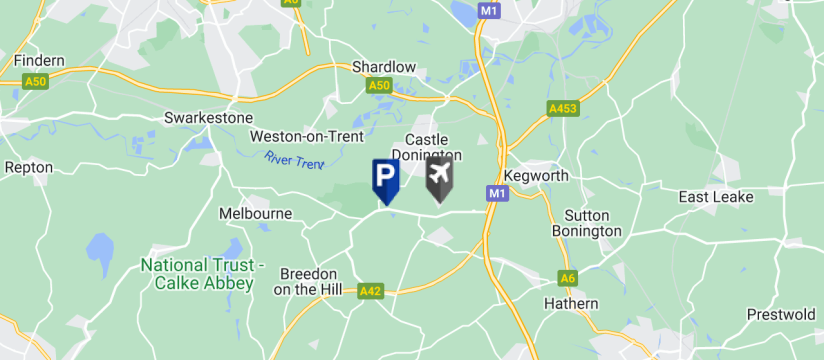 East Midlands Airport JetParks 2, East Midlands Airport Ltd. Parking Castle Donington Derby DE74 2TR
Directions
JetParks 2 is based in the airport's grounds, so you won't have to hunt to locate it. Instead, it's simply a matter of following the M1 and A453 as usual on your approach to East Midlands Airport. It won't be long until the sign for JetParks 2 appears on your left. The below directions should help you if you have trouble finding the car park.
After exiting the M1 or A42:
Exit the M1 or A42 onto the A453.
Follow the road past the airport for 2.6 miles until you reach a roundabout.
Take the second exit at the roundabout
Then at the second roundabout take the second exit on your left.
Arrival Procedure
The arrival process is simple:
The JetParks car parks at East Midlands Airport are pre-book only, so make sure you book your space in advance.
On the day, simply drive up to the car park barrier, and our ANPR (Automatic Number Plate Recognition) system will recognise your car's number plate and open the barrier. There's no need to take a token.
Find a space and park up, then head to the nearest bus stop to take the free bus transfer to the terminal.
Please ensure you allow sufficient time park your vehicle and complete the airport transfer.
Return Procedure
Returning to the car park is just as simple:
On your return, take the bus transfer back to the car park and find your car right where you left it. When you drive up to the barrier it'll recognise your number plate again and you can drive away.