JetParks 1, Manchester Airport
Thorley Lane Ringway ,Manchester Airport,M90 5AZ
Why Book JetParks 1, Manchester Airport
JetParks 1 Manchester offers an airport parking service that is efficient, customer-friendly, and just moments away from the check-in desks. For those who don't want to park too far away from the airport itself, you will appreciate JetParks 1's on-airport location, as well as its regular transfer bus service. With overwhelmingly positive customer feedback, this car park has established itself as a wallet-friendly and speedy parking option.
Car Park Features
Top-rated by customers

On-airport

Frequency 15 minutes

Transfer time 5 minutes

Bus transfer
If you're looking for affordable, on-site Manchester airport parking, then look no further than Jet Parks 1 and travelling only from T2. This on-airport car park is top-rated by its customers, meaning you can rely on the word of those who have stayed with them in the past. The pricing certainly won't be too much of a burden on your wallet, either, making it ideal for longer trips away and extended holidays.
To get to and from the car park, you use a bus transfer service. This takes under 10-minutes to reach the terminal doors, as the car park is really close to the terminal. You won't be waiting long, either, as buses take customers to and from the airport every 15-minutes, which is ideal for anyone who doesn't want to wait until they can check in and get on with their journey. This transfer bus service also delivers passengers to all three of Manchester Airport's terminals – so you won't need to take an extra walk once you've been dropped off.
This car park uses ANPR, Automatic Number Plate Recognition. When you arrive, your number plate should be recognised immediately, lifting the electronic barrier. The same applies to your return procedure – there should be no need to press a button or wait for assistance. Should you need any help, or if the barrier doesn't open, just press the intercom; from here it's just a case of quoting your reference number.
The combination of all these features makes JetParks 1 a fast and efficient car park to stay with. Not only that, but this car park allows you to keep your keys. This means that when you arrive back at JetParks 1, it's just a case of finding your car and driving home.
Security
When you park with Jet Parks 1, you can rest assured that your car will be in safe and secure hands. Electronic barriers control both the exits and entrances to the car park. To pass through these, you will need to have registered with the car park. They use ANPR technology (Automatic Number Plate Recognition) to scan drivers' number plates before entry. On top of this, the car park is surrounded by CCTV cameras and is patrolled by members of staff. This ensures all activity is seen or recorded. It is also surrounded by high-security fencing to prevent intruders. As a result of all these measures, it has received the Park Mark Award, which can only be awarded by the police.
Transfers to and from Manchester Airport
JetParks 1 is located within the vicinity to Manchester Airport, and it's as a result of this that you can expect a short and efficient transfer time. The transfer from the car park takes only 5-10-minutes to reach the terminal. These transfer buses also operate every 15-minutes, so you won't have to wait around for long periods of time. These run throughout the airport's operational hours, which are 24-hours a day.
Disabled Facilities
There are a limited number of disability-friendly spaces available at JetParks 1 for Manchester Airport, so it's advised that you book ahead of time to secure a parking bay that is suitable for Blue Badge permit holders. The buses are also wheelchair friendly so that you can get to and from the airport terminal with ease. If you have any queries, do contact them for more information.
Opening Times
It doesn't matter what time you land, or when you need to get up, JetParks 1 is open all day every day. You will be able to access your vehicle via their transfer bus 24-hours a day, 365 days a year.
Additional Information
Maximum vehicle height: 2.2m
Vehicle restrictions apply, please see more information below for details.
This car park does not accept transit vans, minibuses, motorhomes, caravans and trailers.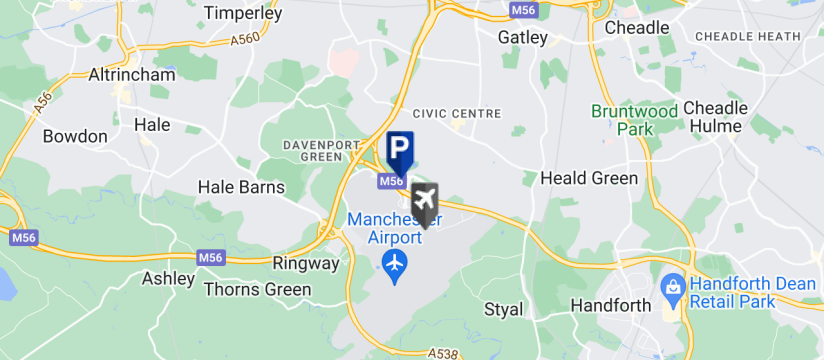 JetParks 1, Thorley Lane Ringway Manchester Airport M90 5AZ
Directions
JetParks 1 is considered an on-site car park, so you won't have to worry about straying too far from Manchester Airport. As you approach the airport on the M56, you will need to head towards Terminal 2. After that, it's just a matter of time before you pull into JetParks 1 and can begin your journey to the terminal. The directions below should help if you can't find the car park.
If you're using a sat-nav, use the following postcode; M90 5AZ.
Exit the M56 at Junction 5.
Keep to the left and take the first exit signposted Terminal 2.
At the roundabout at the top of the hill, take the first exit, and then approximately 100 yards further on, turn left onto Thorley Lane.
Continue down Thorley Lane, past the Etrop Grange Hotel.
The entrance to JetParks 1 is immediately afterwards on your left hand side.
Arrival Procedure
On arrival at the car park:
Drive up to the barrier.
The Automatic Number Plate Recognition system will recognise your vehicle and the barrier will rise.
Park your car and head to the nearest bus stop to catch a transfer to the terminal.
If the entrance barrier does not rise, please press the help button for 24-hour friendly staff.
Please ensure you allow sufficient time to complete your vehicle check-in and airport transfer
Return Procedure
On your return:
Follow signs to the airport car park bus stops.
Head to Bus Stop 5 and take the transfer to the car park.
As you leave, the Automatic Number Plate Recognition system will recognise your vehicle and the barrier will rise.
If the entrance barrier does not rise, please press the help button for 24-hour friendly staff.