Highwayman, Cardiff Airport
Fonmon ,Rhoose,CF62 3BH
Why Book Highwayman, Cardiff Airport
Situated just minutes from the airport, Highwayman Parking is the perfect car park to leave your vehicle before you fly from Cardiff Airport. A transfer service operates every 15 minutes, 24 hours a day, making sure you get to the terminal on time. The transfer takes just 5 minutes from the car park to the terminal. Highwayman Parking has received the Park Mark Safer Parking award with security features such as security fencing, 24-hour staff and CCTV in operation to ensure your vehicle is monitored at all times.
Car Park Features
Uniformed staff

Off-airport

Frequency 15 minutes

Transfer time 5 - 7 minutes

24-hour operation

Leave keys
Toilets

Disabled facilities

Assisted loading if requested

Valet parking

Bus transfer

Electric charging point
While Highwayman Parking is an off-site car park, it's the closest parking at Cardiff airport with a transfer time of only 5 minutes. It can also be a cost-effective car park to stay with if you're looking to save a few pounds during your stay.
At this car park, you'll leave your keys with a valet, but Highwayman Parking never move your car off-site - you can be sure your vehicle will be where you left it for when you get back!
This car park is coupled with a nearby hotel, meaning it's really close to useful amenities. If you arrive in plenty of time, you can use the Highway Inn to enjoy a pre-flight meal or coffee or simply to unwind a little bit before a long journey.
If you require assistance or you have many large suitcases to manage, the on-site staff will happily aid you in moving your luggage to and from your vehicle. If you have mobility or disability needs, then Highwayman Parking Cardiff caters for this too. For wheelchair users, if the wheelchair is in a collapsed state, it can be easily transferred to the airport. Furthermore, there are disabled spaces available, with no need for pre-booking.
There are also a few handy extra facilities, which will be particularly useful for those who have experienced a long car journey before arriving at the airport. There are on-site toilets to avoid any long queues for the facilities at the airport. Those with electric cars will also be pleased to know that there are electric charging points so that you can come back to a fully-charged vehicle after your journey.
Security
24-hour staff

Security fencing

CCTV

Park Mark Award (Police Approved)
Highwayman Parking at Cardiff Airport has several security measures to ensure that its customers don't worry about the safety of their vehicle in their absence. In fact, their comprehensive security has earned them the Park Mark Safer Parking award, which is awarded by the police as part of the Crime Prevention Initiative, and shows that their security measures are maintained and of a high standard. This is reflected in the fact that their car park has floodlighting at night time, as well as CCTV to monitor activity. It also has uniformed staff on-site, who patrol the area.
Transfers to and from Cardiff Airport
The Highwayman Parking car park at Cardiff Airport offers a simple check-in procedure, where you'll be guided by helpful staff along the way to make sure you don't waste time when you arrive. When you arrive, you just park your vehicle when you make your way through the gates. After that, you visit the reception building where you will need to check-in with your confirmation details and unique booking number. The staff will then help you to register your car. The team at Highwayman Parking recommend that you arrive half an hour before your suggested registration time to ensure you have plenty of time before making your way to the terminal.

Once you've checked-in and registered your vehicle, there is a convenient transfer service to and from the airport. Thanks to the Highwayman Parking's handy location, the transfer time is speedy at just 5-minutes away from the airport. These transfers are free of charge and run every 15 minutes 24-hours a day, so you won't need to worry about being stranded with your suitcases.
Disabled Facilities
Highwayman Parking at Cardiff Airport caters to anyone with mobility or disability needs. There are 3 disabled spaces in the car park which don't need to be pre-booked which allows you some extra space to use. Wheelchairs are also allowed to be transferred on their shuttle bus service so long as they're folded on the bus. Staff will always be on hand for any questions and can help passengers transport luggage or with any other concerns.
Opening Times
Highwayman Parking is open 365 days a year, 24 hours a day. The only exception is on Christmas Day when the car park is closed. This means you'll always be able to have access to your car after you land, and you'll be able to continue your journey quickly thanks to our transfers running every 15 minutes between the car park and the terminal.
Additional Information
Vehicle restrictions apply, please see more information below for details.
Vans are excepted but they must fit in a standard parking space. Trailers are also permitted but two standard spaces must be booked.
The Car park offers electric car charging points at an additional cost payable directly to the car park.
Staff are on hand to help with any luggage loading or questions. Wheelchairs can be transported on the shuttle bus but only if they're in the collapsed position.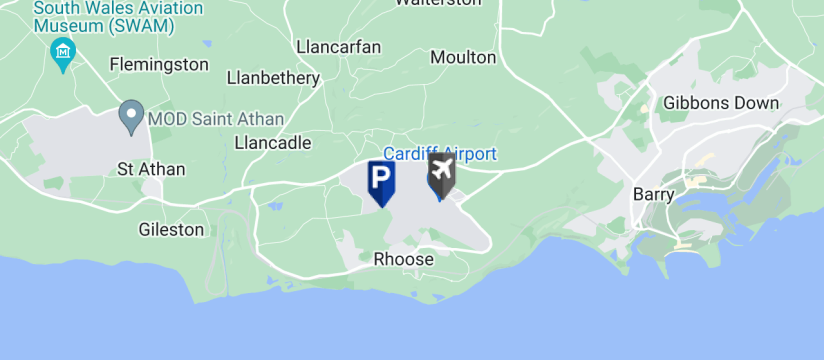 Highwayman, Fonmon Rhoose CF62 3BH
Directions
Highwayman Parking Cardiff is located directly next to Cardiff Airport, which is why you'll experience a transfer time of only 5 minutes. It's situated next to the hotel it's named after, the Highway Inn, which is an off-site airport hotel and pub. To get to this hotel, you leave at Junction 33 on the M4 motorway, where you will start to see signs for the airport. From then on, you just follow the A432.
From the M4:
Take the A4232 signed Cardiff Airport.
Leave the A4232 on the slip road signed 'Airport'.
Take the third exit from the roundabout.
Follow signs to the airport over the next five roundabouts.
On the fifth roundabout take the right fork towards St Athan and Llantwit Major.
Take the next left after the BA Hanger keep right through the village of Fonmon then left at the crossroads.
Arrival Procedure
This valet service is easy to use:
Drive into the car park and park in one of the arrival bays.
Go to reception and present your booking confirmation.
Hand over your keys and take a transfer to the terminal.
Your car will be parked for you.
Please ensure you allow sufficient time to complete your vehicle check-in and airport transfer.
Return Procedure
On return to Cardiff Airport:
Head to the transfer bus stop for collection.
Your keys will be returned to you, the bus will then take you back to your car.
Exit the car park and enjoy the rest of your journey.