Edward Lloyd Meet & Greet Parking, Heathrow Airport
Heathrow Airport Longford ,Hounslow,TW6 1EW
Why Book Edward Lloyd Meet & Greet Parking, Heathrow Airport
When it comes to delivering a prompt service, Edward Lloyd Parking has it covered. Their Meet & Greet packages are perfect for anyone who would prefer assistance with their luggage, have a busy schedule, or would simply like their holiday to begin as soon as you reach the airport. Meet & Greet allows you to park outside the terminal you're flying from, and leave your vehicle in capable hands while you're away.
Car Park Features
Meet & Greet

Walking time 1 - 6 minutes

Operates between 05:30 - 22:30

Leave keys

Toilets

Uniformed staff
Disabled facilities

Walk to terminal

Fully insured drivers

Free WiFi

Assisted loading if requested
Thanks to its size, there are a number of Heathrow airport parking options available. Edward Lloyd Meet & Greet provides you with a time-saving method of parking that allows you to drop your vehicle outside Heathrow's terminals. This means that a member of staff can help you unload, register your vehicle and let you get on with the important business of checking in and clearing security.

Thanks to the proximity at which you can park in front of the terminals, the walking time is only 1-6 minutes. All you need to do is park your car, register, and take a short stroll to the terminal doors. With this Meet & Greet service, you leave your keys with Edward Lloyd's trusted team. Their fully-insured drivers will park your vehicle for you in a secure compound. By calling them before your return to the front of the terminal, you can guarantee that your car will be ready and waiting.

Not only is this service ideal for those with mobility and disabled needs, but they also have their own facilities for all customers to use. There are on-site toilets to use, which are ideal for customers who wish to avoid any queues inside the terminal. There is also free WiFi for anyone who needs to connect to the internet on their devices – to download their boarding passes, for example.

All staff are uniformed and fully-insured. This means that you can expect a high quality of service from their employees, who will park and return your vehicle safely.
Security
Security fencing

CCTV

Park Mark Award (Police Approved)
When you leave your vehicle with a member of Edward Lloyd's Meet & Greet team, you can rest assured that your car will be parked in a secure compound. The car park itself will be surrounded by security fencing to prevent entry from intruders. It will also be monitored by CCTV to ensure the premises are recorded with electronic surveillance.
All the drivers who take the vehicles to the premises are fully-insured, so you won't have to worry about the safety of your car. Together, these comprehensive safety and security measures have earned it the Park Mark Award from the police. This can only be granted by the constabulary force, as part of their Crime Prevention Initiative.
Transfers to and from Heathrow Airport
The experienced drivers at Edward Lloyd Meet & Greet will collect your car from outside the terminal you're flying from at Heathrow. As a result, there is no need for a transfer bus service. Instead, the staff will help you unload and load your luggage directly outside the entrance, so you can get to the check-in desks as soon as possible. The walk to and from the terminal doors ranges from 1-6 minutes, depending on which Heathrow terminal you happen to be flying from.
Disabled Facilities
Edward Lloyd Meet & Greet is ideal for anyone who requires assistance for their mobility or disability needs. Staff can help you load and unload luggage and walk you to the terminal doors. Their staff pride themselves on their personable qualities and customer service, so you can trust that you will be looked after while you register your vehicle's details.

If you have any questions about their disabled facilities, it's advised that you contact them for more information.
Opening Times
The operating times of Edward Lloyd Meet & Greet are between the hours of 05:30 and 22:30. It has been advised that any late collections after midnight will result in a £20 charge to the driver. Any delays of over an hour will be charged at £10, and any delay after two hours will be charged at £20.
Additional Information
Please note that if customers return after midnight there is a charge of £20 to pay in cash to the driver.
Edward Lloyd Parking will not be able to take your car if it is not legal or is in any other way unsafe to drive, such as tyre tread not within the legal limit.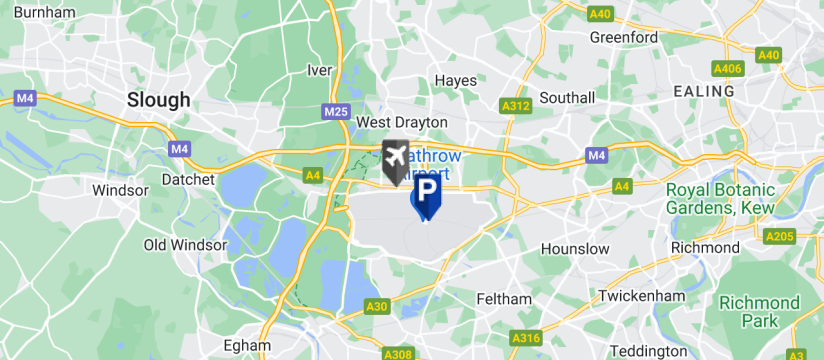 Edward Lloyd Meet & Greet Parking, Heathrow Airport Longford Hounslow TW6 1EW
Directions
Where you drive to will depend on which terminal you are flying from. Edward Lloyd Meet & Greet will meet you at the drop-off area for the appropriate terminal, it's just a matter of double-checking the directions below. It's also advised that you call them 30 minutes before your arrival time to both confirm that you are on schedule, and to agree on parking arrangements:
Terminal 2:
Please follow signs for Terminal 2, as you approach the ramp stay in the far right hand lane, follow signs Short Stay Car Park . Take a ticket at the barrier and drive to Level 4 Row B.
Terminal 3:

Follow signs for Departures, enter the Short-Stay Car-Park and proceed to Level 4, Row B. This is where the driver will meet you.
Terminal 4:
Follow signs for Departures, stay in the left-lane as you drive up towards Departures, there are three drop-off lanes outside Departures, please park in Lane A, which is the furthest lane away from the building - your car will be collected from there.
Terminal 5:
Follow signs for SHORT-STAY PASSENGER PICK-UP, that will take you towards the car parks, then follow far left lane for LEVEL 4. Follow LEVEL 4 into the car park, then drive round to ROW S - your car will be collected from there.
Arrival Procedure
Dropping your car off is easy:
Please call when you are approximately 30 minutes away from the terminal.
Once you have met the driver he will inspect your car with you for any existing damage.
Edward Lloyd will then confirm your return details.
Your car will then be driven to a secure compound.
Please make sure when returning from an overnight long-haul flight that you enter the correct date you land in the UK. It is advised that you save the mobile number to your phone to avoid difficulty in calling us when you are on the way to the airport.
Return Procedure
Please call once you have landed, then call again when you have collected your luggage:-
Terminal 2
You will then be asked to make your way to the same place you dropped the vehicle off, Level 4, Rows A & B.
Terminal 3
You will then be asked to make your way to the SHORT-STAY CAR PARK 3, LEVEL 4, where your car will be returned to you.
Terminal 4
You will then be asked to look for the WHSmith in the Arrivals Hall, once you get to WHSmith, exit the building and walk into the Short Stay Car Park. Once in the car park take the lifts to LEVEL 2, then exit the lifts, turn to the left and your car will be there.
Terminal 5
You will then be asked to make your way to SHORT-STAY car park LEVEL 4, ROW S, this is the same place you dropped your vehicle off.