I Love Meet & Greet Parking, Gatwick Airport
Gatwick Airport Horley ,Gatwick,RH6 0NP
Why Book I Love Meet & Greet Parking, Gatwick Airport
For those who want a short turnaround time at the airport, I Love Meet & Greet Gatwick provides an easy parking service. Meet & Greet will provide you with a premium feel, as it allows you to park outside the terminal and have an experienced driver park your car for you. Whether you have young children in tow or don't want to drag heavy luggage for longer than you have to, this method of parking saves you plenty of time before you reach the check-in desks.
Car Park Features
Uniformed staff

Meet & Greet

Walking time 2 minutes

24-hour operation

Leave keys

Walk to terminal
Fully insured drivers

Assisted loading if requested
There are, of course, many Gatwick airport parking options available, with varying levels of convenience. I Love Meet & Greet provides the easiest experience by allowing you to leave your vehicle directly outside the terminal doors. This means it only takes two minutes to walk to either terminal, which means you will have plenty of time to check-in or clear security.

When you leave your car with I Love Meet & Greet, you will be met by professional, uniformed staff. These fully-insured and experienced drivers are on hand 24-hours a day to register your car and help with any luggage, should you need it. This service allows you to leave your keys with the staff, who will park your car for you at a secure compound, which means you don't have to waste time hunting for a space.

When you return back to the airport from your journey away, it's just a case of returning to the designated parking spot for the I Love Meet & Greet team. With no transfer bus service, it's just a case of collecting your keys and driving back home.
Before you arrive at the airport, it's always wise to ring I Love Meet & Greet to let them know you're just ten minutes away. This helps to ensure that you have a swift and easy turnaround when you arrive at the terminal. Similarly, on your return it's a good idea to give them a call once you're out of security, so your car can be ready and waiting.
Security
24-hour staff

Barrier-controlled

Security fencing

CCTV

Park Mark Award (Police Approved)
Once you leave your vehicle at the terminal doors with I Love Meet & Greet, you can rely on the knowledge that your car will be parked in a secure compound. The facility is manned by uniformed, 24-hour staff members. It is also surrounded by high, perimeter security fencing to keep intruders from entering. The car park is fitted with CCTV cameras, so you can trust that all activity in and around the car park is monitored. Even though a professional driver will be taking your car to the compound, they still have to go through electronic barriers, which means only registered vehicles can enter and leave the facility.

Collectively, these comprehensive security measures have earned this car park the Park Mark Award. This award can only be provided by the police, who deem the security measures efficient enough to meet their high standards.
Transfers to and from Gatwick Airport
It doesn't matter whether you're based at the North or South terminal, there's no need to catch a transfer bus service with I Love Meet & Greet. When you arrive, you will be parking your vehicle right the doorstep of Gatwick's terminals so it's just a two-minute walk to the check-in desks.
Disabled Facilities
A Meet & Greet parking service is perfect for anyone who requires assistance with their luggage or mobility. You'll be parking at the terminal doors, and an experienced driver will be parking your car for you while you make your way to the airport, so there's no need to hunt around for a disabled parking bay.
Opening Times
Whatever time you happen to be arriving or leaving from the North or South terminals, you will be able to use I Love Meet & Greet's service. Their valet parking is available 24 hours a day, seven days a week, 365 days a year.
Additional Information
Vehicle restrictions apply, please see more information below for details.
IMPORTANT - Gatwick has implemeted a new forecourt charging scheme. For all customers using ILMG this has little impact as the Airport Access fee has already added to the cost of your booking and as a licensed operator we pay the airport all fees on behalf of our clients. However there are rare occasions due to defects with Gatwick system, you may by accident receive a penalty charge notice. If this happens please do not worry - just email customerservices@ilovemeetandgreet.co.uk and we will take care of it for you. These are teething problems only and beyond our control and we hope that they will be short lived as Gatwick's new system develops over the next few months.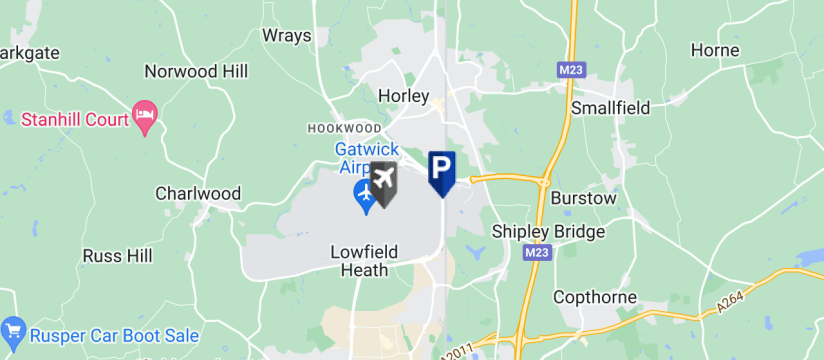 I Love Meet & Greet Parking, Gatwick Airport Horley Gatwick RH6 0NP
Directions
I Love Meet & Greet is available at both of Gatwick's North and South terminals, which means that when you approach Gatwick airport, you should head to the terminal you're flying from, as per usual. When you approach in the right-hand lane, it's a case of driving to I Love Meet & Greet's designated parking bays.
If you are using the M23 turn off at Junction 9 or follow signs to your departure terminal. On arrival, follow these instructions:
North Terminal: Follow signs to 'Passenger Drop Off' at North Terminal and keep in the right hand lane. Head to the far end where a driver will meet you in the Approved Operator bay.
South Terminal: Follow signs to 'Passenger Drop Off' at South Terminal and keep in the right hand lane. Head to the far end where a driver will meet you in the Approved Operator lane.
Arrival Procedure
Meet and greet couldn't be easier:
When you are ten minutes away call I Love Meet & Greet on the number provided.
Drive to the designated meeting point.
An I Love Meet & Greet operative will be waiting to take your car.
Head into the terminal and enjoy your holiday.
Please ensure you allow sufficient time to complete the vehicle hand over before heading to the terminal.
Return Procedure
Collecting your car is just as simple:
Call I Love Meet & Greet on the number provided once you've collected luggage and cleared customs.
Head to the designated meeting point.
Collect your car and enjoy the rest of your trip.