APH Car Park, Gatwick Airport
APH Gatwick Copthorne Road ,Crawley,RH10 3PD
Why Book APH Car Park, Gatwick Airport
With almost four decades of experience providing the ultimate service at Gatwick, APH parking is taking its award-winning service to even higher levels of excellence with an all-new state-of-the-art car park just minutes from the airport's two terminals.
Located just seconds from the M23 motorway, APH Gatwick parking has never been easier or safer. Bringing the best in hours and secure service, APH Gatwick parking is ideal for all types of travellers -whatever their requirements.
Arriving at the brand-new barrier-controlled APH Gatwick Park and Ride, drivers will be greeted by friendly uniformed staff, a fully metalled surface and the very latest in high-tech security technology.
The APH Gatwick Park and Ride service also make getting to the airport even easier. Our APH shuttle buses run frequently throughout the day and night, ensuring you are always less than 30 minutes from the terminal doors, whatever time you arrive at the APH car park.
Shuttle buses serve both Gatwick terminals in separate journeys, or will leave more frequently to serve both terminals in one journey, stopping first at the North Terminal before continuing directly on to the South Terminal.
While passengers are making their way to the terminal, our APH car parking staff will inspect their cars and move them to a safe and secure parking space within the security-protected APH Gatwick parking facility. APH accept all vehicles that can fit into a standard parking space and can be driven on a standard driving licence.
Customers won't need to fret over the well-being of vehicles in their absence either. With APH Gatwick Park and Ride, we have complete CCTV coverage, a barrier-controlled entry and exit, high-tech sensors, security fencing and APH staff on the site 24 hours a day, 365 days a year. This really is the car park that never sleeps – or takes its eye off your car!
Along with the state-of-the-art car park bringing high-tech security advances, customers will be reassured to hear that APH Gatwick Park and Ride has been granted an all-new Park Mark Safer Parking Award.
We're dedicated to providing the very best Gatwick parking, and we're sure that many of our loyal customers will have great memories of the friendly welcome and helpful service they received at APH Gatwick Park and Ride. We'll always be here to welcome old – and new customers – to our APH Gatwick Parking home.
Car Park Features
Uniformed staff

Off-airport

Frequency 10 - 15 minutes

Transfer time 10 - 12 minutes

24-hour operation

Airport approved operator
Leave keys

Award-winning

Toilets

Nearby fuel sales

Disabled facilities

Fully insured drivers

Free WiFi

Assisted loading if requested

Bus transfer
Security
24-hour staff

Barrier-controlled

Security fencing

CCTV

Park Mark Award (Police Approved)
APH Gatwick parking has always worked tirelessly to offer the very best of secure parking at Gatwick Airport. This is why we're passionate about always taking security one step further, and making sure travellers have complete confidence that their vehicle is safe, secure and being watched over at all times.
With the latest computer-controlled digital CCTV covering the entire site, barrier-controlled entry and exit systems and full floodlighting over the entire site, the APH Gatwick parking team can care for vehicles throughout the day and night – 365 days a year. When it comes to security, APH has no blind-spots.
Transfers to and from Gatwick Airport
APH Gatwick Park and Ride customers benefit from regular transfers to both terminals. APH shuttles run every 10-15 minutes, average transfer time is 10-12 minutes to the airport.
Returns from both North and South Terminal to the APH car park run at similar intervals, and also operate both dual terminal and dedicated terminal transfers.
Full details of the easy-to-find collection points will be issued to you before your departure.
Where will my car be parked at APH Gatwick?
When booking our APH Gatwick Park & Ride option, you can be assured that your car will be fully secured in a car park that has been awarded the Park Mark Safer Parking Award. Our new state-of-the-art APH Car Park, just off the M23, is a fabulous new site, with easy access to both terminals at Gatwick. This is where you will drop off and pick up your car. And this is where your car will normally stay for the duration of your trip.
In peak travel times, however, APH offers expanded capacity to meet demand. This means that we could move your car to the former APH main car park at Snow Hill (overflow1) or to our alternative secure parking option (overflow 2), at Westlands. Either option will incur less than seven miles additional mileage. They are protected by full CCTV, security fencing, motion-detection alarms, and are approved with the Park Mark Safer Parking Award. Your car will always be returned to the main APH Car Park ready for you to collect.
Disabled Facilities
Our buses have wheelchair facilities and staff are happy to help with any carrying of luggage.
If you require assistance, press the assistance button at the barrier and a member of the customer service team will be more than happy to help.
Futhermore, disabled customers can request at check in that their car be parked close to reception upon return to the car park.
Opening Times
The car park is open 24 hours a day, 365 days a year.
Additional Information
Maximum vehicle height: 2.4m. Trailers are not accepted.
Maximum vehicle height: 2.4m. Trailers are not accepted.
APH will accept any vehicle that can fit into a standard parking bay and can be driven on a standard driving licence.
APH are unable to transport bikes, surf/windsurfing boards or items of a similar size on their transfer coaches. Snowboards/skis are acceptable.
For more details about where we are, check out our Gatwick parking map, or find out more information on directions to Gatwick airport below.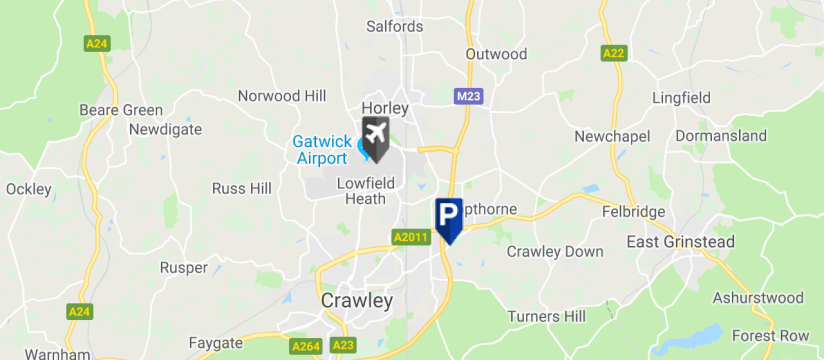 APH Car Park, APH Gatwick Copthorne Road Crawley RH10 3PD
Directions
From the M23:
Leave at Junction 10 (East Grinstead).
If Southbound, take the 1st exit on the roundabout (A264 - Copthorne Way).
OR
If Northbound, take the 3rd exit on the roundabout (A264 - Copthorne Way).
THEN:
Head straight over the first roundabout (2nd exit).
At the next roundabout take the 4th exit (A2220) signposted Maidenbower.
Continue on the A2220 following signs to APH Parking Centre.
Drive past the Texaco Petrol Station (some SatNavs might direct you here)
After another 0.25 miles turn right into Wyevale Garden Centre. You'll see an APH entrance sign on your right.
Follow APH signs to the car park check-in area.
Arrival Procedure
Arriving at APH Gatwick Park and Ride couldn't be easier:
Drive through the automated barrier and follow road markings to the arrival bays.
A fully trained valet driver will then park your car as you check-in at reception.
Hop on the comfortable transfer bus and complete the short journey to the airport
Please ensure you allow sufficient time to complete your vehicle check-in and airport transfer.
Return Procedure
Picking up your car is just as easy:
Upon arrival, head for the dedicated bus stop right outside the terminal and take the bus to the APH car park.
Collect your keys and pick up your car.
In the event of any problems, one of the car park's 24-hour staff will be pleased to assist.