Secure Airparks Electric Bay, Edinburgh Airport
100 Ingliston Road Ingliston ,Edinburgh,EH28 8AU
Why Book Secure Airparks Electric Bay, Edinburgh Airport
For those travelling from Edinburgh Airport, convenience is sometimes the main priority when it comes to parking. Secure Airparks at Edinburgh Airport certainly has that covered. It is proudly the only car parking provider that picks up and drops off customers right outside the terminal doors. Just like any great airport car park, it also has parking deals to ensure that, when you choose to stay with them, you'll receive a cost-effective option.
If you're looking for a convenient and affordable way to park at Edinburgh Airport, Secure Airparks is the perfect choice for you. Book your parking today and enjoy a stress-free journey!
Parking Options Available
Electric Bay
Electric/Hybrid Plug in Cars Only. Electric is included in the price. Please bring your Standard UK Type 2 Connection Cables with you.
Car Park Features
Off-airport

On-demand transfers

Transfer time 1 - 2 minutes

24-hour operation

Keep keys

Toilets
Uniformed staff

Nearby fuel sales

Disabled facilities

Assisted loading if requested

Bus transfer

Self-park
The Secure Airparks at Edinburgh Airport is a great option if you're looking to book parking at Edinburgh Airport whislt your vehicle is charged. In 2019, it became one of the first to offer bookable bays/charging points for electric and hybrid plug-in vehicles. As electricity is included in the price you pay, all you need to do is leave your car with the staff and you will have a full charge when you return. You will need to bring your connection cables with you, namely for a UK Type 2 cable. For those using diesel or petrol, there are also nearby re-fuelling facilities to keep your car topped-up for the return journey.

The check-in method for this car park is not only very modernised but also very secure. It makes use of ANPR number plate recognition, which is possible when you register with them in advance. After that, it's a matter of driving up to the barrier, and the system will recognise your number plate and let you in. From here, you can park anywhere you would like to. This system allows you to keep your keys while you're away, so when you return, you can get home as swiftly as you need to. If you happen to experience any difficulties, you can call security through the intercom system, and they will gladly help you.

The return procedure for Secure Airparks is just as simple. On your way to the terminal, the bus driver will issue you with a ticket which will provide you with all the necessary details for your return. Keep hold of this for future reference. Otherwise, it's just a matter of getting back to your car and driving home when you're ready.
Security
24-hour staff

Barrier-controlled

Security fencing

CCTV

Park Mark Award (Police Approved)

ANPR
The ANPR system which makes Secure Airparks Edinburgh Airport exceptionally easy to access also functions as part of its security measures, meaning that only registered vehicles can enter and leave the premises through their barrier-controlled entrance and exit. This car park has 24-hour uniformed staff on-site at all times, and CCTV cameras are also in place to catch all activity on the site. Secure Airparks Edinburgh Airport is also surrounded by security fencing and is floodlit, to prevent intruders from entering. These regularly monitored and maintained security measures have been acknowledged by the police and their Crime Prevention Initiative, the Park Mark Award.
Transfers to and from Edinburgh Airport
One of the most significant selling points for this brilliant off-airport car park is its door-to-door policy. Not only is the transfer service a very speedy 1-2-minutes long, but it also takes you directly from the car park itself, right to the terminal doors. This transfer service runs 24-hours a day and provides an on-demand frequency. No need to worry about leaving the terminal only to discover there are no buses – you'll be back with your vehicle in no time.
Disabled Facilities
This car park is a good option if you have a disability or mobility needs. If you require assistance with both loading and unloading luggage from your vehicle, you can ask for help from the staff on site. There is also an accessible toilet with a ramp. Their uniformed staff are friendly and are there to help with any queries or issues. The single-deck bus allows disabled passengers to remain in their wheelchair while transferring to the airport. It's also useful to know that this car park has toilet facilities for those who are in a rush or would prefer not to wait until reaching the terminal – even if it is only 1-2-minutes away!
Opening Times
Secure Airparks is open 365 days a year, for 24-hours a day, so you'll never be let down by its availability.
Additional Information
Trailers are not permitted in the car park.
Please bring your Standard Type 2 Connection cables with you.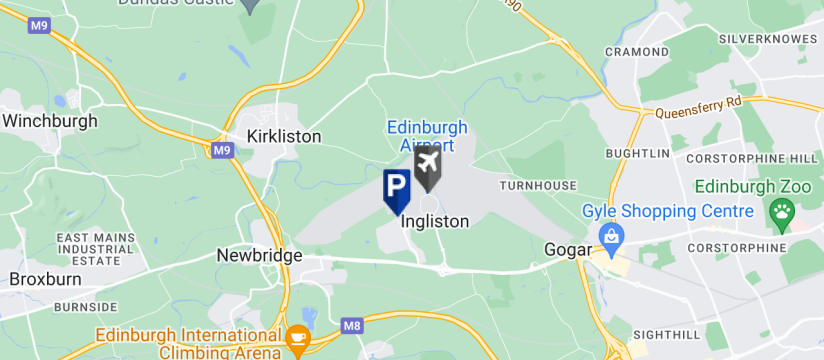 Secure Airparks Electric Bay, 100 Ingliston Road Ingliston Edinburgh EH28 8AU
Directions
Secure Airparks is located just outside of Edinburgh Airport, with easy access from major motorways. You can drive into this airport either by taking the M9 North motorway, or the M8 South. It's located in Islington, Edinburgh, and can be found just off the Islington Road. The car park is located on the second exit of the roundabout – adjacent to the first exit where you'll be able to see the Holiday Inn Express hotel.
From the M8 South:
Exit at M8 Junction 2.
At the roundabout join the A8, following airport signs.
Continue along the A8 for two miles.
Turn left at the second exit along Ingliston Road, leading you to the car park.
From the M9 North:
Exit M9 at Junction 1.
Merge left onto the A8 towards Glasgow.
Continue along the A8 for 0.5 miles.
Turn left onto Ingliston Road, leading you to the car park.
Arrival Procedure
Dropping your car off is simple:
Drive to the entrance and approach the barriers.
The ANPR system will recognise your number plate
Enter the car park, park in any space, grab your bags and head to the transfer station.
Please ensure you allow sufficient time to complete your vehicle check-in and airport transfer.
Secure Airparks are the only Airport Parking Operator at Edinburgh Airport that will drop you right outside the main entrance to the terminal.
Return Procedure
On return to the airport:
Head to Stand H (International Arrivals) siutated at the front entrance of the airport to catch the bus back to Secure Airparks.
Collect your car and drive to the exit barrier.
The ANPR system will once again recognise your number plate and the barrier will rise.