Bournemouth Airport Car Park 2
Parley Lane Christchurch ,Bournemouth,BH23 6SE
Why Book Bournemouth Airport Car Park 2
Whether you're catching a bright and early flight in the morning or a late-night long-haul journey, Bournemouth Airport Car Park 2 offers convenience for before and after your flight.
As an on-airport car park, you'll be just a minute away from the terminal doors. With parking packages to choose from, you'll find a price to suit you as well as a secure place to park your car. Our parking packages are convenient but still won't break the bank for travellers on a budget.
Car Park Features
Top-rated by customers

On-airport

Walking time 5 minutes

24-hour operation

Keep keys

Disabled facilities
Many of those who are looking for Bournemouth airport parking want to find somewhere that provides a quick and convenient service. This car park is top-rated by those customers who chose to park with them, which means it has proved its ability to deliver on its promises of quality.

For those who don't want to park miles away from the airport itself, Bournemouth Airport Car Park 2 is perfect as it is on-airport. This means it's part of the airport's on-site premises and to reach the terminal doors, you'll be just a short walk away.
Bournemouth Airport Car Park 2 uses automatic number plate recognition (ANPR), which means you won't have to press for a ticket. Instead, the barriers will automatically let you in and out of the car park with ease. To get parked, you just take your parking ticket before the barriers lift and find an available space inside. If you have any issues for this, you can still press the button for assistance.

This airport runs 24 hours a day, all year, which means you'll never be caught out. It allows you to keep hold of your keys after you've parked, which means you can make a quick getaway. It's just a matter of walking back to the car park and finding your vehicle and setting off home!
Security
Barrier-controlled

Security fencing

CCTV

Park Mark Award (Police Approved)

ANPR
Bournemouth Airport Car Park 2 is home to an extensive number of security measures, which aim to keep you in peace-of-mind that your car will be protected from intruders. Their premises are completely flood-lit at night and are monitored by CCTV cameras. The entrance and exit to the car park are barrier-controlled, which comes complete with number plate recognition technology. This means that only registered vehicles can enter and leave the premises.

As well as security fencing, this car park also has 24-hour staff on-site to ensure it is closely watched. Collectively, these measures have earned this car park the Park Mark Award. This award is police-approved, which means all the security features have met their official standards.
Transfers to and from Bournemouth Airport
Thanks to this airport car park's on-site location, there is no need for a transfer bus service. The close proximity to the terminal means that the premises are actually just a five-minute walk to the check-in desks. Once you've unpacked your bags, you take a short walk to the terminal.
Disabled Facilities
For those who require disability access and features, this car park has its own disabled facilities. It has Blue Badge bays which are available on a 'first-come-first-serve' basis. When you register at the Car Park 2 office, you will be issued with a Bournemouth Airport Disabled Ticket, which will show you where to find your Blue Badge parking space. These spaces are also located much closer to the terminal than other parking bays. You can also buzz for assistance at the entry barrier. It's noted that you will need to display your badge in your vehicle during your absence clearly.
Opening Times
There's no need to pick your flights around when and what day the car park will be open, as Bournemouth Airport Car Park 2 is open 24 hours a day. It's also open all year round, so you'll always be able to get back to your car, no matter what.
Additional Information
Trailers are not permitted at this car park.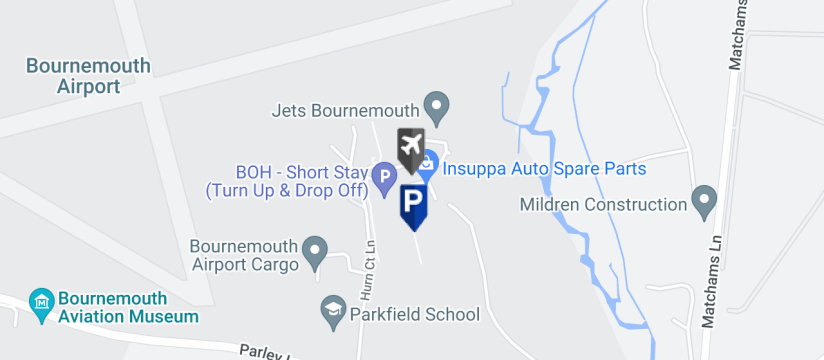 Bournemouth Airport Car Park 2, Parley Lane Christchurch Bournemouth BH23 6SE
Directions
Thanks to this car park being an on-airport facility, you won't have to hunt down a separate car park that is located remotely from the premises. Instead, you will find the car park off the A338, where you'll see plenty of signs for the airport. Once you arrive there, you'll also find the signs for Car Park 2.
From the M3 southbound:
Take the M27 towards Bournemouth.
Take the exit for the airport.
At the roundabout, take the first exit.
Once in the airport grounds, follow signs to Car Park 2.
Enter the car park and follow the green pre-paid lane.
Arrival Procedure
Parking at Bournemouth Car Park 2 is easy:
After turning into the main entrance road, continue until you reach the Departures building on your left.

The Car Park 2 entrance is located directly opposite the Departures building.

Please enter through one of the two right-hand lanes.
Approach the barrier, where your car registration will be scanned by our ANPR cameras and the barrier will raise. If the number plate is not recognised, please use the 'assistance button'.
If the car is not recognised by ANPR on entry the operator will dispense a token which will have to be inserted to the exit barrier on your return.
Please proceed into the car park. Car Park 2 is located to your right, after the fence.
Drivers should only use the marked parking bays.
Please ensure you allow time to park your car and make your way into the airport terminal.
Return Procedure
Collecting your car is just as easy:
Walk from the terminal building to the car park.
Drive to the exit barrier located next to rows I and J where the automatic number plate recognition (ANPR) system will read the car registration and the barrier will lift to allow exit.
If the number plate is not recognised or for any other issues please use the 'assistance button'.