Doncaster Airport Premium Car Park
Doncaster Sheffield Airport First Avenue ,Doncaster,DN9 3RH
Why Book Doncaster Airport Premium Car Park
Doncaster Airport Premium Parking is one of the most convenient car parks when you're flying out of Doncaster Airport. Not only is this car parking facility flexible, with different rates for different lengths of stay, but it is also situated directly in front of the airport itself. When you park here, you will be just under a minute away from either checking in or starting the process of clearing security. It makes the perfect choice for all passengers flying from Doncaster Airport and has been voted so by the very same customers. For the 3rd year in a row Doncaster Sheffield Airport has been voted the best airport in the country with a vote % of 86%. The Airport also boasts a 97% recommendation rate to friends, family and aquaintances.
Car Park Features
Uniformed staff

On-airport

Walking time 1 minute

24-hour operation

Keep keys

Nearby fuel sales
Disabled facilities

Walk to terminal

Self-park
If you're looking for a flexible car park that offers long stay and short stay options in a convenient location, then Doncaster airport premium parking could be your perfect option. Its on-airport location means that you will be less than a minute from leaving your car to entering the terminal, making it one of the most convenient Doncaster airport parking options available.

This car park is open 24-hours a day, with on-site, uniformed staff, should you have any questions or problems. With this compound you keep your keys, so once you've parked, it's just a matter of making your way to the airport. The ANPR (Automatic Number Plate Recognition) technology means that the registration process is fast and seamless. If you have any issues with the ANPR technology, you can quickly get it sorted by pressing the intercom button for assistance. Your registration details can either be printed off or simply kept on your mobile phone for reference should you need it. 

The entrance and exit to this car park are also conveniently placed. They are situated away from all other traffic outside of the airport terminal, so you don't get caught in traffic before you can get home.

This facility also has blue badge permit spaces for those with mobility issues. Its proximity to the terminal means you won't have to walk very far before you can start checking in and clearing security.

When it comes to your return journey, the exit process couldn't be quicker. When you arrive, you will need to keep hold of your ticket to ensure that you make a quick departure. There are also nearby fuel sales so you can leave the airport area with a full tank – no need to keep driving in search of a service station.
Security
24-hour staff

Barrier-controlled

Security fencing

CCTV

Park Mark Award (Police Approved)

ANPR
Comprehensive security measures also protect this conveniently-placed car park. The car park has been awarded the Park Mark Award, granted by the police. This is only awarded if a car park meets their high standards of security, as part of the police's Crime Prevention initiative. Doncaster Airport Premium Parking is manned by uniformed, 24-hour staff. Not only that, but the premises are watched by round-the-clock CCTV cameras, to monitor all activity in the compound. As well as security fencing, this car park is protected by ANPR-controlled electronic barriers. This means that the automatic number plate recognition technology will only permit vehicles that have been registered with the facility to leave or enter. 
Transfers to and from Doncaster Sheffield Airport
This car park is situated directly opposite the terminal doors, which means you will reach the check-in desks in just under 1-minute. There is no need for a transfer bus service, you can leave the car park and already be at the terminal ready for your getaway.
Disabled Facilities
This car park has disabled facilities and car parking spaces for those who are Blue Badge permit holders. These are available on a first-come-first-served basis, so if you do require one of these, it's advised that you book as soon as possible. The Doncaster Airport Premium Parking facility is also directly opposite the terminal, which means that you will be directly in front of the airport – ideal for those with mobility issues.
Opening Times
You won't need to worry about when you'll be able to access the airport either before or after your flight. This airport car park is open 24-hours a day, 365 days a year. You can book your flights without having to worry about not being able to access your vehicle on return.
Additional Information
Trailers and commercial vans cannot use this car park.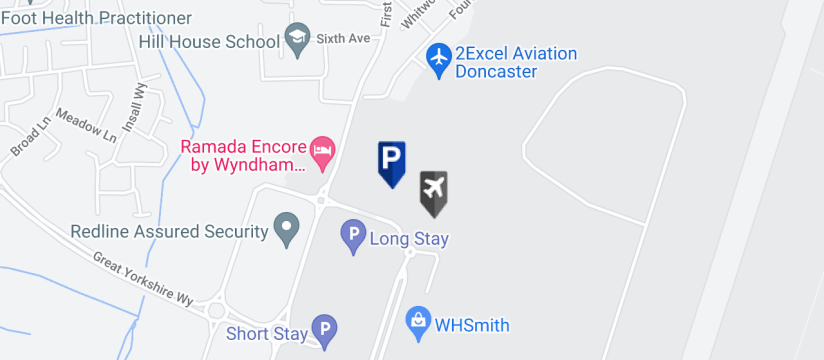 Doncaster Airport Premium Car Park, Doncaster Sheffield Airport First Avenue Doncaster DN9 3RH
Directions
The Premium Parking car park can be located directly opposite the airport terminal, so you won't have to go hunting for a car park that's miles away from the airport. You'll be able to easily locate it just off the dual carriageway off Hurst Lane, on the approach to the airport. The detailed directions below should help you find the car park without any issues.
From the South:
Exit the A1 at Junction 34
Take the A614.
After approximately three miles, turn right into Hurst Lane.
Follow the road until the crossroads and turn right. Follow the dual carriage way over two roundabouts.
The airport is in front of you
From the West:
Exit M62 onto A1 South
Exit at Junction 35 onto the M18 and exit at Junction 3
Turn right at the roundabout and follow the Great Yorkshire Way.
Travel through two sets of lights and at the third take the left turn down Hurst Lane to the Airport
Along Hurst lane take the first right turn and follow the dual carriageway straight to the Airport.
Arrival Procedure
Head to the Premium Car Park by heading past the terminal building and taking the 1st exit at the mini roundabout:
Drive up to the Premium Car Park barrier which will raise once the system has read your number plate and issue you a ticket. (Please wait around 20 seconds for the whole process to take place).
Park in an available space and then it's just a short walk to the terminal building.

Please ensure you allow time to park your car and make your way into the airport terminal.
Return Procedure
On return to Doncaster Airport:
Walk back to the car park.
Collect your car and drive up to the barrier.
Insert the ticket you were issued on arrival and the barrier will raise and you can exit the car park.