East Midlands Airport Short Stay 2
East Midlands Airport Dove Road Castle Donington,Derby,DE74 2SA
Why Book East Midlands Airport Short Stay 2
If you are looking for an on-airport car park that saves you both time and money, then Short Stay 2 at East Midlands Airport is a convenient option. Just around the corner from East Midlands Airport, you'll find yourself only a short walk from the terminal doors.
Car Park Features
Top-rated by customers

On-airport

Walking time 1 - 3 minutes

24-hour operation

Walk to terminal

Self-park
When it comes to a weekend getaway or a short trip abroad, East Midlands airport parking will have your arrangements covered. This car park is top-rated by those who choose to stay with them for its convenience.

It is an on-airport car park, which means it benefits from being right next to the terminal building. As a result, the walk to the check-in desks takes only 3-minutes in total, so you can get on with your trip after just a short stroll from your vehicle.

This car park is also open 24-hours a day, which means you will always be able to access your vehicle. When you arrive, the ANPR (Automatic Number Plate Recognition) system will scan your number plate and grant you access. The same process will apply when you are exiting the premises. This makes the parking and departure process effortless.

It doesn't matter whether you're a Blue Badge permit holder, or whether you travel via motorbike. Both of these vehicle types are permitted on the premises and can be parked in no time at all. Just remember to register your vehicle ahead of time to ensure you get a space.
Security
Security fencing

CCTV

Park Mark Award (Police Approved)
It can feel unusual or unsettling to leave your car behind for extended periods of time; however, you needn't worry. Short Stay 2 is kept secure by an extensive range of security measures, to ensure that all vehicles are kept safe in the interim. Security fencing and CCTV surrounds the compound, so intruders are prevented from entering and that all activity inside is monitored. The entrance and exit are also guarded by electric barriers that use Automatic Number Plate Recognition (ANPR). This means that if you have not registered your vehicle with the car park, you cannot be granted unauthorised access to the premises. Collectively, its security measures have earned it the much sought-after Park Mark Award. This can only be awarded by the police, as it forms part of their official Crime Prevention Initiative.
Transfers to and from East Midlands Airport
When you arrive at East Midlands Short Stay 2, you will notice just how close in proximity it is to the airport terminal. Thanks to its on-airport status, there is no need for a transfer bus. Instead, you take just a short stroll to the terminal and the check-in desks.
Disabled Facilities
This car park's location to the terminal makes it ideal for those with mobility issues. It is just a 2-minute walk away from the check-in desks, and it is also the closest car park to the East Midlands Airport terminal. When you arrive, you will find that there are Blue Badge permit parking spaces, which will be clearly signposted. If you have any questions about availability, contact the team as soon as possible to register.
Opening Times
Whether you find yourself hitting the motorways earlier than you'd like, or know you have a late-night landing upon your return to the airport, you don't need to worry about being able to access your vehicle. Short Stay 2 is open 24-hours a day, 365 days of the year, so your car is always just a short walk away.
Additional Information
No trailers are permitted.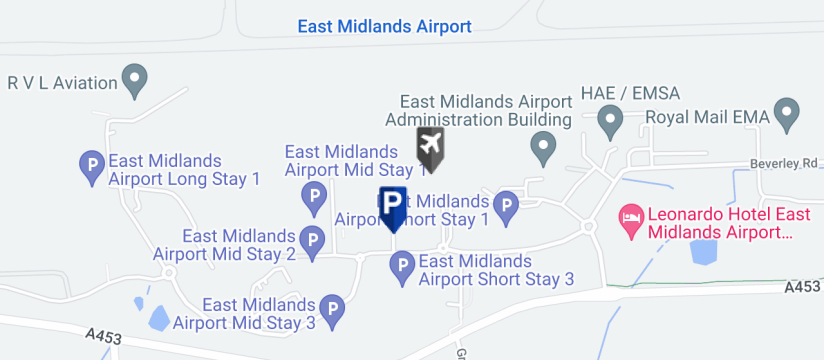 East Midlands Airport Short Stay 2, East Midlands Airport Dove Road Castle Donington Derby DE74 2SA
Directions
East Midlands Airport Short Stay 2 is an on-site car park, so on your approach to the airport, it's initially a case of following the usual signs to East Midlands Airport. Once you've exited the A435 and have made your approach to the airport, follow the signs for Other Car Parks and Short Stay 2. It is only two minutes away from the terminal building itself, so it won't be too difficult to locate once you're in the vicinity, especially with our detailed directions below.
Exit the M1 or A42 onto the A453.
Follow the road until you reach the main entrance to the airport.
Turn right into the airport. At the roundabout, take your first exit.
At the second roundabout go straight on and take the first right turning into the Short Stay 2 car park.
Arrival Procedure
Using Short Stay 2 is easy:
Short Stay is a popular choice with limited availability, so book your parking in advance to reserve your space.

On the day, simply drive up to the car park barrier, and our ANPR (Automatic Number Plate Recognition) system will recognise your car's number plate and open the barrier. There's no need to take a token.

Find a space and park up, then walk the short distance to the terminal building.
Please ensure you allow time to park your car and make your way into the airport terminal.
Return Procedure
Collecting your car from Short Stay 2 is simple, too:
On your return, walk back to the car park and find your car right where you left it. When you drive up to the barrier it'll recognise your number plate again and you can drive away.