Liverpool Airport Long Stay Car Park
Liverpool John Lennon Airport Speke ,Liverpool,L24 1YD
Why Book Liverpool Airport Long Stay Car Park
Long Stay Parking Liverpool Airport is the closest car park to Liverpool John Lennon Airport, Long Stay Parking Liverpool Airport is ideal for those who will be away from home for a while. It offers plenty of long-stay deals for Liverpool Airport parking and an easy trip to the check-in desks. It is secure and well-lit, so you can relax knowing that your car is safe. It is easy to book online, so you can take care of everything before you arrive at the airport.
Car Park Features
Uniformed staff

On-airport

Walking time 1 - 5 minutes

24-hour operation

Keep keys

Toilets
Nearby fuel sales

Disabled facilities

Walk to terminal

Self-park
Long Stay Parking is ideal for those who are looking for Liverpool airport parking that's close to the terminal. When you've spent a long time away from home, it's understandable that you might want an on-airport car park to get you on the road as soon as possible. Its on-airport location that's directly next to the main terminal means that you will only have a five-minute walk to the check-in desks.

This car park allows you to keep your keys, which means you are entirely in control of when you decide to leave for either the airport terminal or your journey home. It's just a matter of loading or unloading your luggage and heading off.

As the closest long-stay car park to the terminal, you may be concerned about pricing. However, this car park provides extremely competitive prices for those who decide to stay with them, as it provides the most cost-effective long-stay options at the airport.

Thanks to its ANPR system (automatic number plate recognition), all number plates are electronically scanned. This, combined with the short walk to the terminal, makes the arrival and departure process both easy and fast.

If you want to skip queues for the toilets inside the terminal, there are also toilets on the premises. This is very handy if you want to head straight for security once you arrive in the terminal.

An extra layer of convenience to your journey is the fact that there are nearby fuelling stations. This means you can quickly fill the tank back up before your journey home, without having to hunt down the nearest services stop. Those with electric vehicles needn't feel left out, either. There are also charging points available for those with electric cars so that you can return home fully charged. You can pre-book these on your phone or device, which is useful as they operate on a first-come-first-served basis.
Security
24-hour staff

Barrier-controlled

CCTV

Park Mark Award (Police Approved)

ANPR
This car park's security is comprehensive enough that is has won them the Park Mark Award. This is granted to them by the police, who will have deemed their security measures high-quality enough to meet their standards. The Long Stay Parking Liverpool Airport is reassuringly manned by uniformed 24-hour staff, who act as just one feature of their car park surveillance. It is also monitored by CCTV cameras, which record all activity on the premises. In order to leave and enter the car park, you will also have to go through a barrier-controlled entrance, which means only registered vehicles can enter. This is thanks to ANPR technology, which electronically reads a vehicle's number plates. The car park is also surrounded by security fencing and floodlights, which increase visibility and prevent intruders.
Transfers to and from Liverpool John Lennon Airport
If you're looking for minimum fuss when it comes to getting parked before your flight, then you will be pleased with Long Stay Liverpool Airport's on-airport location. Thanks to its positioning near the main terminal there's no need for a transfer bus. Instead, just a just take a short walk to check-in or make your way through security.
Disabled Facilities
This car park comes equipped with parking spaces for those with disability needs. You can even provide a photocopy of your Blue Badge permit if you are not able to have the original to hand.
Opening Times
Don't worry about when your flight will get in, or when the car park will be open during a bank holiday. The Long Stay Parking at Liverpool Airport is open 24-hours a day, 365 days a year. You can plan your flights with the assurance that you'll always be able to get back to your car.
Additional Information
Commercial vehicles, trailers and buses/coaches are not permitted.
There is a £15 per day overstay charge.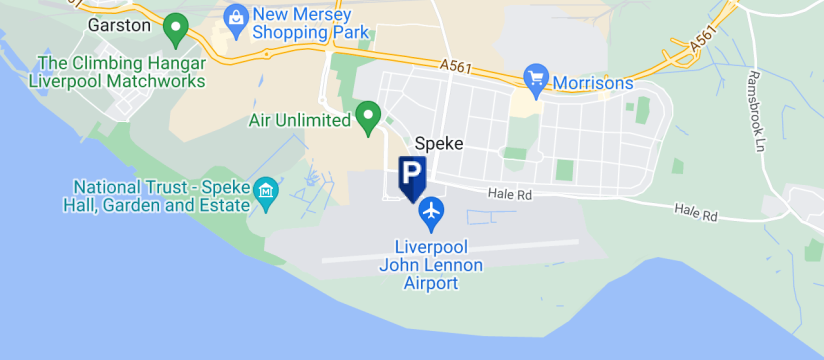 Liverpool Airport Long Stay Car Park, Liverpool John Lennon Airport Speke Liverpool L24 1YD
Directions
Thanks to this car park's on-airport location, you can just follow the directions for Liverpool John Lennon Airport. You'll find it just off the A561. Once you arrive at the approach for the airport, you'll start to see signs for the Long Stay Car Park. The directions below should help you find Liverpool's Long Stay Parking:
Following signs to the airport:
Approach the airport via Speke Hall avenue
Pick up signs to Long Stay.
You will see the Long Stay Car Park on your left as you approach the main Terminal Building with the runway in front of you.
At the roundabout take the first exit and keep left. Follow the green arrows into the Long Stay car park
Arrival Procedure
On arrival at the car park:
Head to the entrance barrier where the automatic system will read your number plate and issue a ticket.
Remove the ticket and the barrier will rise – do not lose the ticket, you'll need it to exit the car park.
Park your car and head to the check-in desks
Please ensure you allow time to park your car and make your way into the airport terminal..
Return Procedure
On return:
Collect your car from where you parked it.
Drive to the exit barrier.
Insert your ticket and the barrier will rise.
If you experience any problems, the 24-hour support staff will be happy to help via the exit barrier assistance button.