NCP Scotpark, Edinburgh Airport
Eastfield Road ,NEWBRIDGE,EH28 8LS
Why Book NCP Scotpark, Edinburgh Airport
For those who are travelling from one of Scotland's busiest airports, NCP Scotpark at Edinburgh Airport is a convenient place to leave your vehicle. NCP Scotpark is located just off the A8, making it easy to get to and from the airport. The shuttle bus to the airport takes just 3 minutes. NCP Scotpark is a secure car park with 24-hour CCTV and patrols. Looking for a convenient and affordable way to park at Edinburgh Airport? Look no further than NCP Scotpark!
Car Park Features
Uniformed staff

Off-airport

Frequency 10 minutes

Transfer time 3 minutes

24-hour operation

Keep keys
Toilets

Nearby fuel sales

Disabled facilities

Assisted loading if requested

Covered parking

Bus transfer

Self-park
NCP Scotpark provides a professional and secure service which includes uniformed staff, CCTV cameras and 24-hour operation. They also offer covered parking if you wish to keep your vehicle sheltered from the elements while you're away.
Another factor that makes this parking service so quick is the ability to keep your keys once you arrive. This means that upon your return, it's simply a matter of finding your vehicle where you left it and heading home. Once you get back to the car park using the transfer bus, you hand over the ticket that was given to you on arrival to reception and provide them with your booking number.

If you want to avoid hunting down the toilets in the terminal building, NCP Scotpark also has its own toilet facilities for you to use before checking-in. There are also nearby fuel facilities for those who want to fill up the tank before heading home.
Security
24-hour staff

Barrier-controlled

CCTV

Park Mark Award (Police Approved)
NCP Scotpark for Edinburgh Airport provides an incredibly secure facility. So much so that it has earned itself the Park Mark Award, which can only be given by the local police, as part of their Crime Prevention Initiative. It has earned this status by providing 24-hour on-site staff who patrol the area, as well as a barrier-controlled entrance and exit system. CCTV cameras are also in operation, to keep track of all activity within the premises.
Transfers to and from Edinburgh Airport
While this carpark may technically be considered off-airport, don't let that fool you when it comes to distance. After you've parked and registered, you will need to take a transfer bus service to the terminal, which takes only 3-minutes. Not only is the distance incredibly short, but the frequency is also every 10-minutes, which means you are just minutes away from the check-in desks. This transfer service is free of charge for customers and will take you to the terminal coach park.
Disabled Facilities
For those who have disability needs, the Advantage Parking package offers wider spaces and a closer location to the entrance and exit, as well as being conveniently close to the customer services desk. Upon request, there is an assisted loading service to help you load and unload luggage from your vehicle.
Opening Times
NCP Scotpark at Edinburgh Airport never sleeps, so you don't need to worry about looking for parking at Edinburgh Airport for a bank holiday; it's open 24-hours a day, 365 days a year.
Additional Information
Vehicle restrictions apply, please see more information below for details.
This car park does not accept vans, minibuses, motorhomes, caravans and trailers. Vehicles must fit in a standard size parking bay.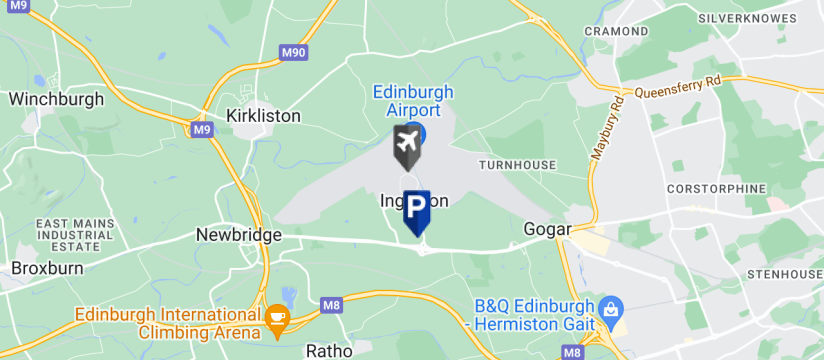 NCP Scotpark, Eastfield Road NEWBRIDGE EH28 8LS
Directions
When parking with Scotpark you won't have to worry about straying too far from the airport's grounds. You'll find it just outside Edinburgh Airport off the A8 Glasgow Road. From there, it's just a matter of following the signs to the airport and Park & Ride. If you're worried about finding it on the day, they even provide a drivers-eye view on how to get to the car park on their website should you need it.
Approaching Edinburgh Airport from the east or west on the A8 Glasgow Road, take the exit for Edinburgh Airport/Park and Ride
Navigate the dual roundabout onto Eastfield Road, following signs for Edinburgh Airport and avoiding the immediate turn to the left (this is a different car park)
Drive down Eastfield Road and turn left at the next roundabout (you'll see a bright yellow NCP sign at the car park entrance)
Drive up the side road to the car park and turn left for Car Park 1 and Advantage Parking or right for Car Park 2
Arrival Procedure
When you arrive please be aware that this car park now uses Automatic Number Plate Recognition (ANPR) technology.
On Arrival:
At the entry barrier, your number plate will be read
The machine will issue you a ticket automatically. If no ticket is issued, please press for assistance.
Take your ticket, park your car
Then catch the courtesy bus to the terminal, from outside the customer services office. Keep your ticket with you.
Return Procedure
On your return:
Our return service departs from Coach Park Stand 8 (the same place we dropped you off). Please call 0131 333 3391 to arrange pick up
Collect your car and head to the Exit barrier
At the exit barrier, please insert your ticket so we can validate your booking and raise the barrier.

If you have overstayed your booking, your additional charge will be displayed, which you'll need to pay. If the barrier does not rise, please press for assistance.