Swift Airport Parking Meet & Greet, Luton Airport
Eaton Green Road ,Luton,LU2 9XF
Why Book Swift Airport Parking Meet & Greet, Luton Airport
Sometimes it's worth paying for a bit of convenience every now and then, and Swift Airport Parking Meet & Greet is one of the best ways to save time when travelling. Swift's dedicated parking team have extensive experience in customer care and secure parking, so you can rest easy while checking-in. Whether you're short of time or would just like as seamless a parking process as possible, then Meet & Greet could be a brilliant option for you.
Car Park Features
Uniformed staff

Meet & Greet

Walking time 2 minutes

24-hour operation

Leave keys

Nearby fuel sales
Disabled facilities

Walk to terminal

Fully insured drivers

Assisted loading if requested
When you're considering Luton airport parking options, you may be after a location that leaves you just moments from the terminal doors. The benefit of Meet & Greet is that you can park at the multi-storey car park next to the terminal, and rely on a trained driver to do the rest of the work for you.

The Swift Airport Parking Meet & Greet drop-off location is situated just two minutes away from the airport terminal doors. This distance is only a short walk away, so you don't need to catch a transfer service to reach the airport. This service lets you leave your keys with their insured, experienced and uniformed staff, who will park your car in a secure compound for you while you check-in.

If you have luggage to take with you to the airport, or if you would just like the help, assistance with loading and unloading is available upon request.

When you return from your travels, your vehicle will be delivered back to where you last left it in the multi-storey car park. All this requires is just a simple phone call to Swift's Meet & Greet team so that they can retrieve your car. It's recommended that you make your phone call to the Meet & Greet team while you wait for your luggage.

If you're looking to refuel your tank on your return, you'll find nearby fuel sales that will spare you an extra journey in hunt of a service station.
Security
24-hour staff

Barrier-controlled

Security fencing

CCTV

Park Mark Award (Police Approved)
When you leave your vehicle with the Meet & Greet team, you can rely on the knowledge that you will have left your vehicle in a secure compound. There are 24-hour staff on the premises, as well as security fencing to prevent any intruders from entering the car park. All entrances and exits to the car park are barrier-controlled, so only registered vehicles can stay on the premises. On top of this, the secure compound is monitored by CCTV cameras, so you can trust that all activity is caught on camera. Together, these security measures have earned it the Park Mark Award from the police's Crime Prevention Initiative. This award can only be granted if it has met their high-security standards.
Transfers to and from Luton Airport
While the collection point is in a multi-storey car park, this is still just a few minutes away from the terminal on foot. Therefore, there is no transfer service to the terminal, as it is just a short walk away.
Disabled Facilities
Meet & Greet is perfect for anyone with disability needs or mobility issues. You don't need to park the car yourself as a valet will do this for you, and so there is no need to hunt down a Blue Badge parking space. There are also members of staff on hand to help with any luggage that needs to be loaded or unloaded from your vehicle. If you have any questions about their full list of facilities, it's recommended that you give them a call.
Opening Times
It doesn't matter if your flight is late, or if you have a particularly early wake-up call. This Meet & Greet service operates 24-hours a day, seven days a week, all year round. This means that the Swift Meet & Greet team will always be on hand to pick up your car or answer any questions.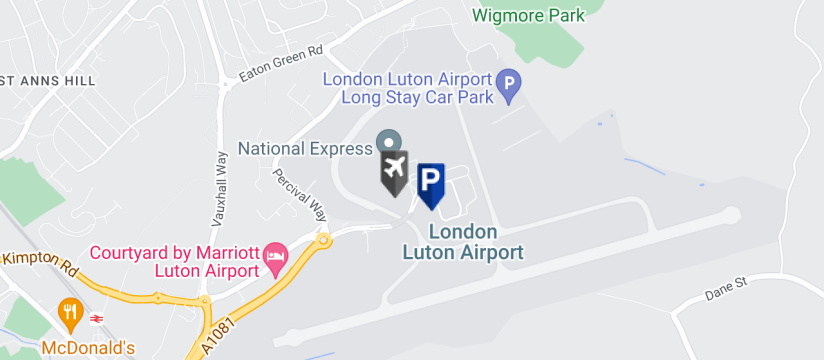 Swift Airport Parking Meet & Greet, Eaton Green Road Luton LU2 9XF
Directions
Once you've left Junction 10 at the M1, it's just a matter of following the signs for parking, and then Terminal Car Park 1. Once you arrive at termainal car park 1, you'll need to drive up to level 3, where a member of the team will meet you. This car park is just a few minutes away from the terminal, so you'll be based incredibly close to the check-in desks. Remember to call Swift's team when you are 40 minutes away from arriving. The directions below should help you find the car park.
From the M1 at Junction 10:
Take the third exit at the motorway roundabout if you're coming from the south and the first exit if you're coming from the north.
Follow New Airport Way and then head straight over the roundabout.
From here follow signs for Terminal Car Park 1
Continue to Level 3 of Terminal Car Park 1 when you will be met by a member of staff.
Arrival Procedure
Dropping your car off is easy;
Call Swift Parking when you're 40 minutes away from the airport.
Drive to Level 3 of Terminal Car Park 1 and head to the Meet and Greet area.
You'll be met by a Swift chauffeur.
Confirm your booking details and then take the short walk to the terminal building – your car will be parked in a nearby secure compound.
Please ensure you allow sufficient time to complete the vehicle hand over before heading to the terminal.
Return Procedure
Collecting your car is just as simple:
Call Swift Parking once you have landed at Luton Airport.
Head to the collection point – the same place you dropped-off your car on arrival.
Your vehicle will be ready and waiting.