Greet & Go by Cohen Meet and Greet Parking , London City Airport
London City Airport Hartmann Rd ,London,E16 2PX
Why Book Greet & Go by Cohen Meet and Greet Parking , London City Airport
The perfect parking solution for those wanting to save time or avoid transfer buses, Greet & Go by Cohen operates at London City Airport, and is ideal for both business and leisure travellers. If you are travelling with lots of luggage, or with young children, Greet & Go by Cohen makes an easy start to your journey.
Car Park Features
Meet & Greet

Walking time 5 minutes

Leave keys

Uniformed staff

Nearby fuel sales

Disabled facilities
Walk to terminal

Fully insured drivers
Security
24-hour staff

Barrier-controlled

CCTV
When you arrive at London City Airport you will be met by a fully insured Greet & Go by Cohen driver, who will transfer your car to the secure car park nearby. Featuring CCTV and barrier controls, the car park is also staffed by 24-hour security patrols.
Transfers to and from London City Airport
There's no need for transfer buses as you'll be just a short walk away from the terminal building.
Disabled Facilities
On arrival, disabled passengers can use the designated disabled bays in the Terminal Car Park, located close to the terminal building. Meet and greet is the ideal service for anyone with mobility issues.
Opening Times
Greet & Go by Cohen operates throughout the year, with the exception of December 25, 26, and January 1. The opening hours are:

Monday to Friday: 05:00 - 22:00
Saturday: 05:00 - 13:00
Sunday: 11:00 - 22:00

Additional Information
Maximum vehicle height: 2m
Maximum vehicle width: 2.5m
Charges apply on exit, and resticted opening time apply, please see more information below for details.
There is a 30 minute wait time allowed in the Terminal Car Park and customers have to pay £8 to exit. Subsequent charges are £5 for every 5 minutes.
Opening Hours:

Monday to Friday: 05:00am - 10:00pm

Saturday: 05:00- 01:00pm

Sunday: 11:00am - 10:00pm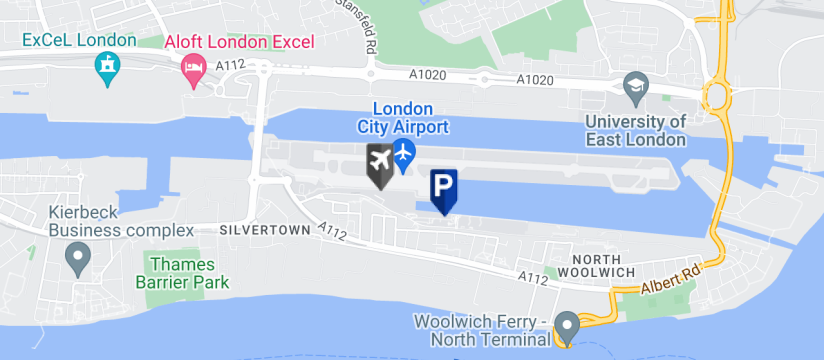 Greet & Go by Cohen Meet and Greet Parking , London City Airport Hartmann Rd London E16 2PX
Directions
From Royal Docks Road:
Take the second exit on the oval roundabout onto Royal Albert Way.
Head along the A1020 and take the second exit at the Royal Albert Roundabout.
On the next roundabout, take the first exit across Connaught Bridge.
Take the first exit on the roundabout and the second exit on the next.
Take the first left onto Hartmann Road and just down the road the Terminal Car Parks will be on your left.
Follow the signs for the Long Saty Car Park
Arrival Procedure
Using Greet & Go by Cohen is simple;
Call Greet & Go by Cohen when you're 20 minutes from arriving at the airport.
Once you're at the airport, drive to the Long Stay Car Park.
Use the barrier on the right and take a ticket.
Drive into the car park and park your car.
An awaiting Greet & Go driver will meet you and collect your keys and the car park ticket from you.
The terminal building is then just under a 5 minute walk away
Please ensure you allow sufficient time to complete the vehicle hand over before heading to the terminal.
Return Procedure
Collecting your car is simple:
Once you've landed and collected your luggage, call Greet & Go by Cohen.
Head to the Long Stay Car Park where a Greet & Go Cohen driver will meet you with your car.
You'll also be given a ticket to exit the car park – you will have to pay a £8 exit fee.