Skypark Meet & Greet
22 Owens Drive Sky Park International Speke Hall Avenue,Liverpool,L24 1YL
Why Book Skypark Meet & Greet
If you're short on time, travelling with young children or loaded with heavy baggage, this meet and greet service is perfect for you. Head straight to the terminal where a uniformed chauffeur will meet you and park your car in a nearby compound for the duration of your trip.
Car Park Features
Uniformed staff

Meet & Greet

Walking time 2 - 7 minutes

24-hour operation

Toilets

Nearby fuel sales
Disabled facilities

Walk to terminal

Fully insured drivers

Free WiFi

Assisted loading if requested

Covered parking

Lift
Security
Once you've dropped off your car, a fully insured chauffeur will drive your car to the nearby compound - featuring 24-hour CCTV and regular security patrols.
Transfers to and from Liverpool John Lennon Airport
No transfers required with this quick and convenient meet and greet service.
Disabled Facilities
This meet and greet service is ideal for anyone needing any extra assistance.
Opening Times
365 days a year, 24 hours a day.
Additional Information
Drop-off and collection charges apply, please see more information below for details.
Vans, trailers etc will be charged an extra 25% payable on collection.
Liverpool Airport charges a £3 exit fee for use of the Express Drop-Off and Pick-Up Car Park. It is important that you have this payment available for both legs of your meet and greet service. Please give the first £3 to the driver on your arrival, then pay it yourself when collecting your car.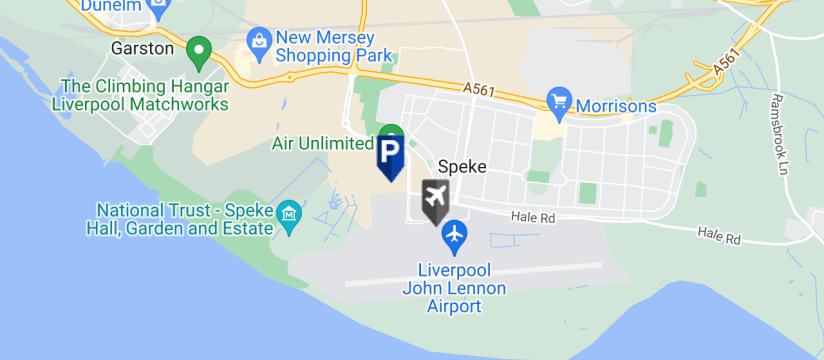 Skypark Meet & Greet, 22 Owens Drive Sky Park International Speke Hall Avenue Liverpool L24 1YL
Directions
Coming from north/north east follow the M6 southbound to J21a with M62:
M62 west to J6 onto the A5300.
Follow signs to the airport – situated off Speke Hall Avenue.
Go to the short stay car park marked 'Drop off/Pick-up which is directly across from the terminal building.
Driving from the south east – M6 north to M56:
Follow M56 to J12 onto the A557/A562 to merge with A561.
Follow signs to the airport.
Go to the short stay car park marked 'Drop off/Pick-up which is directly across from the terminal building.
Arrival Procedure
Dropping your car off is easy:
Call Skypark 15 minutes prior to arrival and confirm your ETA with reception. Do not enter the "Drop-off" Car Park until the call and agreement has been made regarding your ETA. This will ensure no excess fees are incurred.
Approach & enter the Drop off/Pick-up Area, take the ticket from the machine and proceed into the EDOPU car park.
A Skypark Liverpool Representative will be looking out for your car and then will direct you into a suitable available space.
Please leave them your car keys, copy of booking confirmation, the Airport Car Park ticket and pay, in cash, the Current Airport Car Park Exit Fee to the Skypark representative - you will be handed a Business Card for use upon your return.
Head to the check-in desks – your car will be taken out of the Airport Drop-Off Car Park back to their facility and parked for you.
Please ensure you allow sufficient time to complete the vehicle hand over before heading to the terminal.
Return Procedure
Collecting your car is just as easy:
Once you've collected your luggage and cleared customs, call Skypark to let them know you've arrived and confirm your vehicle return greet timings.
Please then make your way back to the same 'Drop off/Pick-up point'.
Head to the designated meeting point.
A Skypark chauffeur will be waiting with your car or attend shortly.