Direct Parking Ltd, Glasgow International Airport
55 West March Road ,Paisley,PA3 1BF
Why Book Direct Parking Ltd, Glasgow International Airport
Just under 5 minutes from the terminals, Direct Parking's Glasgow location is ideal for any traveller flying out of Glasgow Airport. Transfers operate on demand, 24 hours a day, so there's no need to worry about missing your flight or checking in too late. Direct Parking has also achieved the Park Mark Safer Parking award due to its security features such as security fencing, barrier control, 24-hour staff patrols and CCTV operation.
Car Park Features
Uniformed staff

Off-airport

On-demand transfers

Transfer time 5 minutes

24-hour operation

Keep keys
Toilets

Nearby fuel sales

Disabled facilities

Fully insured drivers

Free WiFi

Assisted loading if requested

Bus transfer

Self-park
This car park has over 10-years of experience in the industry, and it has lots of features to prove it. Checking in has never been so easy: they use modern ANPR technology to read your number plate as you enter, which means there's no need to take a ticket at the barrier. The check-in process will be quick and easy, letting you get on with your journey to the terminal quickly.

On top of all this, Direct Parking Glasgow Parking has a handy list of extra amenities. If you want to stay in touch with your flight details before you reach the terminal doors, there's free WiFi for travellers. If you also find yourself carrying large pieces of luggage, or just generally need assistance with your bags, there is also assisted loading for the transfer service. If you want to fill your vehicle either before or after your journey, there are also nearby fuel pumps, so you'll never have to worry about running out of petrol or diesel.

This car park is open 24-hours a day and for 365 days a year, so you don't have to worry about not being able to get back to your car.
Security
24-hour staff

Barrier-controlled

Security fencing

CCTV

Park Mark Award (Police Approved)

ANPR
Direct Parking Glasgow Airport prides itself on its secure range of protective measures for the vehicles that choose to park with it. Not only is there high-security fencing around the entire premises, but there are also automated barriers that will only let in cars that are registered with the car park. On top of that, there's CCTV to monitor round-the-clock activity. Not just relying on technology, they also have 24-hour staff on hand to patrol the premises. For those who feel a bit apprehensive about leaving their keys in the hands of a valet, Direct Parking is perfect as they allow you to park your car yourself and keep the keys whilst you're away!
Transfers to and from Glasgow International Airport
There is a transfer bus service, which is included in the price of your ticket. This transfer service is also only 3-minutes long, so you'll truly only be a few minutes away from the check-in desks.

On your return journey, Direct Parking offers a quick service to help you get back to your vehicle in plenty of time. You simply ring the car park, and they will provide you with a transfer back. When leaving the car park, the automated barrier enables you to exit quickly and easily, letting you get on with the drive home!
Disabled Facilities
Direct Parking is easily accessible and has a range of disabled facilities to make the start to your getaway that little bit easier. The car park has disabled bays to give you extra room and the shuttle service is equipped for wheelchairs.
Opening Times
Direct Parking is open 24 hours a day, 365 days a year. You don't have to worry about not being able to access your vehicle with our on-demand transfer service that operates 24 hours a day. Your car will always be within easy reach when you get back from your trip!
Additional Information
Trailers and commercial vans are permitted at a cost of two spaces
You will need to ring the car park once you've returned so that they can arrange a transfer back to the car park to collect your vehicle. If you require extra assistance or have any other questions, ring them before your trip or ask a member of staff once you arrive at the car park.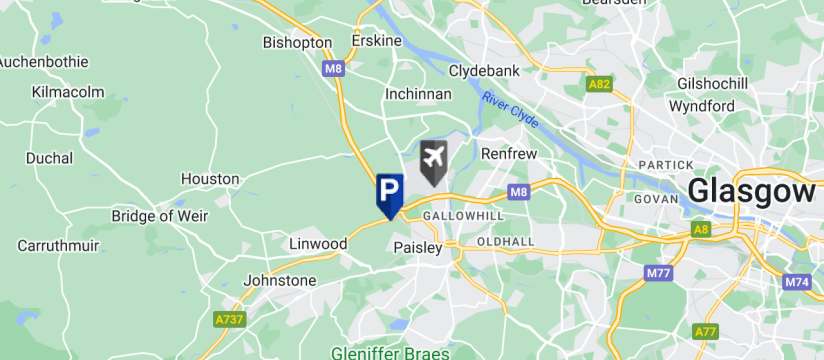 Direct Parking Ltd, 55 West March Road Paisley PA3 1BF
Directions
Direct Parking Glasgow Airport is not only a cost-effective parking option, but it's also right next to Glasgow Airport, meaning that the transfer service takes only 3-minutes. You'll find this car park just off Junction 29 on the M8 motorway. After that, it's a straightforward route to the car park itself.
Westbound M8:
Continue past Glasgow Airport (J28) and stay in the middle lane.
Exit at Junction 29 Paisley.
At the roundabout take the first left exit at the traffic lights, signed Paisley A726.
Stay in the right-hand lane on the dual carriageway and turn right at the first set of lights.
Turn right into West March Road
Straight over the mini-roundabout, go under the railway bridge, straight over the next roundabout and then the car park is located on your left.
Eastbound M8:
Exit Junction 29 and take the third exit, right hand lane on dual carriageway.
Turn right at the first set of lights.
Turn right into West March Road, straight over the next two mini-roundabouts and the car will be on your left.
Arrival Procedure
Using this car park couldn't be easier:
Drive up to the barrier.
The number plate recognition technology will recognise your vehicle and provide you with the location of your pre-booked space.
Enter and proceed to park in the first available space.
Make your way onto the transfer bus for the short ride to the airport.
Please ensure you allow sufficient time to complete your vehicle check-in and airport transfer.
Return Procedure
Collecting your car is simple:
Head to the bus stop right outside the terminal.
Take the bus back to the car park.
Your car will be ready and waiting, right where you left it.
Drive to the exit barrier, which will open on approach.