APH Luton Self Park, Luton Airport
Grove Road Slip End ,Luton,LU1 4BZ
Why Book APH Luton Self Park, Luton Airport
APH Luton Self Park is the perfect and simple Luton Airport parking solution. Situated close to the airport with regular transfer buses that drop you off directly at the terminal, APH Self Park Luton is the perfect choice for passengers who don't want to worry about missing their flight. Their "self-serve" checkouts make sure you can be on your way as quickly as possible. Your car will be safe in their hands, with security fencing, barrier control and CCTV in operation, earning it the police backed Park Mark Safer Parking award.
Car Park Features
Off-airport

Frequency 20 minutes

Transfer time 12 - 14 minutes

24-hour operation

Toilets

Uniformed staff
Nearby fuel sales

Disabled facilities

Fully insured drivers

Free WiFi

Assisted loading if requested

Bus transfer
APH Luton is located just moments away from Luton airport, so you don't need to worry about a particularly long transfer time before checking in for your flight. The transfer bus service takes 12-14-minutes to drop you off at the terminal. This car park is situated just outside of Junction 10 on the M1 motorway, making it easily accessible from whatever direction you're travelling from.
Security
24-hour staff

Barrier-controlled

Security fencing

CCTV

Park Mark Award (Police Approved)
APH Luton runs a tight security operation to make sure that people know their vehicle has been left in safe hands. They have CCTV to monitor the car park day and night, as well as a team of 24-hour staff who patrol the vicinity. The car park itself is surrounded by high-security fencing, and cars are let in and out of the car park using electronic barriers, so only registered cars are allowed into the premises. Their comprehensive range of security measures has earned APH Luton the Park Mark Award. This award is part of the Police Crime Prevention Initiative, which guarantees visitors that the car park they are choosing to stay with has been assessed to ensure it is regularly maintained to meet the police's exceptionally high standards.
Transfers to and from Luton Airport
The free transfer bus service takes only 12-14-minutes to reach the terminal doors and runs regularly 24 hours a day. Visitors who find themselves arriving on a particularly early flight needn't worry. A shuttle service can be arranged upon request, so no matter how late you stay or arrive, you'll always be able to reach the terminal or car park with ease.

Parking at APH Luton Airport is quick and simple. When you arrive, drive to the designated arrival area, park your car and head over to the check-in building. You will find an automated machine that will do the registration work for you, and you will be given a tag and ticket. After that, take the free transfer to the terminal. It's important you keep hold of your ticket, as you'll need it when you return from your getaway to collect your car.
Opening Times
APH Luton is open 365 days a year, 24 hours a day. The transfer service runs at 20-minute intervals between the hours of 04:00 and 23:00 although a shuttle can be arranged outstide these times by calling the car park prior to arrival.
Additional Information
Maximum vehicle height: 2m
This car park does not accept transit vans, minibuses, motorhomes, caravans and trailers and cannot accept any vehicle with a taxi licence plate - these can only be driven by the licence holder.
If you lose your car parking ticket whilst you're away, you'll need to present a valid photo ID on your arrival back to the car park. This is to ensure staff can find your car and confirm your identity for security purposes.
APH Luton is operated by Airparks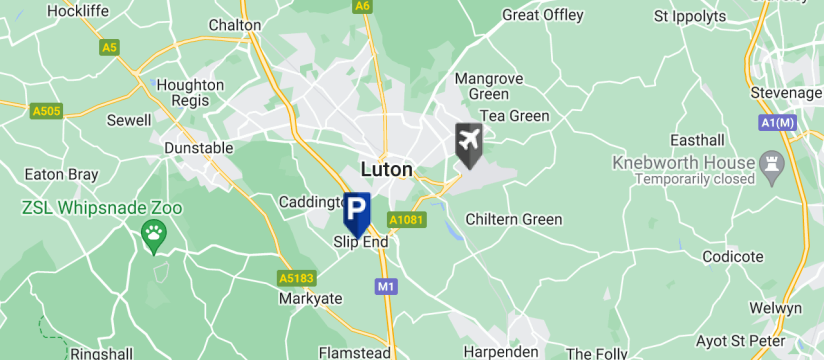 APH Luton Self Park, Grove Road Slip End Luton LU1 4BZ
Directions
From the M1:
Exit M1 at Junction 10.
Take the first slip road to the left signed Airport Way A1081.
Take the first exit at the roundabout signed St. Albans, Harpenden A1081.
You'll come out onto a roundabout where you should take the first exit onto London Road.
Go through the tunnel taking the second exit at the roundabout for the St. Albans, Harpenden A1081.
After 100 metres turn right Newlands Road, following signs for Airparks.
Afte half a mile turn left B4540, signposted Slip End and Markyate. and at the traffic lights turn right onto Grove Road.
Take the first left onto the service road, Airparks is on the right.
Arrival Procedure
On arrival to the car park:
Drive into the car park and park in one of the arrival bays.
A marshal will check you in and will direct you to a parking zone
Park your car and take your keys
Take the shuttle bus to the terminal.
Staff are on hand if you require any assistance.
Please ensure you allow sufficient time to complete your vehicle check-in and airport transfer.
Return Procedure
On your return:
Take the transfer bus to the car park.
Get off the bus in the parking zone you parked your car in
Scan your ticket at the barrier to exit the car park
Staff are on hand if you need any assistance.